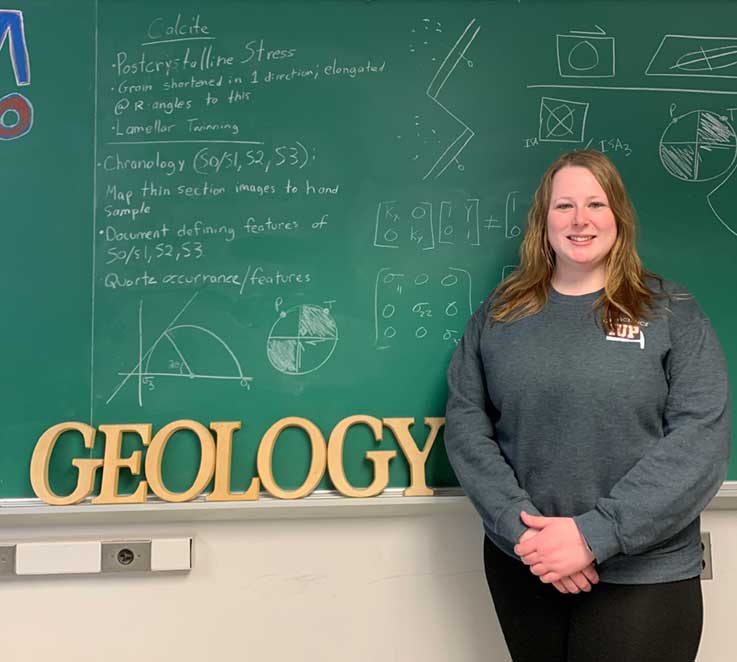 Susan Adams, a junior geology major at Indiana University of Pennsylvania, has been selected for a Goldwater Scholarship.
She is IUP's 12th Goldwater Scholarship recipient.
The Goldwater Scholarship, which was first awarded in 1989, honors Senator Barry Goldwater and was designed to foster and encourage outstanding students to pursue careers in the fields of mathematics, the natural sciences, and engineering. It is the preeminent undergraduate award of its type in these fields. It provides a year of tuition for recipients.
"Ms. Adams is a remarkably talented young scientist and well deserving of this honor," IUP President Michael Driscoll said. "IUP's success in securing Goldwater scholarships showcases both our incredibly talented and determined students and our faculty's commitment to mentoring and supporting student research and scholarship."
Adams' path to the Goldwater was a fairly nontraditional one.
Adams is a first-generation college student from Fayette County, graduating in 2015 from Uniontown Area High School and at the top of her masonry class at the Fayette County CTI. She worked as a mason immediately after high school, and then decided she wanted to become a police officer.
She applied to IUP's Criminal Justice Training Academy, scheduled to be held at California University of Pennsylvania, but the course was canceled due to of lack of enrollment. So, she decided to enroll at IUP as a criminology major.
In fall 2018, she was in Greg Mount's Geoscience 101 (The Dynamic Earth) class as a science requirement for her criminology major. Mount encouraged his class to participate in the Geopaths Field Camp, a two-week summer experience designed to introduce geology and geophysics to non-geoscience participants. The program is a National Science Foundation-funded collaboration with IUP, Dickinson College, Penn State, Rutgers University–Newark, and Temple University.
She applied and participated in the Geopaths Field Camp in May 2019, which offered the opportunity to use near-surface geophysical techniques such as ground penetrating radar and electrical resistivity for noninvasive investigations on the Earth's subsurface.
"I realized, five days into the two-week camp, that I was in the wrong major," Adams said. "Dr. Mount sat down with me and helped me to work out a schedule to become a geology major with a criminology minor."
Adams has been an active researcher with geology faculty member Jon Lewis on the tectonics of Taiwan. She is first author on two posters and co-author of another with Lewis and two other geology students, focusing on the transition between brittle to plastic structures in Taiwan's eastern Central Range. She has presented her research (virtually) at the 2020 Japan Geoscience Union-American Geophysical Union Meeting and at the 2020 Annual Conference of the Geological Society of America. She hopes to present again at the 2021 Annual American Geophysical Union this upcoming December.
She has also done field research in eastern Taiwan with Lewis in early 2020 (prior to the pandemic). It was funded through Lewis's NSF grant #1650157 and focuses on the plastic to brittle exhumation of the metamorphic core of Taiwan. As pandemic conditions change, she hopes to return to Taiwan with the IUP group for further study.
"Working with Susie has been truly inspiring," Lewis said. "She arrived in my Foundations of Geology class on the heels of her GeoPaths field experience, and it was clear she had found the right academic home. It takes some gumption to seize the opportunity to travel halfway around the world to help with field research only a few months after leaving criminology for geology.
"She's got a bright future, and until she leaves us, I plan to learn as much as I can from her," he said.
Adams credits Lewis for her success with the Goldwater application.
"The Goldwater is an amazing, once-in-a-lifetime opportunity," Adams said. "It was a long application process—I probably spent more than 100 hours on the application—but when I opened the email with the announcement, it was well worth it. It was surreal!
"Dr. Lewis has continued to push me—in a very positive way—since I became a geology major. I couldn't have done this without him," she said.
Adams participated in IUP's 2020 Undergraduate Summer Opportunity for Applying Research (U-SOAR) program and hopes to participate in a near-surface geophysics research experience for undergraduates held at Rutgers University this summer; she had been accepted to the program in 2020, but it was canceled because of the pandemic.
In addition to her studies, she is a research assistant for the Department of Geoscience and a peer mentor and tutor for students, helping incoming freshman and transfer students and tutoring students in the Foundations of Geology course. She is the 2021 student president for the Geological Society of IUP and is a member of the IUP Women's Ice Hockey team, serving as its treasurer since 2018.
She is the 2020 recipient of the Dean's Scholarship for Early Career Geoscience Student, presented to students who show exceptional promise as a geoscience student in the department, and of the APSCUF (faculty union) scholarship for outstanding achievement. She is a dean's list student and provost scholar. She also works for her department to maintain the vans used for field study transportation, and, on the weekends, works at a dairy farm in Fayette County.
Her ultimate goal is to work in a marine geophysical laboratory such as the National Oceanic and Atmospheric Administration, or with the United States Geological Survey. She is also looking at continuing her studies in graduate school and is considering a career in teaching at the university level.