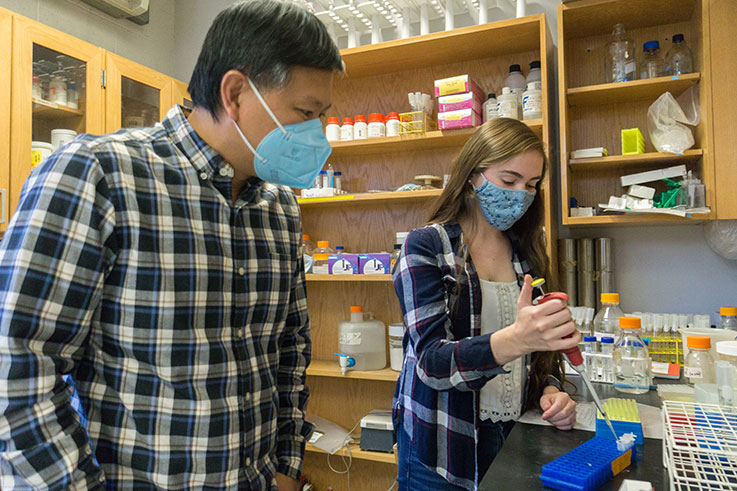 Sarah Grandinette, a junior biology and biochemistry double major at Indiana University of Pennsylvania from Monongahela, has been selected for IUP's 2021 Kopchick Summer Fellowship.
As the recipient, she will spend 10 weeks during the summer engaged in research at the internationally known MD Anderson Cancer Center in Houston.
John J. Kopchick, who earned a 1972 bachelor's degree and 1975 master's degree in biology at IUP and a graduate degree from MD Anderson UTHealth Graduate School, made a $10.5-million gift to the University of Texas MD Anderson Cancer Center UTHealth Graduate School of Biomedical Sciences to create an endowment that funds up to 15 student fellowships at the cancer center, as well as competitive research awards to students and their faculty mentors.
An IUP student has been selected for one of these fellowships annually since 2018.
Kopchick is a professor of molecular biology and the Goll-Ohio Eminent Scholar at Ohio University. In April 2018, it was announced that Kopchick and his wife, Char, a 1973 IUP education graduate, made a $23-million gift to IUP through the Imagine Unlimited comprehensive campaign for science and math initiatives. Both Kopchicks are originally from Indiana County.
At IUP, Grandinette works with biology professor Cuong Diep studying the ability of zebrafish to regenerate kidneys. Understanding and manipulating the mechanisms behind essential proteins in this process could provide insights for future therapies to treat the millions of people who struggle with kidney diseases. At MD Anderson, her mentor will be Vidya Gopalakrishnan, who is studying brain cells; specifically, how stem cells differentiate into brain cells and how this relates to tumors in the brain. She will also be part of MD Anderson's Women and Minority Faculty Inclusion summer program.
"I'm excited for the opportunity to investigate a new research topic this summer and be exposed to new approaches for solving scientific questions. The internship at MD Anderson is especially interesting to me because it focuses on cancer caused by stem cells, and I want to go into regenerative medicine, so studying stem cells and how they can contribute to disease will be a great learning experience and really help me to progress in my career," Grandinette said. "I've always had an interest in genetic engineering and how it could revolutionize medicine. Eventually, I hope to be conducting research that could lead to new therapies to treat cancers or genetic diseases.
"My research with Dr. Diep has been very interesting and a great foundation for this internship," she said. Grandinette started working in Diep's lab as a freshman.
"When I started work with him, I hadn't had a chance to complete many biology classes, so he helped me through a great deal of the science behind our research. He always makes time to answer all my questions and talk about the exciting advancements being made in the biology field. He has helped me develop my skills as a scientist, and I wouldn't be where I am without him," she said.
"It has been a wonderful experience working with Sarah," Diep said. "She is an independent and productive worker in the lab, and she challenges me with her insightful questions. We are very lucky to have such an exceptional student at IUP."
Grandinette added to her research experience through participation in the 2019 Research Experience for Summer Scholars, now Undergraduate Summer Opportunities for Applying Research, or USOAR. She was accepted into a National Science Foundation Research Experiences for Undergraduates at MDI Biological Laboratory program for summer 2020 As it was canceled due to the pandemic, she participated in the (virtual) USOAR at IUP during summer 2020, working on a manuscript about her research with Diep.
Grandinette, daughter of Matthew and Tracy Grandinette, is a 2018 graduate of Ringgold High School. A member of the Cook Honors College at IUP, she is the recipient of a number of honors and grants, including the Dean's Award and Woman in STEM Award for the 2021 Scholars Forum presentation; the spring 2021 Pennsylvania Academy of Science Grant; the 2020 and 2021 Sushak Undergraduate Biology Fund for Excellence grant; a 2020 and 2019 Undergraduate Student Research Grant; and she has received funding through the Cook Honors College Achievement Fund in 2020 and 2019.
She is the recipient of the 2020 Commonwealth of Pennsylvania University Biologists grant and received the Biology Undergraduate Research Experience grant in 2019. She also is a Sutton Scholarship and Undergraduate Merit Scholarship recipient.
Grandinette was selected for membership in Phi Kappa Phi honor society, Alpha Chi Sigma professional chemistry fraternity (serving as the collegiate health and safety officer), and the National Society of Leadership and Success.
She has volunteered in the BioMe biology mentor program in fall 2019, at the Monongahela Valley Hospital, and as a chemistry tutor through Alpha Chi Sigma.