By Elizabeth Laughlin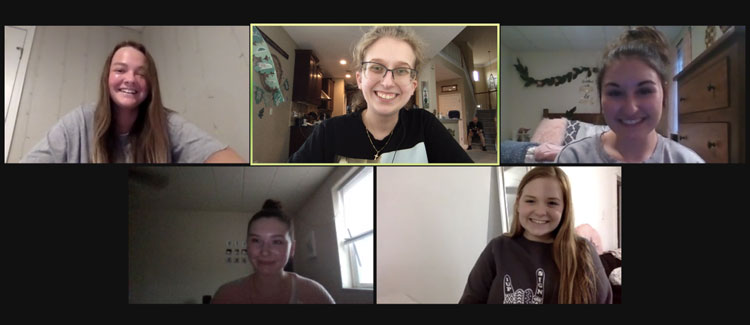 Everyone is likely to come across at least one person with hearing loss. IUP's Sign Language Club helps "bridge the gap of communication." Learn about the club this week in the Find Your People series.
More about Sign Language Club
Meetings: Currently meets for events via Zoom
Connect: Follow the club on Instagram (@iupsignclub), YouTube, Twitter (@IUPSignClub), or Facebook.
For more information, go to Crimson Connect or the IUP Sign Language Club website. Or, contact Megan Keyser, president, mqww@iup.edu, or Skyla Decker, secretary, ngbx@iup.edu.
Sign Language Club offers an opportunity for IUP students to learn American Sign Language at their own pace.
Megan Keyser has been the club's president for almost three years. She is a senior majoring in natural science with a concentration in pre-audiology and a minor in deaf studies.
After graduating, Keyser plans on entering a doctoral program to become an audiologist.
The executive board also includes Mackenzie Davis, junior, vice president; Skyla Decker, senior, secretary; Rachael Piotti, junior, treasurer; and Marissa Ott, junior, social chair.
Annah Hill, associate professor and program director for Disability Services, is the group's advisor.
"You don't have to have any experience to join," Keyser said. "We welcome all majors and all backgrounds. If you have an interest in learning sign language, we'd love for you to come to our club."
To stay connected with its members, the organization sends an email newsletter every few weeks that provides resources on sign language, including links to instructional videos. Through a video format, students are able to pause and rewind the instruction, which is a benefit, Keyser said.
The videos feature an executive board member providing the instruction, which the officers felt was more personal.
Because of the pandemic, Sign Language Club has been meeting virtually.
"We thought meeting in person and social distancing wouldn't offer the full authentic experience," Keyser said, "based on how visual sign language is."
Another difficulty with social distancing is the size of the group. The organization averages between 25 and 30 members at each meeting, Keyser said.
She emphasized that members do not need to be fluent in sign language or even to be taking sign-language classes. Everyone in the group is learning the language simultaneously, Keyser said. It is only important that members have a desire to learn it.
"In your life, you're going to come into contact with at least one person who has hearing loss," Keyser said. "We help bridge the gap of communication."
For the spring semester, the group is hosting a Zoom speaker series in which presenters share their personal experiences.
In Tuesday's presentation, titled "Deaf Talk," Keyser shared her experiences as an IUP student with a disability. She also discussed having cochlear implants and her education at a mainstream school as well as at a speech school.
At the end of the presentation, students had the opportunity to ask Keyser questions.
In the past, members of Sign Language Club have attended Sign-A-Thon at the Mall at Robinson, where they interacted with other sign-language communicators. For example, they had the opportunity to use sign language to communicate with and order coffee from baristas who also knew the language.
Club members have also attended events at the Pittsburgh Zoo. They plan to get back to these activities once COVID-19 restrictions are lifted.
To get involved with Sign Language Club, students can follow the group on social media. Its YouTube channel features instructional videos, including on communicating through sign language while wearing masks and social distancing. Another video discusses misconceptions about hearing aids.
Next week: National Art Education Association, IUP chapter