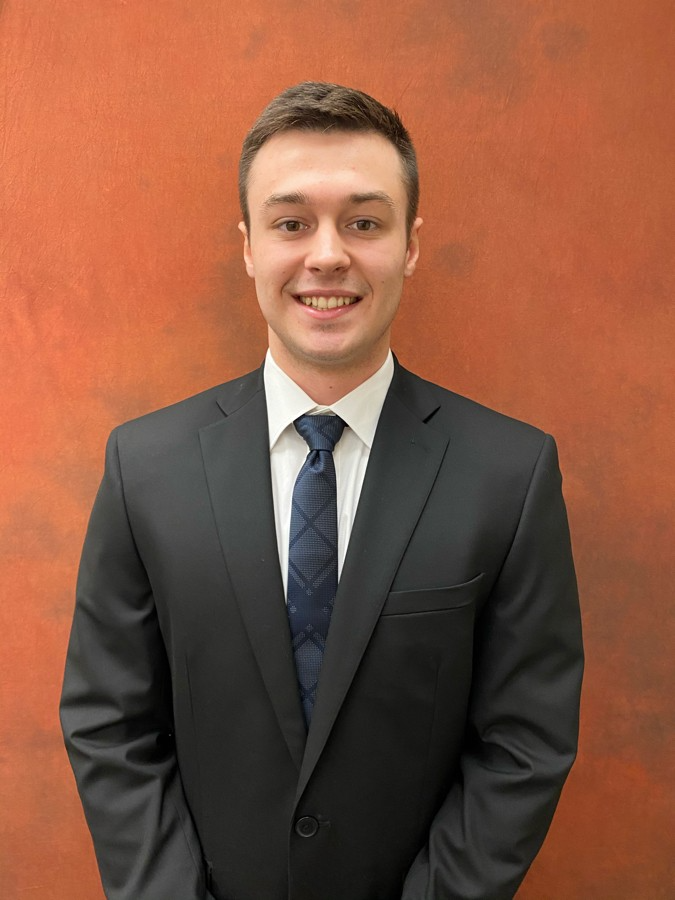 Zane Billy, a finance and management information systems double major at Indiana University of Pennsylvania from Meyersdale, has been selected for a Fulbright Canada–Mitacs Globalink Internship.
He is the first IUP student selected for this award, but brings to 17 the number of student Fulbright winners and almost 70 faculty who have received Fulbright scholarships.
Billy, a member of the Cook Honors College at IUP, is the son of Kathryn Billy and Charles Billy and is a 2018 graduate of Meyersdale Area High School.
He is the recipient of a Sutton Scholarship and is in the Eberly College of Business and Information Technology Business Honors Program. He is a member of the IUP Special Olympics Club, American Philanthropic Organization, the Student Managed Investment Portfolio group, and Kappa Delta Rho fraternity.
This competitive program allows exceptional US undergraduate students to do a 10- to 12-week internship in Canada during the 2021 summer semester. Students complete their internship under the supervision of Canadian university faculty members in a variety of academic disciplines, from science, engineering, and mathematics to the humanities and social sciences. Projects selected for the program are drawn from a broad cross-section of research topics covering all academic disciplines.
Due to COVID-19 restrictions, Billy's internship will be virtual. It will take place from late May to August.
In addition to the experience he will gain, he will receive funding for his work, which has the possibility of being published in professional journals.
Billy's academic interest is in fin-tech (financial technology), and his internship will be focused on e-procurement and e-commerce. His internship host professor is from Lakehead University, a public research university with campuses in Thunder Bay and Orillia, Ontario, Canada.
He will be working with the professor, who has a patented auction project, to migrate his online framework to a blockchain network; specifically, assisting with the design of a multi-attribute reverse auction system on a smart contract platform.
"Blockchain is a very new concept, so to have the opportunity to do research on it as a new and upcoming field is just extraordinary," Billy said.
The application process for the internship is a rigorous and competitive one: students are evaluated on a combination of factors, including their academic record, application rationale, skills appropriate to the project, résumé, and reference letters.
Billy worked with IUP's National Achievement Scholarships Office and office director Christian Vaccaro.
"I have been interested in these scholarship opportunities, and Dr. Vaccaro was very helpful with the process," Billy said. "Not only did he review the application materials, he kept me motivated to stick with the process," he said.
"I am so happy and excited for Zane to be awarded this prestigious opportunity," Vaccaro said. "I know it will be both memorable and enriching.
"The Office of National Achievement Scholarships is dedicated to ensuring that more of these opportunities go to our high-performing and academically motivated students. We know that we have many wonderful students here at IUP that are competitive for these types of awards, and we encourage them to consider applying."
Billy credited a number of faculty throughout the university for preparing him for the academic requirements of the internship, and for helping him through the process.
"I have a lot of people to recognize, but I want to specifically thank Distinguished University of Professor Dr. Lynn Botelho, one of my professors in the Cook Honors College, for identifying this internship and encouraging me to apply; and Dr. Pankaj Chaundhry and Dr. Micki Hyde in the Eberly College for pushing me to have a better understanding of the technology."
Mitacs, the Fulbright partner for this initiative, is a federally funded, national, not-for-profit organization that has designed and delivered research and training programs in Canada for some 20 years. Working with 70 universities, 6,000 companies, and both federal and provincial governments, the organization supports industrial and social innovation in Canada.
Fulbright is a scholarship and exchange program created in 1946 to increase mutual understanding between the people of the United States and the people of other countries through the medium of educational and cultural exchange.
The Canada–US Fulbright Program (aka Fulbright Canada) was introduced in 1990. Since that time, it has supported more than 1,000 outstanding students and scholars. Fulbright Canada is supported by both governments, by the university community, and by a number of private sector partners.