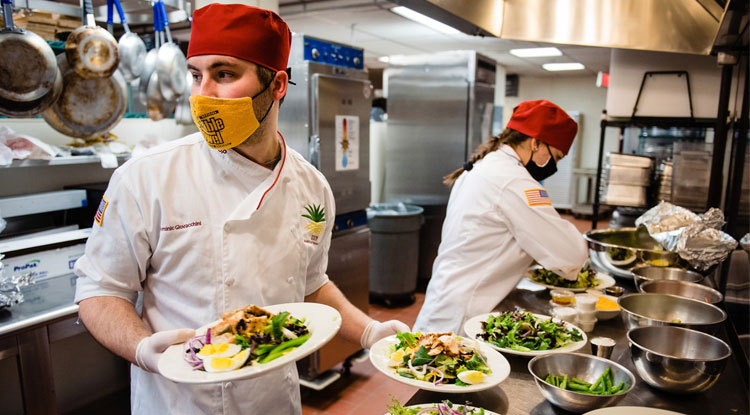 A lot of students in IUP's Department of Hospitality Management can now add resiliency to their skill set.
Students who take the Applications of Food Production and the Restaurant Food Production and Service classes spend their semester managing the Allenwood, a restaurant open to the community in Ackerman Hall. They're five-hour, four-credit classes in which students take turns running all aspects of the restaurant, from creating a menu to preparing and serving food to loading supplies to cleaning.
"The importance of the hands-on learning is huge in this industry," said Jeffrey Santicola, the faculty member who leads the classes, drawing from decades of experience in the restaurant industry. "That's where we focus, because we try to give the students a great experience."
While running a restaurant requires a lot of skills, doing it while the coronavirus pandemic has changed our world has meant the students have learned to adapt in ways that will serve them better after they graduate.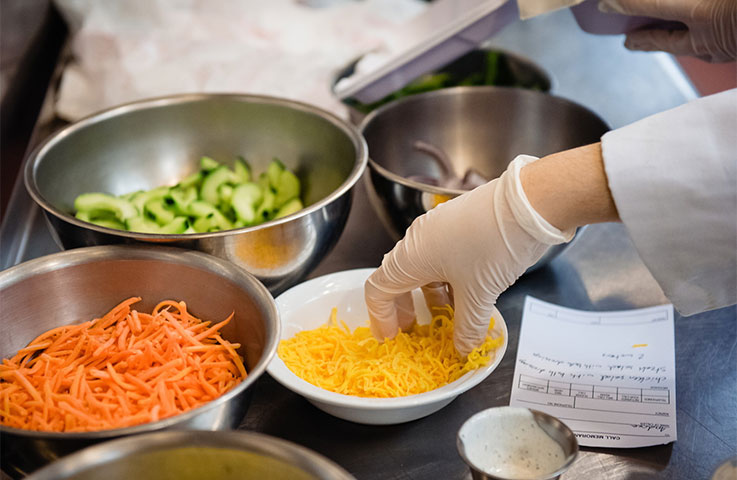 "By implementing what have now become natural adjustments to mitigate the risk of COVID-19, the Allenwood continues to provide its students with a dynamic educational experience and its guests with a hospitable environment," said Julia Lombardi, a junior from Warren, Ohio, who is working this semester at the Allenwood.
When the pandemic began and IUP had to put most of its coursework online, the Allenwood was in the midst of a strong spring 2020 semester of serving lunches and dinners up to four days a week. Santicola and his students had to close the restaurant for the rest of the semester, but it wasn't long before Santicola began preparing to reopen.
Pulling resources from several organizations, including the Centers for Disease Control, the Pennsylvania Restaurant and Lodging Association, and the National Restaurant Association, he came up with a plan he shared with the IUP administration that would allow students to continue operating the restaurant while also practicing safety protocols to keep staff and customers as safe as possible.
"It was important to me that students get what they paid for, and the only way to do that was to push to stay open," Santicola said. "I felt that it was important not only for students, but for the department. I wanted to honor the curriculum and honor the students to give them a hands-on experience. Some of the industry folks weren't that fortunate, they didn't get to open, but I wanted to make sure these kids got the opportunity. IUP has been very supportive. They were able to understand that we needed to get back to being open, and they helped us do it."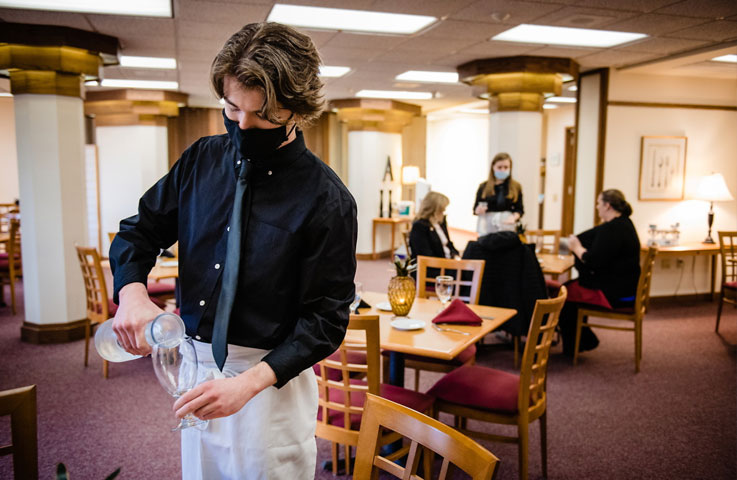 The Allenwood reopened in the fall 2020 semester, albeit on a smaller scale. It served only dinner, seating was reduced from 65 to about 30, the menus were streamlined, the hours were reduced, and students learned ways to keep the restaurant safe and clean.
"The minimum expectation in a restaurant is safe food and drink," Santicola said. "Whether it's good is a whole different animal, but the minimum expectation is safe food and drink. So, for us to have to switch to focus on that, to make them comfortable, I thought was really kind of interesting."
Takeout meals were also available, which added a component students had little of before.
"We had somebody on the phone taking orders," Santicola said. "It was another level of customer service and that they don't normally do. Normally we just do reservations that come in on email, and I write up the reservations by hand. But this way they actually had the customer contact piece, and that's huge. It was a big positive."
This semester, the Allenwood is open for lunch on Thursdays and Fridays from 11:30 a.m. to 1:00 p.m. and for dinner on Thursdays from 6:00 to 7:30 p.m. Safety protocols are still in place, and students are seeing how operating a business means learning to adapt to your circumstances.
"Resilience, teamwork, and adaptability are essentials of truly hospitable service," Lombardi said. "A lot of people are unaware of the background chaos, but the Allenwood instills a spirit of hospitality in its students. I believe it is crucial that we, as future industry professionals, learn to persevere while maintaining consistent and ethical standards of service, safety, and amiability."
So far, Santicola said, things are going well, because the students have embraced the challenge of running a restaurant in a time when many other restaurants have had to shut their doors.
The work is already paying off.
"We have recent students who are getting jobs right now," Santicola said. "I have one in my class right now who already has a job lined up as an event planner at a country club for when she graduates in May. We have another young man who was flown out to Nevada, and he's going to take a job as a restaurant manager there in one of the casino restaurants. The students have just done what they have to do. We figured it out, and there were some times it worked a little better than others, but they adapted to the challenge."