By Elizabeth Laughlin
This week, the Find Your People series profiles Pride Alliance, which has worked for decades to make the campus safe and supportive for students, regardless of sexual orientation or gender identity or expression.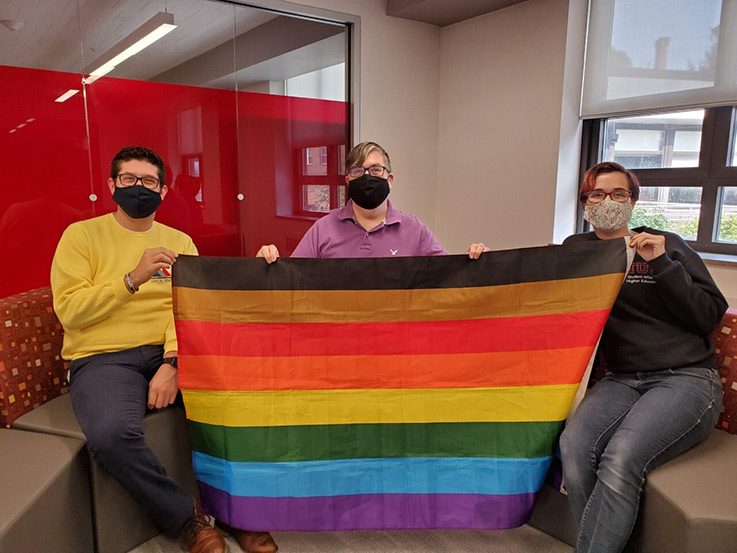 More about Pride Alliance
Meetings: Every Thursday at 7:00 p.m. in Elkin Hall and via Zoom
Join: For more information or to join, contact Sasha Aquino, president, fymy@iup.edu, or Tedd Cogar, advisor, tcogar@iup.edu. See the IUP Pride Alliance website or Pride Alliance on Crimson Connect.
The objective of IUP student organization Pride Alliance is to educate as well as to provide a safe space for students from the LGBTQIA (lesbian, gay, bisexual, transgender, queer and/or questioning, intersex, and asexual) community.
Pride Alliance is one of the oldest LGBTQIA organizations—not only at IUP, but across the country, Tedd Cogar, advisor to the IUP group, said.
At IUP, there's evidence of the organization's educational and social programming starting in the 1960s and '70s, Cogar said. Its first meetings were held in secret, since most members of the community were not open about their sexual orientation.
Cogar, senior assessment director, oversees LGBTQIA Support at IUP. In addition to Pride Alliance, he advises Queer Colors, an educational and advocacy group for queer students of color.
"The thing that's important to me is helping our students however I can," Cogar said. "As an advisor, it's important for me to help the student organizations and members of the LGBTQIA community grow as individuals and as leaders."
Cogar said that his LGBTQIA Support role is to help students who are members of the organizations and even students who are not.
"I want all students to feel comfortable coming to me, either with the organization or not," Cogar said, "to work on advancing LGBTQIA efforts on campus."
Sasha Aquino, an IUP junior majoring in psychology and sociology/human services, became president of Pride Alliance at the start of the fall semester.
He said he took on the presidency to keep the organization alive.
"We want this to be the safe space where LGBTQIA students can talk about their experiences and get the resources they need," Aquino said.
The group provides documentaries and educational resources about the LGBTQIA community and often provides resources about mental health, he said.
The executive board of Pride Alliance also includes vice president Kaycee Morgan, a senior; secretary Elizabeth Rinde, a freshman; and treasurer Nic Sealer, a junior.
During the pandemic, Pride Alliance has kept its focus on building connections and fostering community.
"Even with COVID, Pride Alliance has allowed a lot of freshmen to make connections and become close friends," Aquino said. "It's nice that they have that sort of community."
The group meets every Thursday at 7:00 p.m. in Elkin Hall. For safety during the pandemic, members spread out and wear masks. Those who can't attend in person connect through Zoom.
Each meeting has a theme or topic to discuss. In March, those will include "The Ins and Outs of Coming Out" and "Discrimination Laws across States."
Pride Alliance often collaborates with Queer Colors, and, together, they are associated with the Queer Conversations workshops. Those workshops—which cover topics from feminism in a queer context to violence prevention and historical and political matters—are held every Tuesday from 5:00 to 7:00 p.m. in Elkin Hall.
Pride Alliance also cosponsors large-scale events, such as IUP's celebration of National Coming Out Day in the fall and Lavender Graduation, to be held April 30, a celebration of the accomplishments and contributions of LGBTQIA graduates.
In addition, the group will cosponsor the Queer Arts Showcase on April 20. This year, the showcase will be held in person and virtually, giving remote-learning students the opportunity to present their art via Zoom.
Next week: IUP NAACP