By Elizabeth Laughlin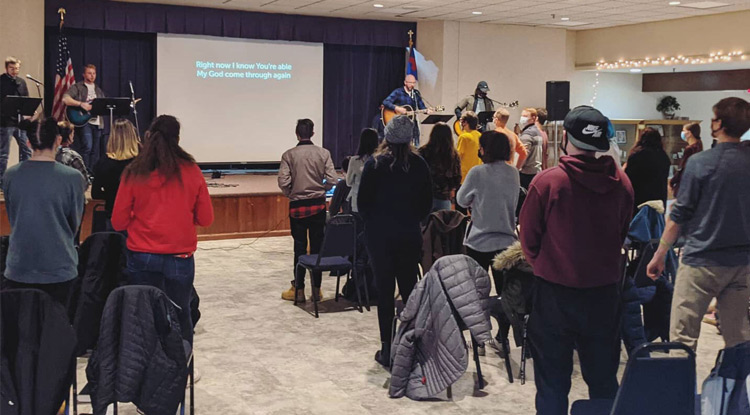 This week, the Find Your People series profiles the Coalition for Christian Outreach, an organization that seeks to help students spread the Christian gospel, increase faith in Jesus Christ, and encourage the spiritual growth of its members.
More about the Coalition for Christian Outreach
Founded: 1971
Meetings: Wednesdays at 7:30 p.m., Graystone Presbyterian Church, 640 Church St., Indiana
Join: For more information or to join, contact Kenny Campbell, kcampbell@ccojubilee.org. On Crimson Connect, see Coalition for Christian Outreach.
While this school year has been unique, the objective of the Coalition for Christian Outreach has stayed the same.
"We train IUP students in Bible study and in living life like Christians," Director Kenny Campbell said. "We also foster community and give students a place to be on campus."
Campbell, who received his bachelor's degree from IUP in 2014, has served as director of the coalition for more than three years. The organization partners with two local churches: Indiana Alliance Church and Graystone Presbyterian, where Campbell is a staff member.
The CCO also gives IUP students a chance to take charge. Its 13 student leaders play various roles, such as leading Bible studies and prayer groups. Two of these students lead their meetings virtually.
In the fall, the organization met in smaller groups, because of the pandemic, and followed safety guidelines. It also had a virtual group to help remote IUP students stay connected, Campbell said.
This spring, at the request of students, the coalition will meet as a larger group in an area where members can maintain safe distances from one another.
Meetings will be Wednesdays in the downstairs area of Graystone Presbyterian, called "the Gathering Place."
"We did that for one meeting last semester, and we were able to fit about 33 socially distanced chairs," Campbell said.
These large-group meetings will consist of praying, singing, and storytelling. Small groups within the coalition will continue to meet throughout the week on more specific topics.
A typical week for the CCO includes leadership meetings, community groups, church on Sundays, and occasional activities. Campbell hopes to incorporate more service projects this spring.
"We gave 700 pounds of canned goods to the [ IUP Food Pantry and Help Center ] last year, and the year prior we gave about the same to [the Indiana County Community Action Program]," Campbell said. "We are trying to find more opportunities like that."
This spring, the organization plans to have a table outside North Dining, where members will hand out cups, pins, and wristbands.
One activity from the fall that the coalition plans to continue this spring is assigning accountability partners. This means each member is assigned someone to check on once a week. The intent is to encourage students to stay active and productive.
"It's easy to fall into the swing of seasonal depression and staying in your bed all day," Campbell said. "We wanted to give them someone they could call and ask how everything's going."
Above all, the Coalition for Christian Outreach wants its members to recognize their faith in everyday activities.
"We want students to recognize that their faith goes beyond Sunday morning," Campbell said. "We want our students to realize that if God cares about everything, then He cares about them, and He cares about what they do."
Next week: Queer Colors