By Elizabeth Laughlin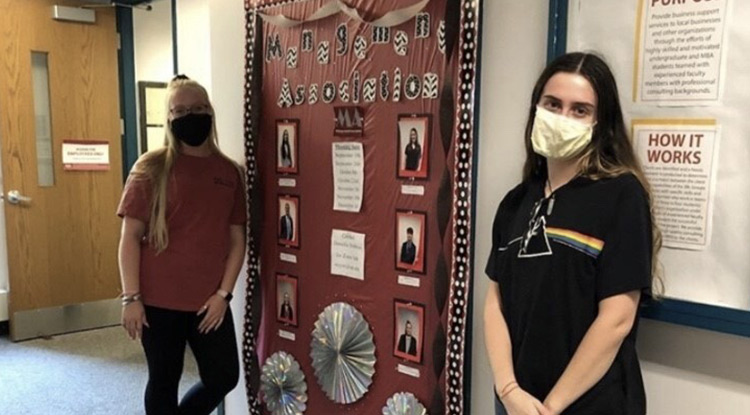 This week, the Find Your People series profiles the College of Business Student Advisory Council, an organization that encourages students to build leadership and professional skills and get involved.
The College of Business Student Advisory Council, also referred to as COBSAC, encourages students in IUP's Eberly College to get involved on campus.
Started by Robert Camp, the college's former dean, it brings together two representatives from each of Eberly's 12 student organizations, including the Student Accounting Association, Student Managed Investment Portfolio, and more.
Student leaders are invited to join through a formal invitation.
Because of the pandemic, the group has been meeting every other week on Zoom. All of its events are held virtually as well.
"Having to switch to a virtual setting was a big shock," Emily Kostelnik, the council's 2020 president, said, "but it made me realize how easy it is to adjust, since we have all these resources here at IUP."
Kostelnik, a senior majoring in marketing, stressed the importance of joining organizations and being involved on campus. She said that the group focuses on building professional skills while still in school.
Sandra Shanshala became COBSAC's new president in January. A junior studying accounting and management, she is also vice president of IUP's Student Accounting Association.
"What always amazes me is how Eberly's students and faculty help each other," Shanshala said. "As COBSAC president, I get to be at the center of seeing how everyone is there to lift each other up, even in the face of a pandemic."
The council's executive board includes Tracy VanHorn-Juart, advisor; Sarina Steigerwald, executive vice president; Ajuanni Witcher, vice president of publicity; and Taylor Friedman, secretary/treasurer.
Over the past few years, the council has implemented initiatives to help freshmen and transfer students. For example, the Big/Little Program is for Eberly transfer students who are struggling to make friends and get accustomed to campus. The transfer student, or "little," is paired with a "big," a student who knows Eberly well.
"When I became president, I really wanted to focus on freshmen and transfer students," Kostelnik said. "I wanted to help them adjust and grow." The group also hosts Zoom-in Connections events, which welcome guest speakers who talk about their professional expertise. Speakers have included IUP accounting professor Veronica Paz and management associate professor Bob Buchanan.
The event is a modified version of Coffee Connections, which the council previously held in Eberly.
For Valentine's Day, the council raised money to buy gift cards from local restaurants, which it then presented to front-line workers. The organization has more community-service events in the works this spring.
Next week: Pride Alliance