Black history is often celebrated by recognizing trailblazers from Martin Luther King Jr. to Maya Angelou, from Sojourner Truth to Serena Williams. IUP, too, has its pioneers—its earliest Black students. Most became teachers or were trained to be. One was a champion for children's mental health.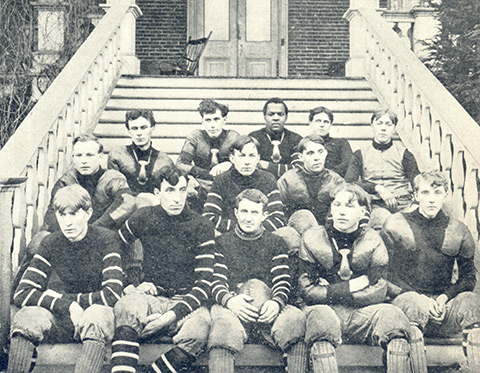 Those are the ones we know of. Professor emeritus of history Charles Cashdollar '65, author of the forthcoming book The IUP Story: Indiana University of Pennsylvania, from Normal School to University, stressed that there may be more.
"There were no yearbooks with photographs before World War I," he said. "There were no records that identify anyone by race, so there's no way we could know for sure."
As an example, he cited a photo of the football team in the Normal School's 1904-1905 Catalog. Sitting on the stairs of John Sutton Hall, the team appears to have a Black member. But with no identifications, the man remains a mystery.
Bianca Parker, 1891-93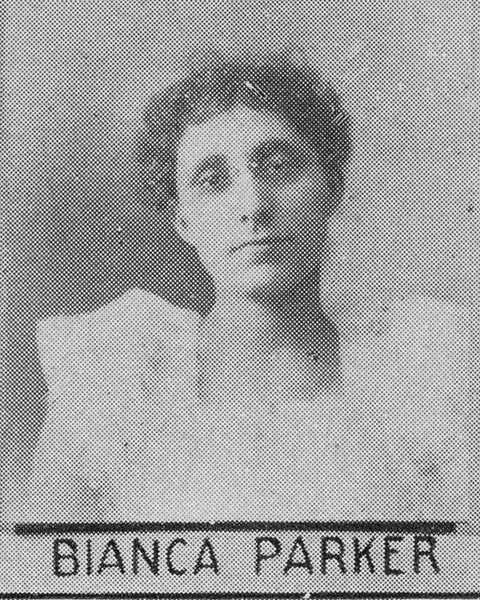 The school's first known African American student, Bianca Parker, was identified not by anyone at IUP but by Parker's family, Cashdollar said. "Her family is famous, and they found us."

In his book, to be released later this year, Cashdollar wrote that Bianca's father, John Parker, was a former slave who bought his freedom and settled with his wife in Ripley, Ohio. He ran a foundry and was successful enough to have six children continue their education past high school and enter professional careers. John Parker was known for helping escaped slaves to cross the Ohio River on the underground railroad, Cashdollar wrote, and Bianca's childhood home is now a National Historic Site.

Bianca Parker attended Indiana Normal School from 1891 to 1893 and studied music. She did not graduate, which Cashdollar said was common, as formal credentials typically weren't needed to a get a teaching job. She taught music in Kentucky, Ohio, and Missouri and died in 1930.

Helen Dixon '26

The first known African American graduate of what was then Indiana State Normal School is Helen Dixon of the Class of 1926.

Much of what Cashdollar knows about Dixon, he learned from a recorded interview with G. G. Hill, former head of the Commercial (business) Teacher Training Department, in which Dixon studied. In the interview, Hill said that Hope Stewart, dean of women, didn't know where to have Dixon sleep or eat, and Cashdollar thinks she likely had to live off campus.

According to the book, Dixon grew up in Sharon, on the estate of a steel baron for whom her father worked as a butler. Described in the 1926 yearbook as quiet and successful, she was also active in her department's activities. Cashdollar noted that, when her salesmanship class took on the decorating of downtown Indiana display windows for the 1924 Christmas shopping season, Dixon did the write-up for the February 1925 edition of the Normal Herald, the alumni news bulletin.

After a brief teaching career, Dixon died of tuberculosis in 1935 at 29, Cashdollar wrote.

Lucindia McClellen Harris '41 and Almeda McClellen Sabido '50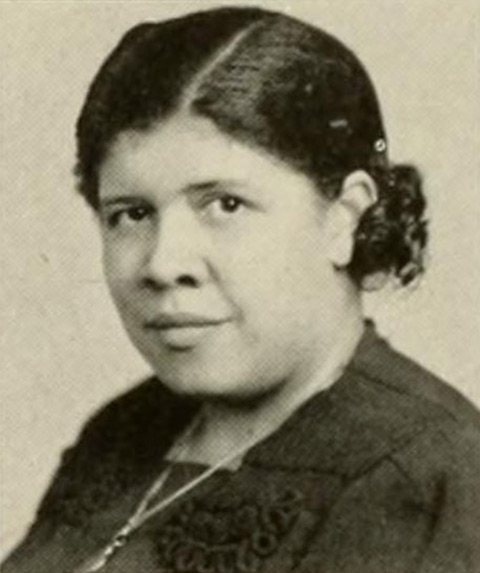 How little is known about early African American graduates is evident in a scrapbook that Almeda McClellen Sabido, a 1950 Indiana State Teachers College graduate, compiled after her retirement in 2000 from a prominent career in mental health.
Sabido wrote that her older sister, Lucindia (pronounced Lucinda) McClellen Harris, was the school's first African American graduate in 1941, and that she (Almeda), nine years later, was the second.

The McClellens grew up in Blairsville. Their grandfather, Samuel McClellen, fought with the Union Army in the Civil War. Their parents—George, who worked for the Pennsylvania Railroad, and Dora, who was also employed to help support the family—raised, in addition to Lucindia and Almeda, two nurses and a skilled machinist and professional musician.

According to the scrapbook, Lucindia's time at ISTC was difficult, "in keeping with the prevailing state of race relations in 1941."

Lucindia's son, George, who returned to Blairsville in 2004 to care for his aunt Willa, said he knows little about his mother's college experience, other than her commute from Blairsville to campus and back on the Hoodlebug, a local name for doodlebug, or small train, each day.

After receiving her elementary education degree, Lucindia married and taught in Virginia before returning to Blairsville. She spent most of her career teaching in Johnstown public schools, as Blairsville had no African American teachers at the time, George said.

Lucindia died in 1999. She had two children, George and his late sister, Clara Jacqueline.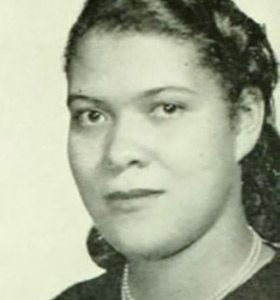 For a time after completing his IUP education in 1971, George worked in the computer industry in New York City and stayed with his aunt Almeda and her family. Almeda was known as "Pat" to her friends, George said, "so you always knew who her friends were and who her colleagues were."

A nationally recognized expert in children's mental health, she was senior vice president of the Staten Island Mental Health Society and director of its Children's Community Mental Health Center. In addition to her ISTC degree in secondary education, she earned a master's in social work from the University of Pittsburgh. IUP honored her with a Distinguished Alumni Award citation in 1974.

Almeda Sabido and her husband, Frederick, had two children, Frederick and Derek. She died in 2002.

Dolores Walker Hickerson '51 and Doris Roberts Taylor '51

Members of ISTC's Class of 1951, Dolores Walker Hickerson and Doris Roberts Taylor are believed to be the first African American students to live on campus. As music majors, they roomed together in John Sutton Hall and later in Clark Hall.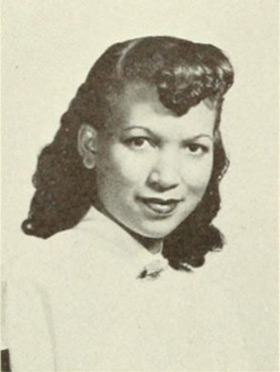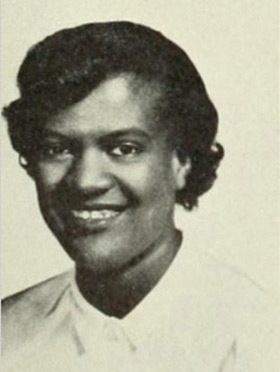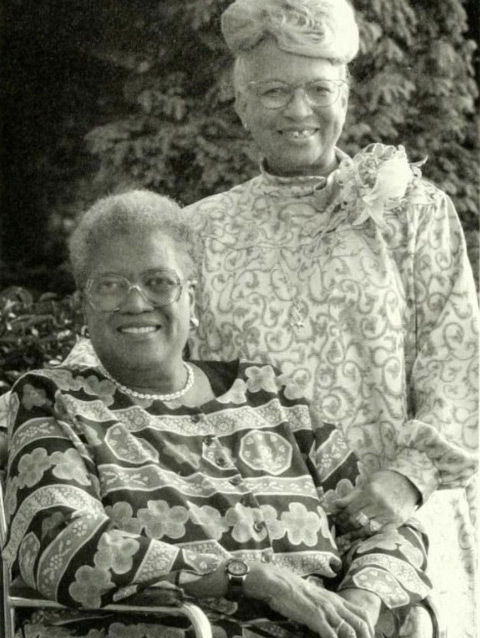 In the story "A Different World" from the Fall 2001 edition of IUP Magazine, they discussed what was off limits to them in Indiana 50 years earlier—for example, the roller-skating rink, downstairs seating in movie theaters, and, for a time, a local dairy restaurant. With friends, they staged what Hickerson called "the first sit-ins" at the restaurant. Taylor said the college's president, Willis Pratt, ended the restrictions by saying no students would patronize the restaurant if it didn't serve all of them.

A native of Meadville, Taylor moved to the Washington, DC, area after she graduated and worked 18 years for the federal government as a secretary. A mother of six, she died in 2003.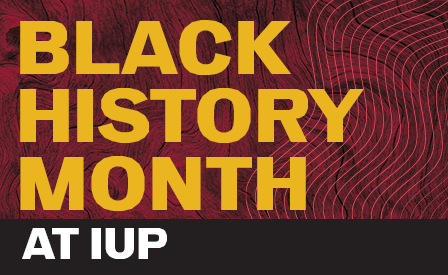 Hickerson, who came to ISTC from Altoona, said she was unable to get a teaching job back home because of her race. She worked in the Philadelphia public schools and was finally hired to teach in Altoona in the mid-'60s. She retired from New Brighton schools in 1992 after 38 years of teaching. A mother of four, she now lives in Philadelphia.

The magazine story came soon after Hickerson and Taylor returned to campus for their 50-year reunion and received the "pioneer" medal.

"I really did feel like a pioneer," Hickerson said in the story. "We smoothed the way."