Cynthia Pugh successfully defended her dissertation for her PhD in safety sciences at IUP in October. While that accomplishment can never be taken away, it's her contribution to nanoparticles research that will be her legacy.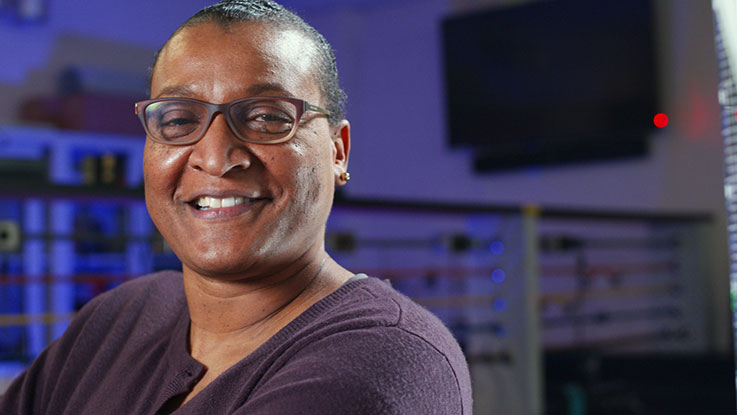 More about Cynthia Pugh
Academic Experience
Michigan State, dual bachelor's, chemistry and biochemistry
University of Michigan, master's degree, industrial hygiene
IUP, PhD, safety sciences
Professional Experience
American Electric Power, lab chemist
Michigan Occupational Safety and Health Administration, chemist
OSHA, Region 5, Columbus, OH, industrial hygienist
Pugh's deep dive into nanoparticles—ultrafine particles of matter as small as one nanometer (one-billionth of a meter) in diameter—could potentially change the landscape of how electronics are recycled. What concerns Pugh are the chemicals workers are likely inhaling as they break down electronics to recycle parts.
"No one is looking at engineered nanomaterials," Pugh said. "I want to know what happens when these chemicals, engineered to help all of our technology operate, are broken apart and released from their containers. I'm talking about our computer screens, LEDs, laptops, cell phones, tablets.
"The de-manufacturing of these items is happening across the globe. I want to know if the people doing this work are inhaling titanium dioxide, silica, zinc, iron oxides, silver, carbon nanotubes, and other engineered nanoparticles. I think it's a problem, because currently, there are very few occupational exposure limits used to minimize worker exposure to toxic substances—in this case nanoparticles."
Gaining access to a recycling center and getting permission to place inhalation equipment on workers is no small feat. Pugh finally found someone who agreed—a manager with a safety background who had previously worked with students to aid research.
Once on site, she hooked air-sampling pumps resembling walkie-talkies to the backs of five employees to analyze air in their personal breathing zones. A scanning mobility particle sizer, which can cost up to $30,000, was used to measure nanoparticle emissions in the recycling plant. In total, 20 personal and area air samples were collected over a two-day period. And, she spent a third day continuing to measure emissions in the plant.
"Those chemicals are there, in the air," Pugh said. "We know the nanoparticles will cause damage to the lungs. The tests revealed nanoparticle emissions around the work area inside the recycling warehouse. I need more data to figure out exactly what is being emitted. Figuring that out is the million-dollar question. That's why you have to sample several times, with different equipment and in different spots in the facility, over several days. Having more data points will help hone in on what is actually in the emissions."
Pugh knows nanoparticles damage the lungs, because of established research in other industries. Workers without protective equipment, who inhale certain chemicals, suffer negative consequences. Coal-dust emissions associated with the production of steel can result in black lung disease. Deconstruction of asbestos on worksites releases tiny particles that can cause a range of medical conditions typically not realized until later in life.
Industrial injuries in Pugh's family history contributed to her passion for this research. In the 1930s, her grandfather was blinded in an explosion at the US Steel plant in McKeesport.
Two decades later, her father, William, lied about his young age and spent 18 months working in the same mill, to help the family make ends meet.
At the end of his life, as he struggled to breathe, doctors could see scarring in his lungs, presumably from exposure to coal products and dust particles in the steel plant.
"I was like a dog on a bone doing this research," Pugh said. "The setbacks in gathering the data weren't going to stop me. The money it cost to process these samples didn't matter. The grant helped, but I was willing to and did use my own money to fund this research."
The grant, for which her dissertation advisor, Luz Marin, helped her refine her application, was from the Department of Environmental Health and Engineering at Johns Hopkins Bloomberg School of Public Health. Pugh was awarded $7,500, which helped offset the cost of analyzing samples. She estimates she has spent approximately $5,000 of her own on equipment and rentals to complete research for her dissertation. That cost is a small price to pay, she said, to be on the leading edge of research helping to uncover unseen harm to a workforce.
"We don't have to wait 50 years to have mounds of data and to put safeguards in place to shield workers from harmful inhalants," Pugh said. "It matters, because breathing matters. Health matters. We all have a right to go to work and be safe while we're working."