Indiana University of Pennsylvania graduate Natalie Palamides's Nate – A One Man Show will premiere globally on Netflix on December 1.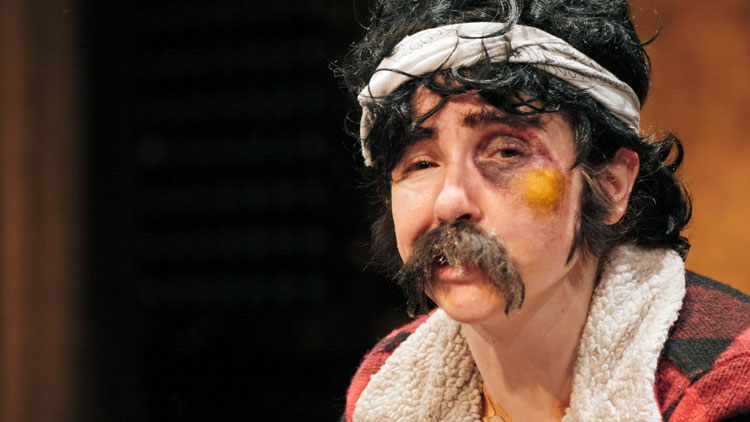 Palamides is a 2012 theater and communications media graduate of IUP and a 2018 recipient of the university's Young Alumni Award. She was a member of IUP's Cook Honors College while at IUP. She is originally from Peters Township (Pittsburgh).
Nate – A One Man Show special is executive produced by Amy Poehler and Kim Lessing of Paper Kite Productions and directed by Phillip Burgers.
"It's an incredible accomplishment by Natalie to have achieved this kind of recognition this early in her career," Brian Jones, chair of IUP's Department of Theatre, Dance, and Performance, said. "This speaks to her perseverance, her creativity, her talent, and her ability to take what she learned at IUP and turn it into an amazing piece of art."
Jones noted that Palamides worked hard at her craft as both a student and since her graduation.
"It is not like she suddenly 'arrived,'" Jones said. "She's an extremely hard worker. One of the things that struck me about Natalie as a student was her wide-ranging curiosity and efforts to get involved in all elements of theater making. She made several pieces in collaboration with students all over campus."
As a senior at IUP, Palamides won a 2012 Kennedy Center American College Theatre Festival award for projections design in the IUP Theater-by-the-Grove production of Lindsey's Oyster.
"Our department was very pleased to nominate her for the Young Alumni Achievement Award in 2018, and we appreciate that she has stayed involved with our department and with the university," Jones said. Palamides continues to recognize that IUP professor Rick Kemp's clown performance course and training made all the difference in her discovery of her inner clown character as the root of Nate, the character in her show.

She began working as an actress, comedian, and writer in film and TV in Los Angeles immediately following her graduation in 2012. In 2016, she was selected to be the voice of the Buttercup character on Powerpuff Girls when Cartoon Network launched a reboot of the series. She also has a recurring role as "Mara" on the Progressive Insurance commercials.
She has performed across the country with companies including Pig Iron Theatre in Philadelphia and the Upright Citizens Brigade in Los Angeles, serving on the sketch and improvisation teams. She was a props/production intern with TBS's show Conan while a student at IUP.
In 2017, Palamides won the Best Newcomer Award at the Edinburgh Fringe Festival for her comic one-woman show LAID, which was also nominated for Best Comedy Show at the 2018 Melbourne International Comedy Festival.
In 2018, Nate – A One Man Show won the 2018 Edinburgh Total Theatre Award. She has performed the show in New York City and improv and comedy clubs in the United States and England.
The show is described by Broadway World as "following an alpha male (portrayed by Palamides), learning to express emotion and understand the rules of consent."
"We plant seeds, that's our job," Jones said. "We even call our student-produced summer theater project the Acorn Project. We don't make students great; they make themselves great. We plant seeds—that's the kind of program we've always been."