The IUP campus took on a surreal appearance for much of 2020: bleachers empty, scoreboards dark, cheerleaders with no one to cheer for.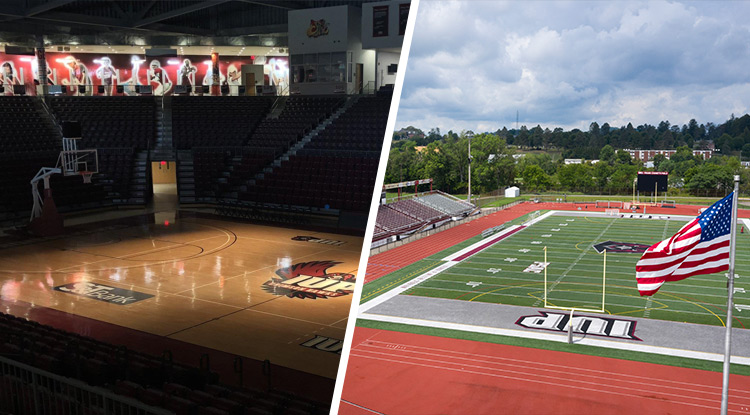 The IUP campus took on a surreal appearance for much of last year: bleachers empty, scoreboards dark, cheerleaders with no one to cheer for.
Intercollegiate athletics at IUP came to a standstill for the first time since World War II—a global pandemic rather than a global conflict bringing activity to a screeching halt.
The raging coronavirus left defending Pennsylvania State Athletic Conference tennis champion Joanna Stralka sitting on the sidelines, six-time all-conference cross country and track performer Sam Lenze without a race to run, and three-time all-conference running back Justice Evans unable to pad his eye-popping career yardage and touchdown totals.
For the first time in 75 years, sports schedules were wiped out. Spring and fall 2020 competition were the first to fall victim to the virus, and winter sports were canceled by PSAC decree in November. Athletics are tentatively set to resume this spring. The emphasis is on tentatively, given how the pandemic has made a mockery of long-range planning.
"It's awful when you have a kid who asks you, 'Hey, what's going on?' And you really can't tell them, because you just don't know," swimming coach Chris Villa said in the fall.
Athletics were abruptly shut down in mid-March 2020 as COVID-19 cases surged in the United States. The IUP men's (28-2) and women's (28-3) basketball teams were thus denied the opportunity to host the Atlantic Region tournament at the Kovalchick Complex, a possible springboard to a berth in the NCAA Division II Elite Eight. Baseball and softball players missed out on their annual spring break trips to the South. Swimmers Rachel Johnson and Paige Mikesell, competing at nationals in Geneva, Ohio, left early when the four-day meet was canceled before reaching its halfway point. And men's track participants, who were anticipating a big season, never had the opportunity to prove their optimism was justified.
"It was definitely devastating," said Lenze, a senior distance specialist. "Our indoor track season [2019-20] went incredibly well, and we were really geared up to have a great outdoor season. It's never a hundred percent sure that everything's going to go great, but, dang, we were primed."

Stralka, a sophomore from Sweden who captured the PSAC singles crown in the fall of 2019 and was named the Intercollegiate Tennis Association Atlantic Region Freshman of the Year, had hoped to claim a second title in 2020. Now she's just hoping to play—period.
"Our main goal is to win the regional championship, but now we don't know if there will be a championship, we don't know if we're going to have conference matches, we don't know if we'll be able to compete at all," Stralka had said last fall. "So it's really hard to keep the motivation and intensity at 100 percent during practice. We know we're practicing for a goal, but we don't know if we'll actually be able to reach the goal, because of the pandemic."

Evans, a senior who has piled up 2,443 rushing yards and scored 25 touchdowns, felt lost on idle autumn Saturdays when he typically would have been scampering over the Miller Stadium turf.
"It's actually been kind of stressful," he said. "It's hard for everybody, not playing. But you've just got to stay focused, control what you can control, and be ready for when they do let us play."
Which might be soon for some IUP athletes. The PSAC has rescheduled championships for cross country, a fall sport, and swimming, a winter sport, both of which the NCAA considers low-risk activities, for this spring. Teams will engage in abbreviated seasons, followed by championship events in late March for cross country and late April for swimming.
The university was expecting to move forward with its regular spring sports seasons as IUP Magazine went to press. But there are no guarantees. That kind of uncertainty has been gnawing at IUP's athletes since last March.
"It does take a toll on their mental health and wellness—the unknown, the unforeseen, wondering if they'll compete again," said Todd Garzarelli, athletics director.
Athletes were permitted to begin workouts—in small groups only—when they returned to campus for the fall semester, to provide them some slight sense of normalcy. The university formed a COVID-19 task force, composed of coaches, administrators, and health professionals, to offer support and guidance. In addition, the Athletics Department launched a virtual speaker series to help athletes improve their skills, knowledge, and overall well-being outside of sports.
"We wanted to build a platform, an educational platform to really connect with the student-athletes in a manner that previously we weren't able to, because they were so busy with games and competition," Garzarelli said. "We wanted to engage them in a different manner, so we developed a speaker series to give them tips and tools to help them navigate this tough time."
Those Zoom events have touched on a variety of topics: mental health and wellness, social injustice, voter registration, coping with the loss of identity as an athlete, and leadership within a sports team and within society in general. Renowned motivational speaker and best-selling author Jon Gordon addressed athletes in November.
"Attendance at these meetings is optional," Villa said, "but our turnout has been phenomenal. I think, on the first one, we had just about every athlete accounted for. So they're really taking advantage of the services and things that we're offering them."
Even if it's only lending an ear.

"Everyone's been awesome," Lenze said. "You know, we're students—we're going to make mistakes. We're just a bunch of kids who want to see our friends. So when the restrictions started coming into play, and we started crossing some boundaries, everyone was very supportive, very understanding, just super compassionate. They knew how much we were struggling and how much losing that social aspect was just killing us. They care about us—that's the one thing we got. They're all about, how can we help you?"
Administrators and coaches have been providing that kind of support since last March, when sports at IUP came to a halt for the first time since World War II.
"We've been very transparent from the beginning with our student-athletes," Garzarelli said. "The bottom line is, we're always going to put them in a position to be successful on and off the field. They came here to IUP to compete for and win championships, and hopefully we can get back to competition on the shorter side and give them that opportunity."