This academic year has been like no other. The pivots and changes to schedules remain challenging. One IUP student organization responsible for lifting spirits and keeping students engaged is tackling the test. STATIC, IUP's Student Activity Committee, could have folded under the strain of entertaining the masses in this virtual atmosphere. Instead, its members have rolled up their sleeves and faced the task head on.
STATIC Executive Chair Cassidy Krug, a double major in marketing and management, said that as the quarantine began in mid-March and continued through the spring, some students who had signed on to work with STATIC jumped ship, and the group wasn't able to fill those positions.
"We had done only a few events when it all got pulled away," Krug said. "It was really upsetting. The excitement we had for rolling out the programming and then seeing our friends enjoy those events just evaporated overnight. It has not been a fun thing to deal with. Folks left who I never thought would. I stuck with it because the experience STATIC provides is so crucial to my future career."
In a typical year, the group functions with 12 undergraduates at the executive level and 40 undergraduates as general members, helping to plan, execute, and promote events. Krug said leading the executive committee of nine undergraduates and no general members has been a lesson in extending grace. The emotional toll can be easily internalized.
STATIC, by the Numbers
Events, Fall 2019: 20
Events, Fall 2020: 40
Executive board, typical year: 12, plus 30 general members
Executive board 2020–21: 9, plus 0 general members
Budget 2019–20: $359,437
Budget 2020–21: $298,332
"It definitely changed the way I interact with people," Krug said. "You have to be understanding. You just don't know what a person is dealing with. I think we're all more empathetic than in the past."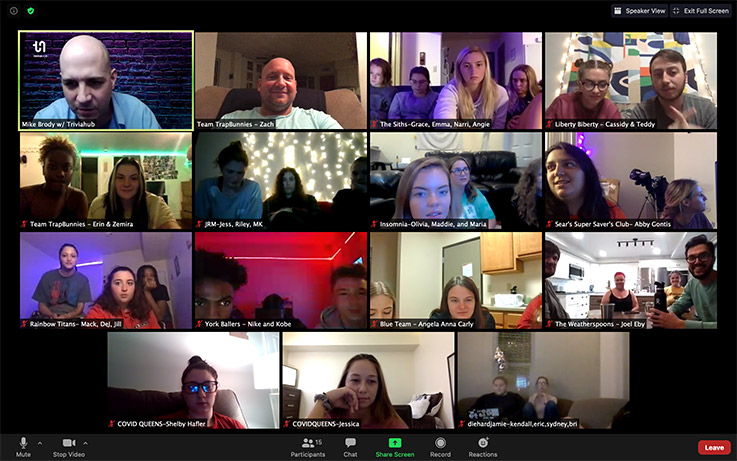 Alongside Krug, graduate assistant Ali Walker '17 and Zach Clark M'09, director of student activities and assessment with IUP's Student Cooperative Association, see their mission as crucial to the mental health of students.
"Every event is free this semester," Clark said. "We didn't want to provide one more barrier that would prevent students from finding entertainment that relieves stress. What we do matters. The programming translates directly into care for our students. It makes the college experience worthwhile. It keeps people engaged, and 40 years of data can support that. Students are learning as much outside the classroom as they are inside. Our programming helps."
Each program is intentional. Remaining nimble is essential. Providing high-quality entertainment and serving the student body are first and foremost. Offering diversity in entertainment—from spa nights to paint parties to dance challenges and music concerts—is purposeful. To provide something for everyone.
"It's a lot different from anything I've been a part of," said Walker, who is in her first year as a graduate advisor to STATIC. "There is an amazing level of prep and planning that goes into our events. And now we're transferring everything that would have been in person to a screen. We're researching platforms to make it easier for students to access. We're working with vendors we wouldn't have before. Pushing out promotions to students on social media in hopes of reaching them where they are."
Attendance isn't what it could be. The organizers have had to lower their expectations of what a successful event looks like. Walker said they understand they can't please everyone with every event.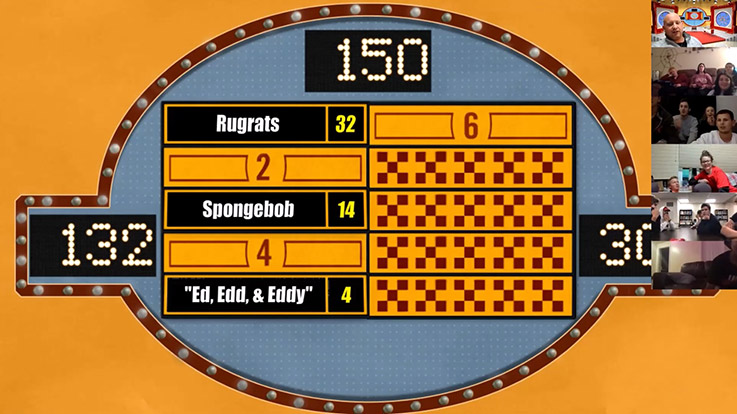 But, seeing the campus fairly empty might make students believe nothing is happening, and that couldn't be further from the truth. STATIC has increased the number of programs from 20 in fall 2019 to 40 this fall. The board, composed entirely of students, is still working, still putting in the effort.
"We have to be careful not to get down on ourselves as we move through this," Walker said. "We keep pushing and keep reaching out to folks and hope they're seeing our graphics and promotions for the events."
"A lot of people might not show up," Krug said. "We know we did our best. Students just might not want that particular entertainment. It might be easier to sit on their couch and do homework or play a game."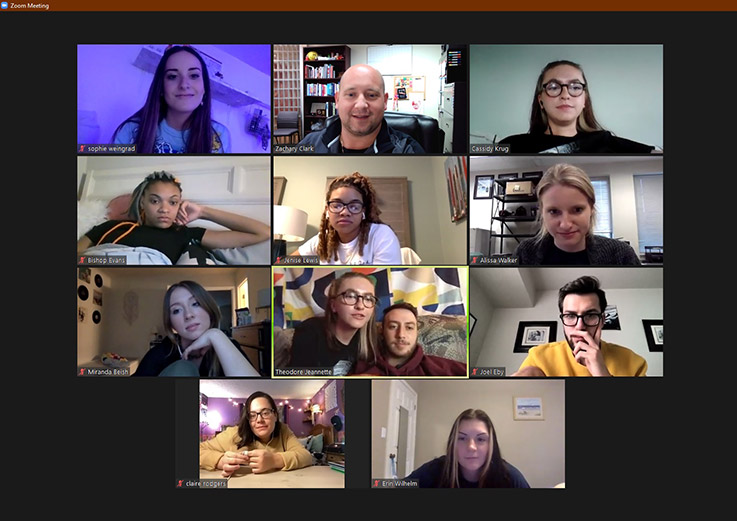 The quality of the programming and the ability to keep it going during a pandemic is attracting attention across the state. Other schools in Pennsylvania's State System of Higher Education want to do what STATIC is doing. They see the quality of the programs and the amount of work IUP students are doing to deliver the content. Clark is in conversations with Lock Haven, Shippensburg, and Kutztown to develop an articulation agreement that would extend these programs, led by IUP students, to those campuses—a collaboration that would benefit everyone.
"The love and appreciation I have for my students and what they do for their peers—I think it's unmatched," Clark said. "They're serving this community in a way that's different from their professors and other staff, different from other organizations. Without their commitment to programming, this year would have been that much more difficult."