Indiana University of Pennsylvania's fall 2020 enrollment includes new students with strong academic achievement, a diverse student body, and a strong percentage of returning students.
IUP's new freshman fall class of 1,817 students have a high school grade point average of 3.40, up from both the fall 2019 freshman class grade point average of 3.31 and the fall 2018 grade point average of 3.28. A total of 133 of the new fall freshmen graduated in the top 10 percent of their high school class, and 29 were valedictorians or salutatorians. This compares to 112 new freshmen in fall 2019 who graduated in the top 10 percent of their high school class and 16 who were valedictorians or salutatorians.
IUP's fall 2020 total enrollment of 10,067 includes a minority population of about 20 percent of students, comparable to fall 2019 and 2018 figures. The fall 2020 enrollment exceeds university projections and reflects a stronger persistence rate for continuing undergraduates. (Persistence is defined as sophomores and juniors who continue study at the university from year to year; retention is defined as first time, full-time, undergraduate degree-seeking freshman who continue on to their second year of studies.)
"Because of the continued demographic challenges that we continue to face, we anticipated a decline in overall enrollment well before the pandemic," IUP President Michael Driscoll said. "When the pandemic hit, we adjusted our projections, and due to incredibly hard work on many fronts across university offices and divisions, we exceeded these enrollment projections, even in the face of an unprecedented global health crisis. We also saw an increase in persistence for our continuing students, which shows us that our students have confidence in us to continue to provide them with a safe, healthy and outstanding educational experience, despite the uncertainties of COVID-19. That is a very important testament to our continued focus of being a fully student-centered university," he said.
IUP also saw an almost 2.5 percent increase in yield for fall 2020, which means the percent of students who applied, were accepted, and then enrolled at IUP was higher than in past years.
"We've really worked to become even more strategic in our approach to admissions and enrollment management," IUP Vice President for Enrollment Management Patricia McCarthy said. "We believe in investing in our students financially and have done so with an increase in both merit and need-based financial aid for both new and continuing students.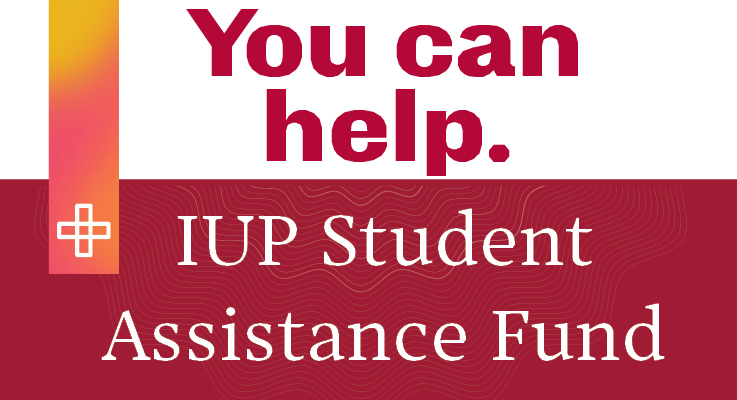 "For example, because we know that the pandemic continues to take a toll on our students and their families, we made a decision in the fall to invest $3 million to provide a one-time $300 grant for all enrolled students," McCarthy said. "We distributed more than $5 million in CARES Act funding to our students impacted by the pandemic during the spring semester to help them to continue their studies. Alumni and friends have donated almost $300,000 to IUP's Emergency Response Fund/Student Assistance Fund, which has been distributed to more than 400 students facing financial hardships due to the pandemic to help them to continue their education."
IUP's total fall 2020 population includes 2,053 students in IUP's nearly 50 master's programs and 14 doctoral programs, comparable with 2019 enrollment figures.
There are 273 students enrolled in career preparation programs this fall: 30 in the Criminal Justice Training Center, 138 at the Academy of Culinary Arts in Punxsutawney, 48 students in the paramedic training program, 28 in the Emergency Medical Services program, and 20 in the school resource officer training program.
Out of the total IUP enrollment for fall, 397 students are international. A total of 54 countries are represented in the international student population. A total of 637 students (undergraduate and graduate) are from outside Pennsylvania.
A total of 920 veterans or military-affiliated students, or 9.14 percent of the student body, are studying at the university: 895 in graduate or undergraduate degree programs, with an additional 25 in IUP's career preparation programs. Since fall 2014, IUP has increased the enrollment of veterans and military-affiliated students by almost 70 percent. IUP opened its Military Resource Center (now the Military and Veterans Resource Center) in spring 2014 to better serve these students, working collaboratively with IUP programs and services, serving as a one-stop information and referral site to help veterans and military-affiliated students transition to college life and achieve their academic goals.
"IUP has been very deliberate in its intent to serve our military-affiliated students and families, and to build a community where they feel welcome and their service and experiences are respected," Driscoll said. "Our Military and Veterans Resource Center is doing an excellent job in meeting the needs of these students, and we are honored to have this population choose IUP to meet their academic and life goals."
IUP's University College, in its third year, has seen significant enrollment growth. Services of the University College are open to all students, with special emphasis on serving first-year students who have not yet decided on a major.
In its opening year, the University College included 217 students; this fall, a total of 473 students are University College "explorers." These explorers work with members of the IUP community through the University College to choose the major that is the best fit for them through specialized exploratory courses, advising, workshops on study skills, peer mentors, and linked classes team-taught by professors from different departments.
The College of Health and Human Services has the largest total undergraduate and graduate enrollment: 2,570 and 500, respectively; the Eberly College of Business and Information Technology has 1,137 undergraduates and 258 graduate students; the John J. and Char Kopchick College of Natural Sciences and Mathematics has 1,431 undergraduate and 156 graduate students; the College of Humanities and Social Sciences has 698 undergraduates and 397 graduate students; the College of Education and Communications has 985 undergraduates and 667 graduate students; the College of Fine Arts has 374 undergraduates and 41 graduate students; the University College has 473 undergraduate students; and Extended Studies has 91 undergraduate and 16 graduate students.