Editor of the recently published Short Stories of Frank Yerby, English professor Veronica Watson explains why the world should get to know the work of this little-known but groundbreaking African American writer.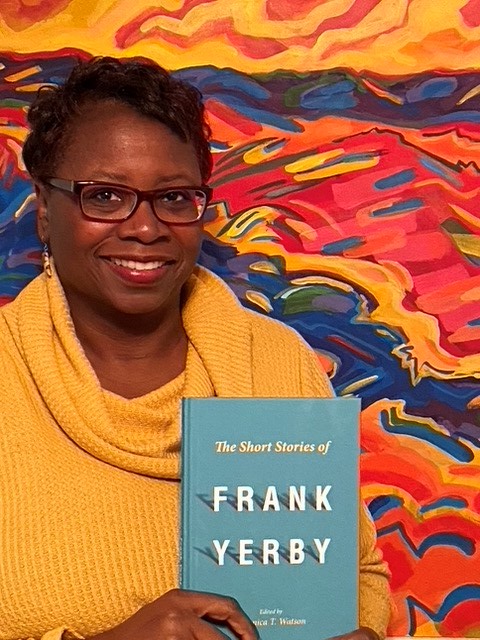 More about Veronica Watson
Professor of English and director of Graduate Studies in Literature and Criticism
Convener, Frederick Douglass Institute Collaborative, Pennsylvania's State System of Higher Education
PhD, Rice University, 1997
Recent Grant Awards
From 400 Years of African American History National Commission:
Other Books
Coeditor: Unveiling Whiteness in the 21st Century: Global Manifestations, Transdisciplinary Interventions (2014)
Author: The Souls of White Folk: African American Writers Theorize Whiteness (2013)
Courses Watson Teaches
ENGL 674 Research Trends in English
ENGL 760–860 Teaching College Literature
ENGL 761–861 Topics in American Literature before 1870: Narrating Slavery in 19th Century America; Douglass, Melville, and Stowe: Three American Classics
ENGL 762/862 Topics in American Literature since 1870: Re-framing the Southern Literary Tradition: A Dialogue in White and Black; American Whiteness
ENGL 772/872 Women's Literature: The Politics of African American Women's Writing; Reconsidering Southern Women's Writing; Toward an Intellectual History of Black Women Writers
ENGL 773/873 Topics in Minority Literature: The Autobiographical "I"/Eye; (W)Rites of Passing: Narrating Slavery
ENGL 955 The History and Theory of Criticism
What surprised you most during your research of Frank Yerby?
What surprised me most is that Frank, by the end of his career, was thinking about his legacy, his reputation, and the level of respect and regard he had as a writer. When he started his career, that's not who he was. He was in it to earn a living, and he treated it like a job. He was okay with cranking out fiction that most people thought of as trite, formulaic, or not very serious.
By the time he had been at it for 20 years, however, he was trying to write the great American novel. So that surprised me, because I had a picture of him from the early part of the career, but later on, he was a different man.
How did you become interested in him, and what inspired you to collect his short stories?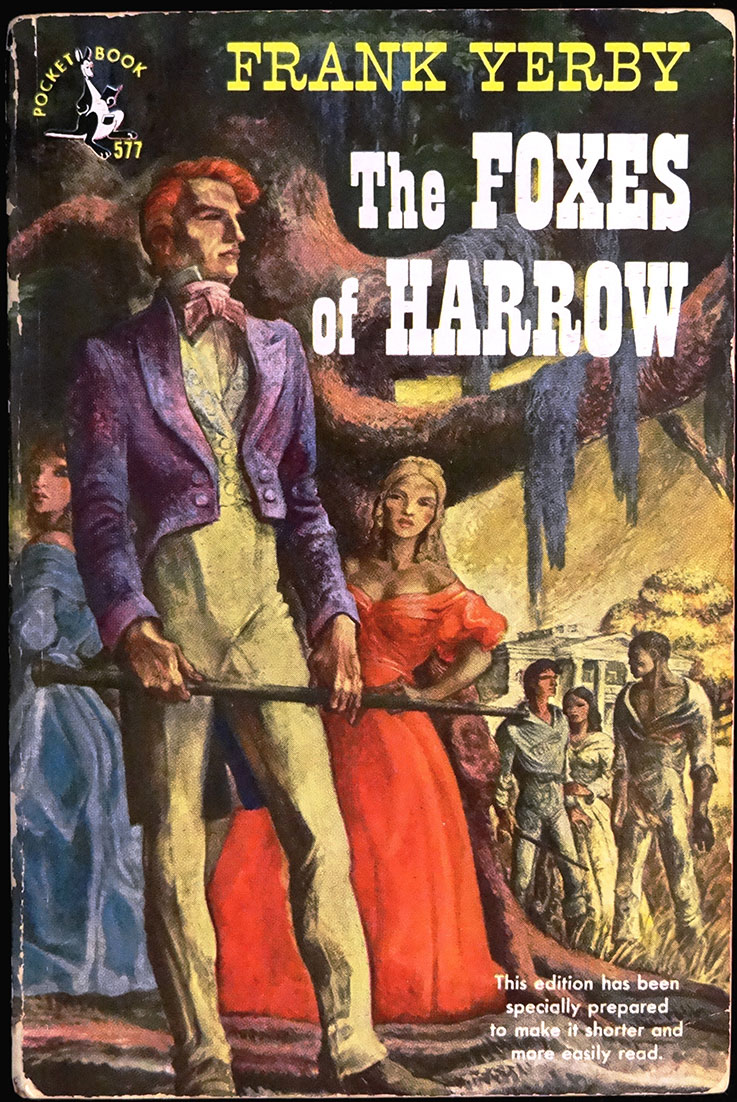 He was supposed to be my light read at the end of a hard semester. By the time I finished his first novel, The Foxes of Harrow, I was curious about him, because the book was way more complex than I thought it would be. I wanted to find out about this Yerby guy, and I think that's when I found out he was a Black writer. So then it became, "Oh, he's actually in my research area."
After finishing my book, The Souls of White Folk, I wanted to get Frank's first novel back into publication. No publisher would touch it, though, because it's a long novel, and Yerby isn't very well known anymore. But while I was conducting research for Souls, I found all the short stories in his archive. When I couldn't find a publisher for his novel, I thought the stories might work well to reintroduce him, to get people interested in him again. So I started working on the short story collection, which took five years to bring to the public.
Which stories from your collection do you think are the most important for society today?
The first I'd choose is "The Homecoming," which is about an African American man, Sgt. Willie Jackson, who served in the military, lost his leg in the war, and goes back to his hometown after being discharged. As soon as he gets off the train, he's harassed by White townspeople. Sgt. Jackson, however, is a different man when he returns. He stands up for himself. He has a clear sense of himself as fully human and capable. That story is important now, because it seems to track so well to where we are today. We see so many people of color, especially African Americans, who are finding ways of expressing themselves and making claims for their full human rights—in ways that are very reminiscent of what happens in the story. Sgt. Jackson is willing to fight the routine, everyday racism and oppression that he lived with when he was younger, even though he knows it could cost him his life. He is fighting the war most Black Americans confront every day, just to live.
The second, "Land of Pilgrim's Pride," does a splendid job of showing the impact of anti-Semitism; in this powerful story, the victim is a young boy named Emil. His whole family has been killed in Germany, where he is originally from, and he's been adopted by a family in the US. So, he's trying to establish a new home in a country where it's supposed to be different—but it's more of the same. That story has the potential, especially after the 2018 Tree of Life shooting in Pittsburgh, to help us recognize that anti-Semitism isn't the ancient relic that we all hoped it was. People are still living in fear and losing their lives because of those sentiments. There are so many people who seem to feel that, "If it's not happening to me, then it's not real." This story does a lot to challenge that disconnection.
How can scholars increase awareness of Frank Yerby, who was critical in the literary sphere yet is often overlooked now?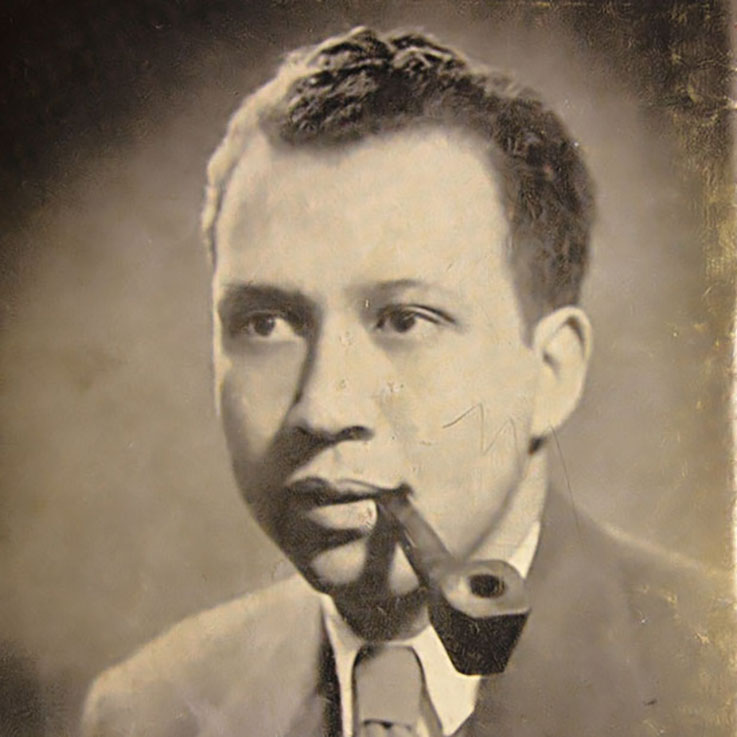 As a scholar at a university, one of my primary ways of introducing Yerby is in the classroom, to my students. Right now, though—and this is kind of a vicious loop—if I have an interest in teaching Yerby, I can't get the materials for my students, which means that he's not taught. Not being taught is, in many ways, what has made him unknown to so many. So that needs to change, and I hope the short story collection is a step toward improving that situation.
But, scholars also publish, and that will help to increase awareness of Yerby. I, for instance, have a chapter on several Yerby stories in Rediscovering Frank Yerby, edited by Matthew Teutsch. An essay collection like that alerts other scholars that there's a writer they should know, and if more of us publish on Yerby's novels and stories, hopefully we can increase the number of teachers and scholars who are eager to teach his work. This is the kind of positive-feedback loop that will eventually get a new generation of readers familiar with Yerby.
Frank Yerby wrote 33 novels, which is almost an unimaginable level of production. But, more important, he was a really good writer. We should read and reconsider his work. It's entertaining, sure, but also far more complex than I think we initially realized. He really does deserve a second look.