William Lafranchi, who retired from Indiana University of Pennsylvania after 33 years of leadership of the IUP Libraries, has gifted $135,000 to IUP for library support and for student scholarships.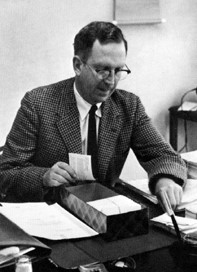 This donation will be used to establish the William E. and Sylvia P. Martin Lafranchi Sutton Scholarship, supporting students pursuing a degree in nursing who are recipients of the Sutton Scholarship; create the William E. and Sylvia P. Martin Lafranchi Library Endowment, providing funding for the greatest needs of the IUP Libraries. Part of the gift will be added to Tony Atwater and Beverly Roberts Atwater Presidential Scholars Fund, which provides scholarship support to freshman students enrolled at IUP.

The Sutton Scholars program recognizes students with high academic performance. It is funded by the Foundation for IUP through unrestricted assets of the Foundation and gifts from alumni, friends, and employees of IUP. The Foundation for IUP has designated more than $9 million dollars to the Sutton Scholarship since its inception. The FIUP Board of Directors also authorized a one-to-one match (up to $1 million) for any donations to the Sutton Scholars program during the 2019-2020 academic year.
Individuals or groups can establish a named Sutton Scholarship with a donation of $25,000; these scholarships can be directed to students in specific academic programs, geographic areas, or special interests, including athletics. Funds can be used immediately to support qualifying students.
"Support for scholarships is critical to helping us to continue to recruit and retain academically promising students at IUP," IUP Vice President for Enrollment Management Patricia McCarthy said. "We see so many deserving students with so much financial need. We are very grateful for gifts that help our students fund their education. With the match from the Foundation for IUP for the Sutton Scholarships, gifts like this have an even greater impact for our students."
Lafranchi, a native of Brookville who makes his home in Verona, began his career as a librarian at Clarion High School. After earning his master's degree in Library Science from the University of Illinois in 1953, he joined the professional staff of Indiana State College (today, IUP) as director of Libraries and Media Services. He worked in that role at IUP for 33 years, retiring in 1986. His late wife, Sylvia Martin Lafranchi, was the first female mayor of Wilkinsburg, serving in that role from 1994 to 1998.
"The very existence of life demands that certain strategies exist," Lafranchi said. "Libraries and information systems, plus artificial intelligence, all are the introduction to shared enhancements to the world as learning."
The IUP Libraries consists of the Stapleton/Stabley building, the Orendorff Music Library, the Punxsutawney Regional Library, and the Northpointe Regional Library. The Stapleton/Stabley building, which serves as the central university library, houses the main book and periodical collections, technical and public services, special collections and archives, as well as media resources and services. All libraries and all services are an integral part of IUP Libraries, a system whose resources are linked by means of an automated union catalog.
"The IUP Libraries are so thankful for this support from Mr. Lafranchi," Dean of the IUP Libraries Erik Nordberg said. "As a former library leader, Mr. Lafranchi understands the core value of the library to the university, yet he also realizes that libraries continue to evolve, particularly through technology. This investment in our program will allow us to expand and enhance the services and collections we provide in support of IUP's teaching, learning, and research mission."
This gift is part of IUP's $75 million Imagine Unlimited Campaign, which will enable IUP to step forward as a national leader by transforming the student experience through scholarships, program enhancements, and new and modernized facilities.