The fight is still going.
In April, Indiana University of Pennsylvania and Indiana Regional Medical Center began a collaboration to provide local and same-day COVID-19 testing at IRMC, with testing done by IUP professor of biology Narayanaswamy Bharathan at IRMC with IUP equipment on loan to IRMC.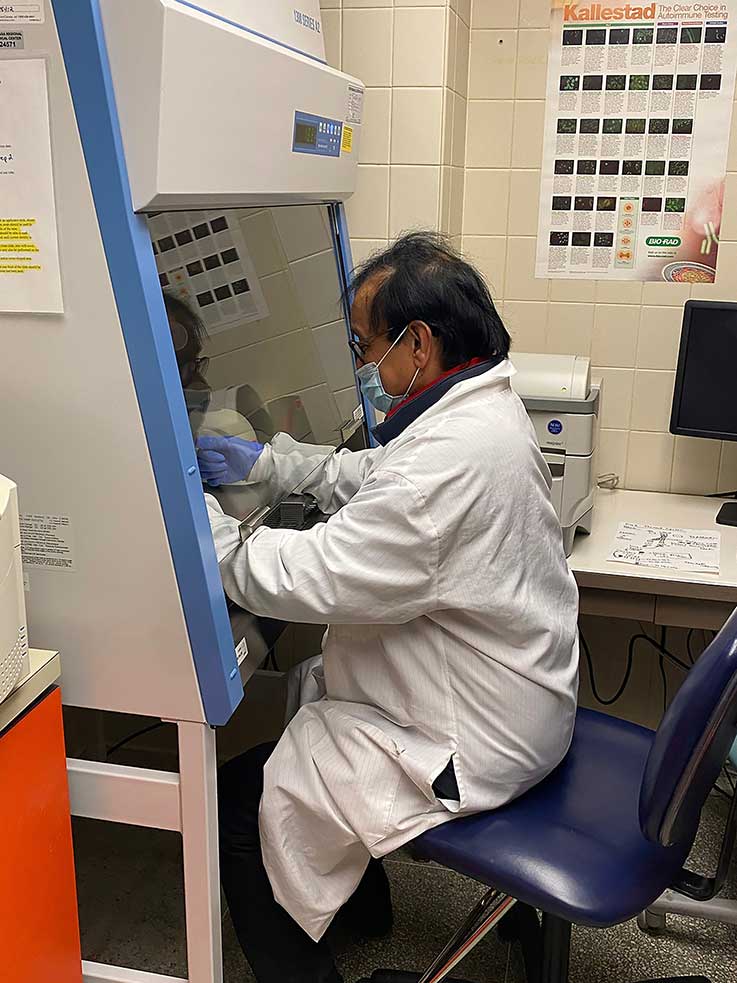 Since May 1, this collaboration has resulted in 4,500 completed COVID-19 tests, three new staff at IRMC trained by Bharathan on the testing process, and recently, a new testing procedure being piloted by Bharathan at IRMC that significantly reduces testing time and costs, while maintaining testing accuracy.
Bharathan has a long-standing relationship with Takara, an international biomedical technology company, because of the laboratory molecular diagnostic test kits he uses at IUP.
"For rural medical centers like IRMC, the supply chain is a challenge to testing," Bharathan said. "There is a lack of materials needed to process the testing samples on a national level, so hospitals without advanced biotechnology have problems getting the supplies and reagents needed for fast, accurate testing. I wanted to help IRMC, and other rural hospitals, address that challenge, so I approached Takara."
Takara has developed test kits that bypass the need for RNA purification reagents without reducing the accuracy and sensitivity of detection, he said. Takara provided him with 50 sample test kits for use at IRMC to pilot the project; since July 25, he has validated and optimized the new Takara testing protocol in the laboratory at IRMC with over 2,500 samples. IRMC is one of the few national sites selected by Takara to pilot "Direct COVID19 testing via qPCR" with no RNA purification.
This new process reduces the time for obtaining testing results from patient samples—what used to take five hours to get results from 50 samples now takes 45 minutes—and it reduces the chance of error because samples are handled less and the opportunity for contamination is reduced, Bharathan said. "There's also no need to stabilize patient swab samples in transport media, so that reduces costs and time."
"IUP is very pleased to be part of this ongoing collaboration with IRMC to help the residents of Indiana County," IUP President Michael Driscoll said. "Accurate, fast, high-volume testing is critically important in fighting against the virus. Dr. Bharathan is the whole package; he's an incredible teacher, scholar, and researcher, and we are very proud of this new initiative with Takara. Our faculty have global reputations and connections, and they care deeply about advancing science, health, and safety in all possible ways. This is a win for us all."
IRMC officials also praised Bharathan's work and the initiative with Takara, as well as his expertise in training IRMC-employed technicians on the use of the IUP equipment to increase the number of tests available to the community.
"It's times like these when you get to fully realize the impact of community partnerships," said Stephen Wolfe, president and CEO of IRMC. "We're blessed to have resources available to us that many communities don't have. IUP and IRMC will continue to create a partnership beyond our respective campuses to take care of the people we serve."
Steven Wilson, medical director of Laboratories at IRMC, also praised the partnership.
"Our collaboration with Dr. Bharathan and IUP is a great benefit to our patients and the community," Wilson said. "Other area hospitals have had to cut their COVID testing because of supply shortages with their equipment or the contracted commercial laboratories they use. We at IRMC are able to test all symptomatic patients, preoperative patients, and emergency admissions. As a result, we have a safe hospital environment and are prepared to manage infected people early in the course of their disease which results in better outcomes. This could only be possible with his guidance and management of our SARS CoV-2 viral RNA laboratory."
As a result of the ongoing success of the collaboration, Bharathan will continue to work at IRMC through December on a part-time basis.
"We have been ecstatic with the results from the initial collaboration started in May with IRMC," Hilliary Creely, interim dean of the IUP School of Graduate Studies and Research, said.
"This pilot project with Takara is a great example of how one collaboration leads to others, and that by working together, we can make a real difference in our community, our region, and our world, especially during this national health crisis." Creely has been in a leadership role to guide the logistics and legalities related to the IRMC partnership.