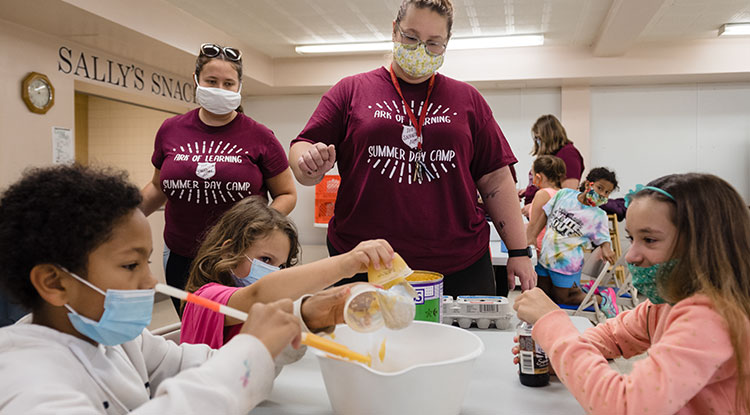 IUP student Emily Eckert's assignment this summer: prevent the "summer slide" and do it during the five weeks the Salvation Army holds summer day camp for children ages six to 12.
"We know our campers probably had a variety of experiences, good and bad, as they finished their last school year," Eckert, director of the summer camp, said. "Making the experience fun and educational was important to ensure campers were gaining more than just time away from their typical at home routine."
Eckert and her three staff members, all IUP students—two of whom recently graduated—started planning and creating content well before camp opened July 6.
Two camp counselors are education majors, one is a music major, and the other is a social studies major. They deftly applied to the camp curriculum the skills they learned in courses and honed as student teachers.
"Not only does it fit my passion, it fits my chosen profession," Amy Varner, a 2020 music education graduate, said. "I designed age-appropriate music lessons for the campers that I hope they find fun and exciting. Of course, you can't get away from math when you're learning music. We cover rhythm and beat, which expose math concepts to them."
Also planned for campers are lessons in reading, English, social studies, science, math, and music. Eckert said the experience is significantly more educational than past summers.
"This camp is possible because of IUP students," Salvation Army Captain Denise Martin said. "They serve as outstanding role models for our campers by providing encouragement to the children, who begin to realize they can excel in school and attend college."
Camp counselors are adaptable and accessible to campers by preparing meals in the kitchen, helping with clean up, overseeing lessons, and leading activities. Martin said she has witnessed the admiration and love campers show the IUP counselors, as the relationship grows through the week. The impact becomes indelible on both sides.
"I love these kids with everything in me," counselor Nicole Pomazanski said. "We are their personal cheerleaders. I live for the smiles on their faces when they get small wins, a math problem right, or hit the note. They might not have the best home life, and, when they are here, we're just trying to make it the best it can be. Helping them with whatever they need, learning to share, listening to them, showing them a different kind of caring—it feeds the soul."
"Not being here last semester drove me nuts," counselor Taylor Wilson said. "I just really missed them."
Wilson, affectionately called "Miss Taylor" by staff and students, began tutoring after school at the Salvation Army in 2017. Wilson readily admits she begrudgingly started volunteering because she needed community service hours as a member of an organization at IUP. "By the end of my first day of volunteering, I knew I loved being called 'Miss Taylor' and would come back for as long as I could." Wilson said.
Wilson completed the requirements for her bachelor's degree in social studies education in May. She was thrilled to know that she could work with campers this summer, despite the challenges presented by the pandemic.
"It only seemed fitting that I would teach the kids Social Studies lessons this year," Wilson said. "I've planned fun and engaging lessons for the kiddos about voting and why it's important, the presidency, geography, heritage, etc. Those lessons are always important, but in our current climate, maybe they're just a tad bit more relevant."
The camp experience isn't just filled with English and math. Campers will be socially distanced but participating in fun activities, like coloring with sidewalk chalk, using a big parachute, hula hooping, and other outdoor shenanigans.
"I can probably be a part of this camp for more time than I'm supposed to be here," Wilson said. "We're putting in 40-hour weeks, but it doesn't feel that way."
Eckert said, "We'll definitely miss the kids that aren't able to be with us this summer because of having to limit our numbers. We reminisce about them all summer and love talking about the experiences we had. We're hopeful we'll see them this fall during after-school tutoring. We're just not sure how that will work yet."