Aya Muchtar, an associate professor in the Department of Communications Media, is providing students in her Multimedia News Production course a rich learning experience—despite not being in the TV production studio in the basement of Davis Hall. She took time to respond to a few questions about how the transition is going.
What has been the biggest adjustment you've made to begin teaching your students online?
The Multimedia News Production class aims to produce and broadcast a 30-minute news bulletin that we used to air every Thursday afternoon on IUP-TV. Each student writes a script as well as shoots, edits, and produces news packages for TV news. With the spread of COVID-19, I adapted the class to have a synchronous meeting once a week through Zoom. The students started producing a shorter version of the news program—about seven to eight minutes—and we distribute the content via Instagram, YouTube, and Facebook. In addition, I met with students individually through Zoom to provide feedback and checked the group's activities through the GroupMe app.
How much have you had to change the curriculum to fit online delivery?
The curriculum hasn't changed much. Like many other IUP classes, we use Zoom for weekly class meetings. As we transitioned to online learning, I spent time learning from other professors and professionals in this field. The result was adapted assignments based on agreement with students. As a team, we also spent some time learning different types of platforms and new styles of news delivery. One example is Quibi, a short-form content platform designed specifically for smartphones that was launched earlier this month. Major networks such as NBC and BBC have adopted this style, as well. News delivery would be much shorter—about five to six minutes each.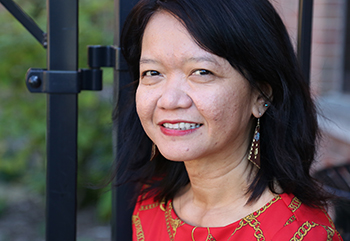 More about Aya Muchtar
PhD in Communications and Information, University of Tennessee-Knoxville
MA in International Affairs, Ohio University
BA in English Education, State University of Jakarta
Courses Aya Muchtar Teaches
COMM 230 Global Media and Communication
COMM 451 Multimedia News Production
COMM 835 Global Media, Communication and Culture
What's the reception been like from your students?
All students in the class seemed to adapt very well. They were also excited to try new ways of producing and broadcasting news programs. We followed how news programs on television have adapted. We finally settled on having two hosts present only two to three news stories, and we recorded the program via Zoom before we put it on YouTube and Instagram. I'm grateful for the positive attitudes of students and for their excitement in continuing to do their best to learn news production.
What's been the silver lining of this experience for you?
I used to focus COMM 451 on TV news production, until we revised the curriculum last spring and made it Multimedia News Production. Since then, I tried to make some changes little by little by combining radio and TV news production. With this situation, it forced me to learn and adapt and add more social media components into the class.
What advice would you give to people who are experiencing anxiety or struggling to adjust to change?
I've heard a lot of success from fellow IUP faculty members in their teaching. So, no advice from me. Just keep the fun, if you can, and be flexible.