IUP Students Selected for 2020 Goldwater Scholarship
Posted on 4/13/20 3:30 PM
Two Indiana County students at Indiana University of Pennsylvania have been selected as Goldwater Scholarship recipients.
Vincent Thompson, a junior dual major in physics and mathematics, and Arie Van Wieren, a junior biochemistry major, are IUP's tenth and eleventh Goldwater Scholarship recipients. They are the only students from a Pennsylvania State System of Higher Education university selected for the honor in 2020.
This is the first time that IUP has had two Goldwater Scholarship recipients in one year. More than 1,340 natural science, engineering, and mathematics students were nominated for the 2020 awards.
"IUP students and faculty continue to do cutting-edge research competitive at a national level," IUP President Michael Driscoll said. "The students and their faculty mentors deserve our sincere congratulations. It's very gratifying to have one Goldwater recipient in a year, but to have two in one year is extraordinary. It clearly and definitively speaks to the quality of research and scholarship that our IUP students and faculty are doing."
The Goldwater Scholarship, which was first awarded in 1989, honors Senator Barry Goldwater and was designed to foster and encourage outstanding students to pursue careers in the fields of mathematics, the natural sciences, and engineering. It is the preeminent undergraduate award of its type in these fields.
"As outstanding young scholars, both of these students exemplify the best IUP has to offer our students," Deanne Snavely, dean of the IUP John J. and Char Kopchick College of Natural Sciences and Mathematics, said. "Both of them already approach problem solving with a scientific mindset, and they are able to clearly express the significance, results, and impact of their research projects. I look forward to following their future success."
The Goldwater Scholarship will cover tuition for Thompson and Van Wieren for the 2020–21 school year.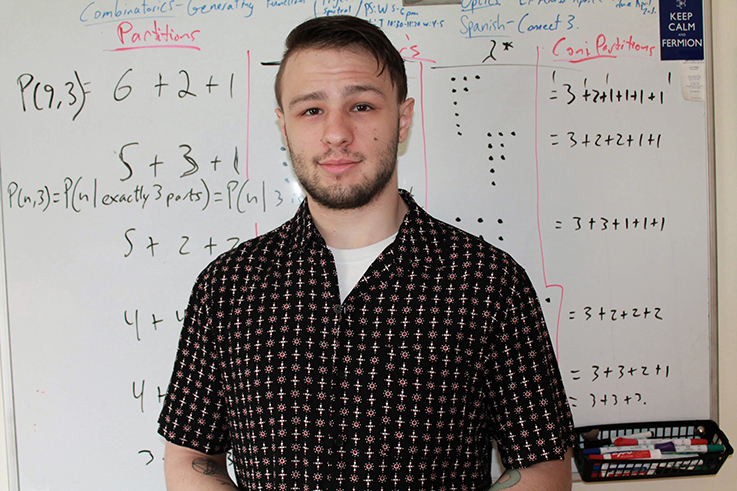 Thompson started his research experience in the lab of physics faculty member Greg Kenning in summer 2018. Thompson said he spent that summer "following seniors around like a dog," soaking in lab basics and getting familiar with terminology and equipment to be able to contribute as a researcher.
Kenning's research centers around the development of a microchip, an electronic time-temperature indicator, that can be attached to labels and one day be used to help prevent food waste. Thompson has contributed to that research in presentations and publications. As he moves forward in his career and on to graduate school in a few years, Thompson is most interested in applications of abstract math to theoretical physics.
"One of the most productive fields in mathematics is representation theory and particularly the representation theory of lie algebras," Thompson said. "Lie algebras describe most symmetries that are present in physical systems. Representation theory finds ways to take those symmetries and put them in a mathematical framework that can then be used by physicist."
Thompson is currently researching doctoral level physics and mathematics programs at several universities to pursue his interest in the field.
Thompson worked with Kenning and Snavely, throughout the year-long application process, along with faculty mentors Francisco Alarcon and Charles Lamb.
The Goldwater Scholarship follows several awards and recognitions for Thompson's research and academic achievement.
Thompson is the son of Lisa Thompson and James Carnahan and has a son, Gavin. He is an S-COAM scholar at IUP, an award given to students who demonstrate excellence in applied math. He is also the recipient of the Ida Arms Scholarship for Mathematics, the Daniel G. Reiber Scholarship for Physics, the Ken and Lois Widdowson Memorial Scholarship for Mathematics, the Ladies' Elks Auxiliary Scholarship, the Peggy Dixon Physics Scholarship, and the IUP Transfer scholarship.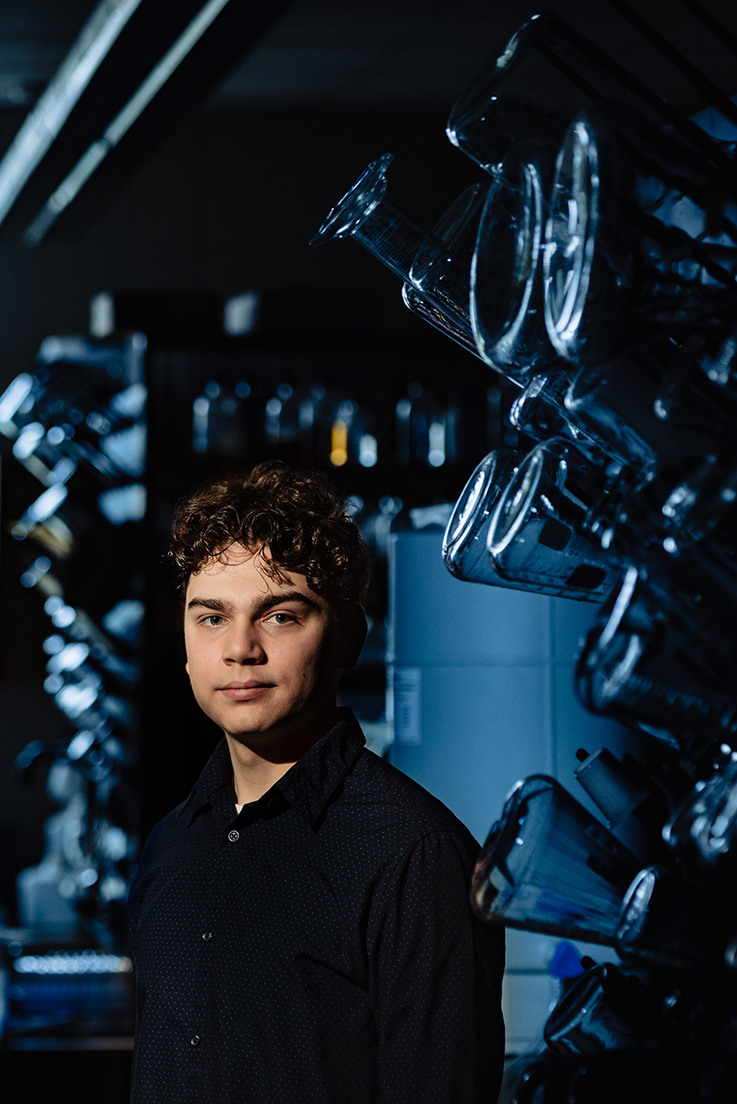 Van Wieren, a student in the Cook Honors College, has focused his research inside Sudipta Majumdar's laboratory looking at antibiotic resistant bacteria. He credits his success to Majumdar.
"I started research with him as a freshman, and I can't express enough how his guidance and support has impacted me," said Van Wieren. "As a mentor he is the complete picture. He's helping me shape a career in science by making sure I'm competitive inside the research community. He's helping me plan my career and giving me guidance and opportunities that I'm not sure I'd have at another institution."
"I am very happy for Arie's accomplishments," said Majumdar. "Arie began doing research with me in his freshman year, and I am proud of his achievements. This award, coupled with the other opportunities he's received, will not only give Arie the exposure of modern, cutting-edge research, but will also help boost his confidence for achieving further excellence in upcoming years."
Van Wieren's path from graduating high-school student to serious researcher is a bit off the traditional path, as he entered IUP as a sociology major. While enrolled in a biochemistry class he thought the name of the major "biochemistry" sounded exciting.
"I didn't know much about it, and then I tried it out and realized I loved it," he said.
After switching his major and jumping into research, Van Wieren has added several peer reviewed publications to his curriculum vita. As the lead author in an article published in the Journal of Molecular and Microbiology and Biotechnology, Van Wieren is making a strong presence in research as an undergraduate.
"The amount of publications coming out of our lab shows the quality of work we're doing," said Van Wieren. His research inside Majumdar's laboratory is focused on looking at antibiotic-resistant bacteria. Before the coronavirus pandemic, Van Wieren had presented his research at conferences around the country.
In January, he traveled to Cambridge, Massachusetts, as an invited presenter for Harvard University's National Collegiate Research Conference. He is the first student from IUP to be accepted to present at this national conference. His attendance was financially supported by IUP.
In late March, he was scheduled to present his antibiotic research at the American Chemistry Society's national meeting and expo in Philadelphia (which was canceled due to the coronavirus pandemic).
Van Wieren was also chosen to be IUP's third Kopchick Fellow, which funds a student during a 10-week experience at MD Anderson Cancer Center in Houston. The opportunity is awarded to a qualified IUP student from the John and Char Kopchick College of Natural Sciences and Mathematics.
John Kopchick, who earned a 1972 bachelor's degree and 1975 master's degree in biology at IUP, is a professor of molecular biology and the Goll-Ohio Eminent Scholar at Ohio University. A 1980 graduate of MD Anderson UTHealth Graduate School, Kopchick made a $10.5-million gift to the University of Texas MD Anderson Cancer Center UTHealth Graduate School of Biomedical Sciences. The endowment funds up to 15 student fellowships in Houston, as well as competitive research awards to students and their faculty mentors. The initiative also awards an opportunity to an undergraduate IUP student.
Van Wieren, son of Jennifer and Todd Van Wieren, is a 2017 graduate of Indiana Area Senior High School. He has received funding to participate in IUP's Research Experience for Summer Scholars, won the American Chemical Society's Student Symposium Outstanding Poster Presentation award, and is the president of the American Chemical Society student chapter at IUP. Van Wieren also volunteers as a peer mentor and math tutor and gives his time at the Chevy Chase Community Center soup kitchen.
Thompson and Van Wieren join previous IUP Goldwater Scholarship winners Anna Manges (biology), 2019; Aaron Seidel (geoscience), 2018; Kara McClain (nursing), 2016; Dan O'Hara (geoscience), 2013; Kelsi Lindblad (biology), 2010; Elizabeth Paladin Jeffries (chemistry), 2007; Kristin Juhasz (biology and anthropology), 2006; Thomas Baker (chemistry), 2004; and Brigid Mooney Rotigel (mathematics), 2003.
Goldwater Scholars have impressive academic and research credentials that have garnered the attention of prestigious post-graduate fellowship programs. Goldwater Scholars have been awarded 93 Rhodes Scholarships, 146 Marshall Awards, 170 Churchill Scholarships, 109 Hertz Fellowships, and numerous other distinguished awards like the National Science Foundation Graduate Research Fellowships.