Kyle Richard, award winning sexual violence prevention and positive manhood activist, will present a program on bystander intervention, leadership and healthy masculinity at Indiana University of Pennsylvania on February 27 at 7:00 p.m.
His program, free and open to the community, will be in the Kovalchick Convention and Athletic Complex's Ed Fry Arena.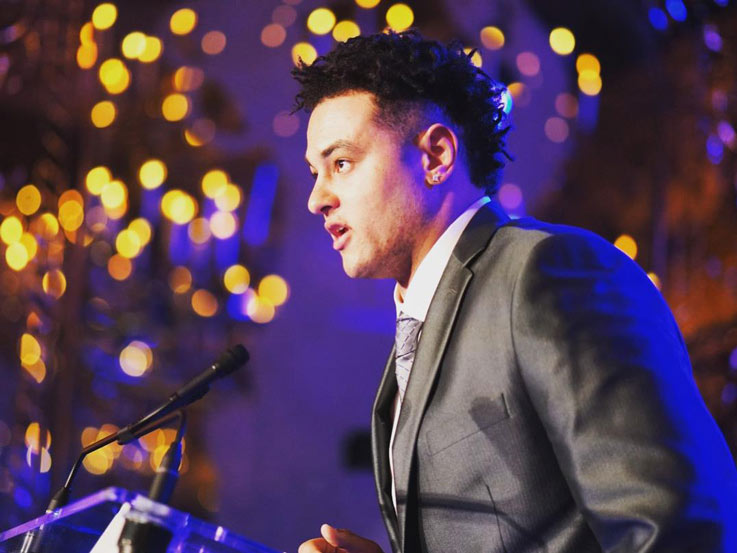 His presentation, "We are the Change Here," highlights his personal story of bystander intervention in which he was shot twice while stopping a sexual assault in progress.
"I'm uncomfortable being called a hero for stepping forward with others who were also hurt doing what we considered to be the right thing. But I do feel a calling to address the fact that many bystanders do not take action. And I think that should change," Richard says. "I'm a former captain and linebacker turned activist and advocate. I speak and promote leadership and healthy masculinity in an effort to tackle sexual, domestic, and gun violence."
A native of Lakeview, New York, Richard played football in high school and at the State University of New York (SUNY) at Cortland, where he majored in kinesiology. At a party during the summer of 2017, Richard interrupted a sexual assault in progress. He pursued the assailant, who drew a gun and shot him twice, hitting him once in each leg.
"I hope that other students follow my lead and do what they can to prevent and stop domestic violence and sexual assault," Richard says. "Say something. Reach out to police or other authorities. Don't be a bystander."
Richard has received a number of awards and recognition, including the 2018 Orange Bowl Courage Award, a 2018 Biden Courage Award, and the 2019 Giant Steps Award. NFL commissioner Roger Goodell sent a personal note of thanks to Richard after he earned the Biden Courage Award, which is through the It's On Us initiative and the Biden Foundation. Adrianna Branin, an IUP undergraduate student, was the recipient of the 2019 Biden Courage Award.
This presentation is made possible through the IUP It's On Us grant and is co-sponsored by the Haven Project, Green Dot, and Title IX Office.
IUP has received three years of funding from Pennsylvania Governor Tom Wolf's It's On Us PA initiative, which is designed to combat campus sexual assault. Funding received in January will be used to expand the Green Dot bystander program. The university began its Green Dot bystander program in 2016. The Green Dot model views all community members as potential bystanders and gives them the tools they need to recognize and respond to high-risk situations. The Green Dot curriculum, built on the base of significant national research, has been shown to prevent multiple forms of interpersonal violence when a critical mass of individuals are engaged as peers in the effort.
Green Dot is based in the Haven Project, which provides counseling and support for students who experience sexual and domestic/relationship violence. The Haven Project also provides education on sexual and domestic/relationship violence, stalking, consent, and bystander education.