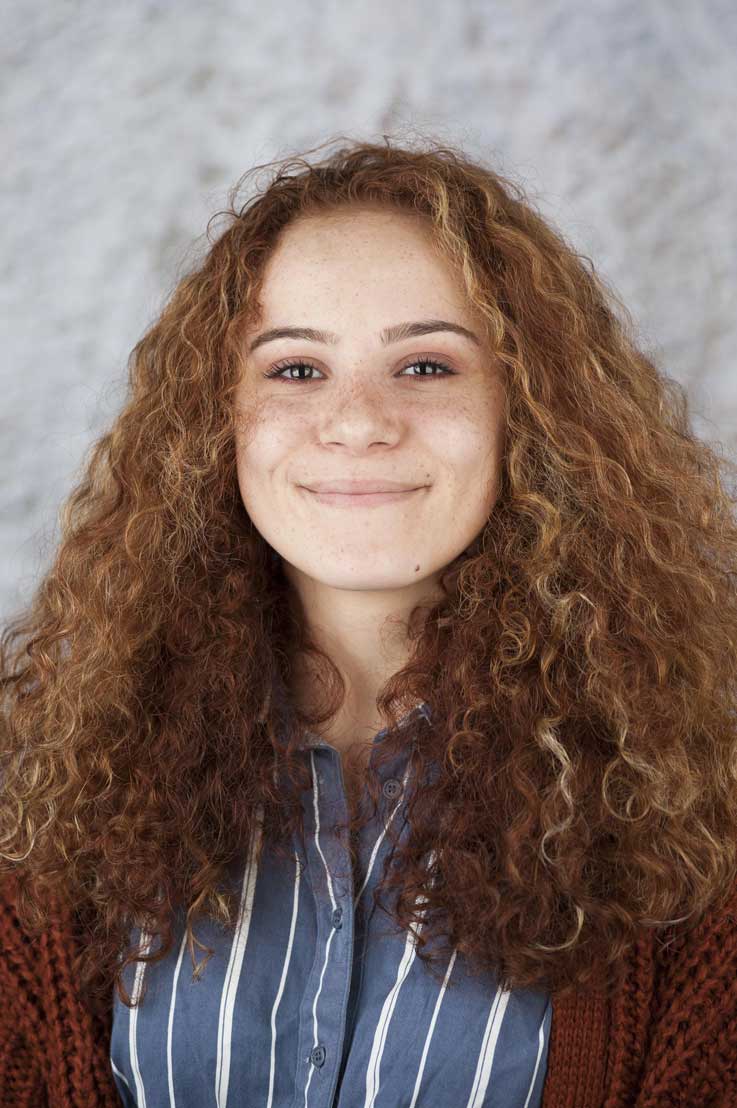 Adrianna Branin, a junior political science and religious studies double major at Indiana University of Pennsylvania, is the recipient of a 2019 Biden Courage Award, celebrating student heroes who are working to stop sexual assault. Branin, of Philadelphia, was recognized for stopping a sexual assault by actively confronting six to eight men and physically removing the potential victim from the situation.
The award was presented March 26 in New York City at the Russian Tea Room. Former Vice President Joe Biden delivered remarks at the event, hosted by It's On Us and the Biden Foundation.
"Adrianna is an incredible young woman who truly 'walks the talk' of bystander intervention," IUP President Michael Driscoll said. "Her response in a very frightening situation reflects bravery, a deep concern for her community, and a strength of character that not only inspires us, but renews our commitment to our ongoing work in the areas of bystander intervention and sexual assault prevention and education. Her actions set a standard we should all try to achieve.
"All of us at IUP are incredibly proud of her and so happy to see her recognized with this prestigious award," Driscoll said.
Vice President Biden founded It's On Us with President Barack Obama in 2014 to create a fundamental shift in the way people think and talk about sexual assault and to encourage young people to stand against sexual assault on their college campuses and in their communities. In 2016, Biden hosted the first Courage Awards at the White House to honor students who intervened to stop sexual assault.
The Biden Courage Awards advance the joint mission of It's On Us and the Biden Foundation to change the culture of violence and make college campuses safer for all by engaging young men, teaching bystander intervention, and mobilizing the next generation of movement leaders to end college sexual assault. It's On Us is dedicated to working with students across the country, lifting up their voices, and providing the training and resources they need to prevent sexual assault on campus.
The Biden Foundation continues the Biden family's commitment to ending violence against women, providing support to students, changing the culture on their campuses and elevating their work to bigger audiences with an opportunity to scale.
Branin, daughter of Steven Branin and Lauren Vachon, is a 2016 graduate of the Franklin Learning Center. She is a Student Government Association senator from IUP's College of Humanities and Social Sciences, is chairperson of Student Government's Student Retention Committee, and is president of the United Against Islamophobia student group.
"I teach bystander invention all the time, so this really means the world to me," Branin said. "I don't think a lot of people get recognized for going out of their way in the community. I think people can become involved by just being kind—without even planning to intervene. I'm very happy that I could do something to help my community, to stand as an example, and to give other people courage." She also works as a peer educator for IUP's Haven Project, which educates the campus community on the issues of sexual violence, domestic/dating violence, consent, stalking, healthy/unhealthy/abusive relationships, human trafficking, and bystander intervention through education, prevention programming, and awareness campaigns.
Watch a short video with clips from Adrianna's acceptance speech and Vice President Biden's comments.
Branin is a Certified Green Dot Student Leader. The Green Dot model, launched at IUP in 2016, views all community members as potential bystanders, acknowledges their personal barriers to intervening and gives them the tools they need to recognize and respond to high-risk situations.
President Driscoll was one of the first university presidents to sign the It's On Us pledge in 2014. IUP is a two-time recipient of Gov. Tom Wolf's It's On Us PA grant, which provided the university with $30,000 in 2016 and again in 2018.
The pledge states that "it's on us" to
recognize that non-consensual sex is sexual assault,
identify situations in which sexual assault may occur,
intervene in situations where consent has not or cannot be given, and
create an environment in which sexual assault is unacceptable and survivors are supported.
"We are so fortunate to have Adrianna. She has been a true asset to the Haven Project," Jessica Miller, director of the project and chair of IUP's Counseling Center, said. "We are so proud of everything she has accomplished."
Branin was nominated by Susan Graham, clinical case manager for the IUP Counseling Center and former sexual violence prevention educator for IUP's Haven Project.
The nomination included the story of how Branin saw and stopped a sexual assault. Graham described Branin as "a fearless active bystander." Branin "takes being an active bystander very seriously," Graham wrote in the nomination. "She has spent her college career educating others on these issues and trying to change the culture of our campus. Adrianna has said that she frequently finds herself talking about sexual violence at parties, educating those around her."
The Haven Project staff recently gave Branin a t-shirt that reads, "I talk about sexual violence (prevention) at parties" to celebrate her award, and Branin said she will be happy to wear it.
Branin recognized Graham as a mentor in her work in bystander intervention. "Susan Graham has ingrained in me a deep sense of community action and the love of teaching active bystanding to make sure that people are safe in our communities and our spaces," Branin said. "I love my job with the Haven Project; without it, I could not keep up my love of activism on my campus. It has been a phenomenal opportunity."
While accepting the award, Branin offered thanks to IUP's Graham and all who are fighting to help improve their communities: "First and foremost, I want to thank the amazing woman who nominated me and taught me the importance of intervening, Susan Graham. I want to thank my parents for teaching me to stand up for those most vulnerable and to always fight for what I believe is right. I would like to thank It's On Us, the Biden Foundation, and Vice President Joe Biden for this amazing opportunity and for their continued fight to end interpersonal violence in our society.
"Finally, I would like to thank all the people throughout the country working in small and big ways to improve their communities and the lives of the people around them. In this day more than ever, we need to practice empathy and love toward our neighbors of all faiths, races and backgrounds; no one has to do everything, but everyone must do something. Thank you."