Worldwide, less than 30 percent of women at colleges and universities choose to study in one of the STEM fields (Science, Technology, Engineering and Math).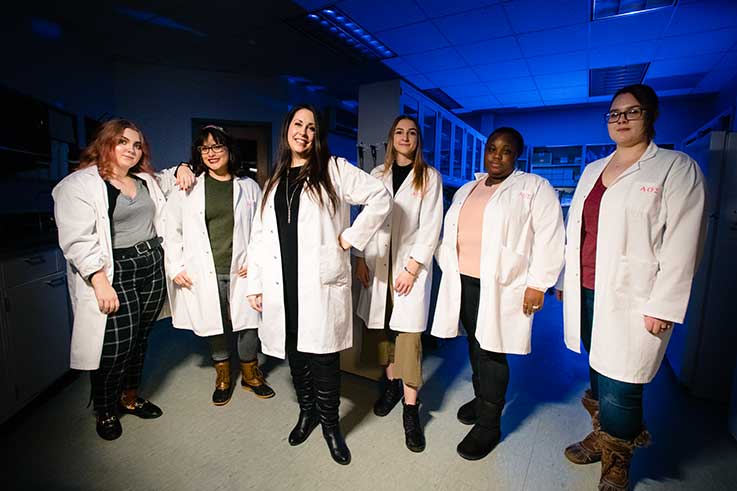 The figures on women in STEM were released by the United Nations Educational, Scientific and Cultural Organization in conjunction with the February 11 International Day of Women and Girls in Science.
However, IUP is working hard to make sure all students, regardless of gender, are empowered to study in STEM.

Almost 60 percent of the students in the IUP John J. and Char Kopchick College of Natural Sciences and Mathematics are women.

"We have always focused on helping all of our students – regardless of gender – find their interest and their passion," Deanne Snavely, dean of the Kopchick College, said. "Women are traditionally underrepresented in the STEM fields, so we have worked to create diversity in our majors, including gender equity.

Because women students are underrepresented in the sciences, that often means that women are underrepresented in STEM classrooms and programs.
"In addition to the number of women students in STEM, we're also very proud to have more than the average of women scientists in our classrooms and working with our students," Snavely said. A total of 44 percent of the Kopchick College faculty and staff are women.
For the past 14 years, the Kopchick College has held an annual Women in Science event for STEM scientists during the university's Research Appreciation Week, recognizing the work of IUP students, area high school students, faculty, and alumni with a poster presentation and competition and panel of distinguished scientists, many of them IUP alumnae.
This year, the STEM Women's Summit is inviting back to campus all women' science, technology, and math graduates. The day's activities will include women's networking and a luncheon with tabletop discussions between women graduates and current students. The afternoon session will continue breakout discussions on topics of interest to professional women culminating with a keynote by a successful woman scientist.
IUP also offers a Women in STEM club and a Women in Computer Science Club.
"I'm proud of all of our outstanding students, regardless of gender, but it's very exciting to see our women scientists breaking new ground in fields that are traditionally dominated by men," Snavely said. "Throughout my academic career as a woman in the sciences, I saw how women can be intimidated by their male peers; but that's not what happens here at IUP, and the numbers reflect the culture of inclusion that we champion.
"For example, the annual Women in Science event encourages and showcases our outstanding women scientists. IUP students continue to blow us away with the quality of their work—from Mary Chey (BS '17), who started research her freshman year on fungi, to Anna Manges, who won a Goldwater Scholarship and did cutting-edge research on the ticks that carry Lyme Disease, the list just keeps growing."
IUP alumnae from the Kopchick College have gone on to have groundbreaking careers and leadership positions at world-renowned institutions, including the National Aeronautics and Space Administration, MD Anderson Cancer Center, National Institutes of Health, and the US Nuclear Regulatory Commission.
IUP has recognized many of these outstanding Kopchick College graduates with the Distinguished Alumni Award for pinnacle professional achievement in their fields. Only one graduate of each of the university's colleges are selected for this award each year.
Female Distinguished Alumni Award recipients from the Kopchick College include:
Cindy L. Jaynes '79; Mathematics Education; Raytheon Company; 2017 DAA winner
Sue A. McMurdy '78; Mathematics; Endeavor Management; 2015 DAA winner
Esther M. Kepplinger '71; Biology; Chief Patent Counselor, Wilson, Sonsini, Goodrich & Rosati; 2013 DAA winner
Karlin R. Toner '83; Applied Mathematics; Federal Aviation Administration; 2011 DAA winne
Elizabeth L. Travis '65; Biology; MD Anderson Cancer Center; 2011 DAA winne
Edna I. McCutcheon '74; Psychology & Sociology; Torrance State Hospital; 2008 DAA winner
Victoria L. Rich '71; Biology; 2007 DAA winner
Nancy D. Suttenfield '71; Mathematics Education; 2006 DAA winner
Sally A. Amero '74; Biology; National Institutes of Health; 2003 DAA winner
Lorraine E. Hricik '73; Mathematics; 2001 DAA winner
*Patricia Hilliard Robertson '85; Biology; NASA Astronaut; 2000 DAA winner
Margaret M. Barnes '76; Biology; 1996 DAA winner
*Nancy L. McGuire '65; Biology; 1990 DAA winner
Mary J. Willard '72; Clinical Psychology; 1990 DAA winner
Kathy H. Gibson '78; Biology; US Nuclear Regulatory Commission; 1989 DAA winner


*Deceased