In his office in Weyandt Hall, Distinguished University Professor and geoscientist Steve Hovan recently packed 26 years of memories into boxes.
"What I love the most about IUP is that science is happening right here, inside our labs and classrooms, every day. So many of our new students think science is a career that starts after they get their degree. But, at IUP, science is done right here in our classrooms and labs, in the freshman year.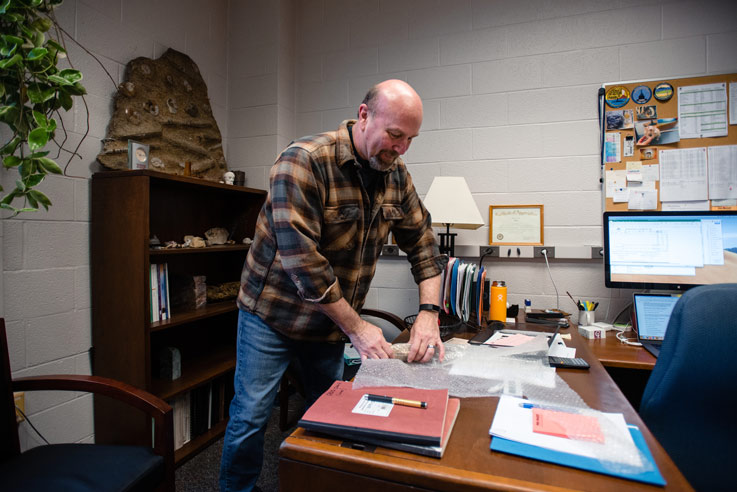 "So, because faculty get students involved in doing science right away, students see they can have a career in science, and believe that they can be a part of science. Suddenly, it becomes attainable."
Hovan knows, first-hand, that IUP's undergraduate experience changes lives.
"Students come here with varied backgrounds, and IUP's research experience is life altering for our students. That's one of the things I've most enjoyed about being at IUP."
Even though he's cleaning out his office, it doesn't mean retirement for Hovan, who has spent the last 14 years as chair of the Department of Geoscience. Instead, on Jan. 6, 2020, Hovan will transition his life-long commitment to the geosciences and IUP students and faculty by starting work at the National Science Foundation (NSF) in Alexandria, Virginia.
At the NSF, Hovan will be a rotator. Rotators are program managers who make recommendations about which grant proposals to fund. The position is called a rotator because it is temporary (designed to rotate researchers in and out of the job), in order to help the NSF maintain a close connection with the broader scientific community.
"Coming from IUP, I think I have a unique perspective that many other program rotators don't have; many program rotators come from top-tier institutions that don't require a 4-4 teaching load.
"There are institutions that focus on research, and teaching takes a back seat. Other institutions have teaching as the major focus, and research takes a back seat. I don't think IUP really fits into either one of those descriptions. IUP successfully combines teaching and research."
Hovan has been a principal investigator on two successful NSF research awards and has conducted research on several ocean vessels funded by the NSF, involving IUP students on those expeditions. He has been published and presented extensively in his field throughout the United States and internationally.
"Every proposal is judged on two main criteria," said Hovan. "First, the intellectual merit is it a worthwhile project to fund from a scientific standpoint; and second, what is its broader impact, what does it provide to the wider community of education and science. Every proposal has to meet those two criteria."
Hovan's time at IUP has been filled with accomplishments and accolades. He was named a Distinguished University Professor in 2007; in 2010, he received the College Achievement Award for his continued commitment to the college and students. He was also given the outstanding Achievement in Research Award from the School of Graduate Studies and Research in 2000. Hovan's research at IUP focused on examining the relationships between atmospheric circulation, oceanic currents, and global climate changes.
Dr. Hovan is a key leader in the Kopchick College, and the wider university," Deanne Snavely, dean of the John J. and Char Kopchick College of Natural Sciences and Mathematics, said. "I am particularly grateful for his mentorship of young faculty members and his dedication to the life-long success of students. Dr. Hovan always works for the greater good and we all benefit from his perspective and insight. His new responsibilities will bring him into contact with many researchers and policy makers across the country. This is a great opportunity for Dr. Hovan, and for all of us who depend on the National Science Foundation to set high standards in the work of science.
Rotators stay with the NSF between one and four years, Some of Hovan's other responsibilities at the NSF will include long-range planning; administration of the merit review process and proposal recommendations; preparation of material describing advances in the research supported; and coordination with other NSF programs.
Hovan plans to keep a small research agenda running through IUP and plans to visit and present about how to write grants that have a better chance of being accepted at the NSF.
"I'm not retired. I'm just on loan," Hovan said.
"This is such an exciting time for science at IUP on so many fronts: the new Kopchick building, IUP's success in winning major research instrumentation grants from the NSF, incredible support from alumni and friends for our programs and for our students – the sky is truly the limit.
"I'm proud to be part of the work that has been done here at IUP. I have loved teaching and working with my colleagues, and I look forward to bringing my experiences with the NSF back to IUP to help us to have even greater success for our university and for our students."