Since childhood, communications media production major Braeden Appleman loved making and editing videos.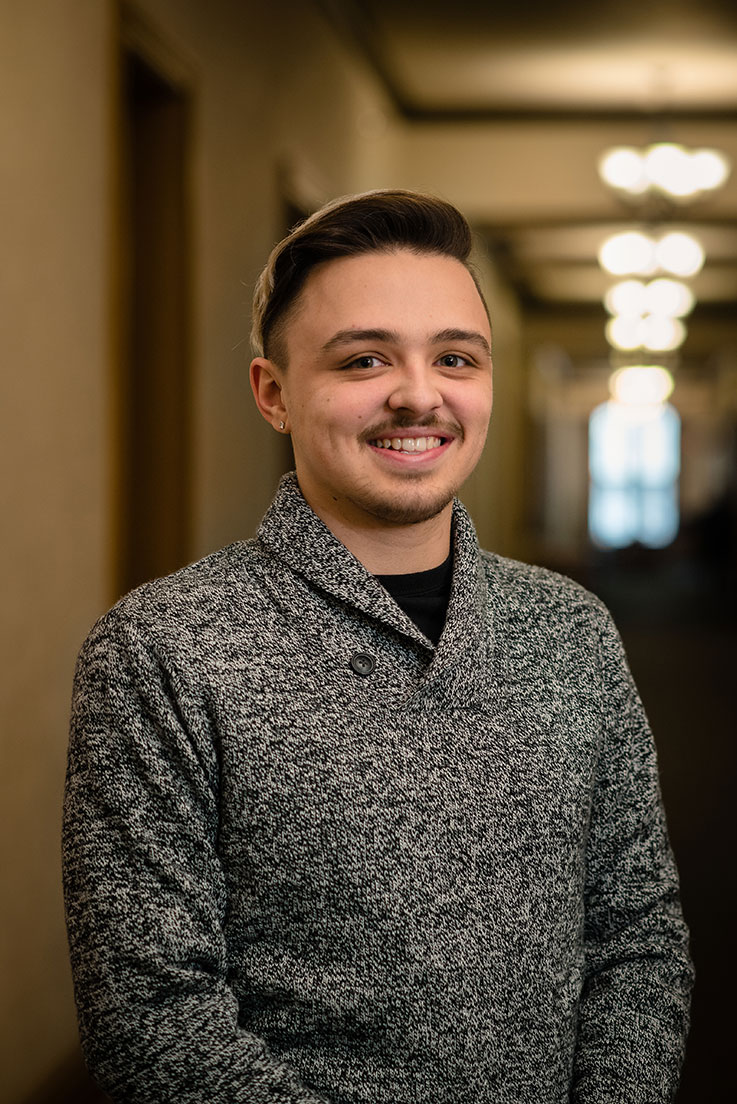 Flash forward to December 2019.
Appleman, from Roaring Spring, a December summa cum laude graduate, is less than one month away from beginning a career in video as creative services director with the Altoona Curve minor league baseball organization.
In addition to looking forward to a job in a field that he loves, he'll celebrate his graduation as the student speaker for IUP's undergraduate commencement ceremony on December 14.
His theme is "Finding your place at IUP."
"It fits, because I really did find my place here," Appleman said. "Because of what I did at IUP, I not only figured out where I wanted to go for the future, but I was ready to take on the position at the Altoona Curve," Appleman said. "I've taken some public speaking classes, but I've never spoken in front of a group this large. It's a bit intimidating, but it's also a huge honor and opportunity that I couldn't pass up."
He credits IUP with giving him the classroom knowledge and the hands-on experiences to turn his avocation into vocation.
Appleman transferred to IUP two years ago from a community college, where he did most of his general education requirements. He'd heard about IUP from friends who were enrolled here, so he decided to check it out.
"I loved the campus—it felt like a real university, but it wasn't too big for me to feel at home," he said. "I didn't really know what major I wanted, but when I came to that open house, I found the communications media table, and I just knew it was the right major for me.
"After I left campus, I researched the program and saw how good it was, and the experiences it offered to students. I really liked that I didn't have to be a senior to be actually doing video and directing or producing television programs."
Appleman started out in the marketing track, but quickly realized that his true passion was media production and switched to the media production track. He enrolled in the department's Digital Sports Production course, which offers students the opportunity to be part of the six-camera live productions of IUP football and men's and women's basketball.
The live productions include live play-by-play with student announcers, slow-motion replay, motion graphics, and sideline reports. Students work in every role of the process: directing, operating the cameras, creating graphics, doing audio, and on-air work. These live productions are replayed on IUP-TV, which is part of the College of Education and Communications. The majority of the content on IUP-TV is produced by students in the Department of Communications Media, but students from other majors can contribute content.
Appleman took the course in spring 2019, covering men's and women's basketball. While exposed to all of the roles filled by the students, his particular interest was operating the camera and doing post-event editing. This coursework gave him the experience he needed to be accepted for a summer 2019 internship with the Altoona Curve.
"I had to edit a video as part of the interview process, and I had all the skills I needed to do that because of the Digital Sports Production course," he said. His supervisor for the internship also had first-hand knowledge of the preparation that IUP offers its students: Appleman worked for then Altoona Curve director of creative services David Gallagher, a 2018 communications media graduate. Gallagher recently left the Altoona Curve to join YinzCam, a Pittsburgh-based technology company, as a graphic designer.
In his job as creative services director, Appleman will be directing a production staff to put on a show of every home game played by the Altoona Curve.
"My internship was amazing," Appleman said. "On game day, I was running the camera and audio board, working as a switcher, creating graphics, and replays. When the team was not playing a game, I had the opportunity to edit videos, write scripts for commercials, and help to shoot commercials and other videos for the organization.
"The culture of the Altoona Curve organization is that everyone is held to a very high standard; people are encouraged to do the best work possible, to be the best that they can be, and people are trusted to meet that expectation," Appleman said. "My internship there was the best summer ever, and I can't wait to go back and work there."
After his internship, Appleman returned to IUP this fall to complete his degree and took a second semester of the Digital Sports Production course, this time covering IUP football. He was able to use the skills he learned during his internship to create graphics for IUP-TV Sports.
Appleman credits Stephanie Keppich, his instructor for the spring 2019 Digital Sports Production course, for introducing him to opportunities in sports broadcasting.
"Growing up, I was never really interested in sports, but I knew I wanted to get the experience offered by that class," Appleman said. "I fell in love with covering sports because I saw how it was a production with a lot of very different parts. Mrs. Keppich made us all feel like a team, and I have to credit her with starting me on my career with the Altoona Curve."
Appleman also credits communications media faculty member and internship coordinator Jim Lenze for helping him to realize what he really wanted from a career.
"Dr. Lenze's 'all the money in the world' game put me on the right path. He asks students, 'if you had all the money in the world, what would you like to do for your career,' and my answer was make and edit videos. Dr. Lenze switched me to the production track, and here I am," Appleman said.
Appleman is graduating as a dean's list student and was nominated as outstanding senior in the Department of Communications Media. He was secretary of the Student Film Association and was involved in the IUP Film Fest.
Son of Christine Hinton and Todd Appleman, he is a 2015 graduate of Central High School.
What advice would he give to his younger self, or to anyone who wonders if they can pursue their passion for video as a career?
"Keep doing it. You will be able to find a job. Practice what you enjoy, even if it's just using your cellphone to make a movie. Any amount of experience and trial and error will benefit you. When I was a kid, I never thought I'd be in a career like this—I just knew I wanted to be creative. I heard concerns from family and friends that this major wouldn't lead to a career, but I followed my heart. If you want something enough, you will find a way to get it."