A total of 656 students are eligible to participate in Indiana University of Pennsylvania's graduate and undergraduate winter commencement ceremonies on Saturday, December 14.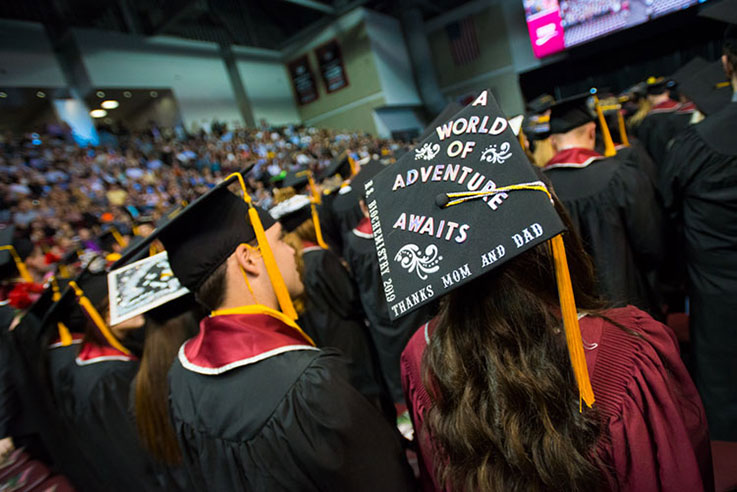 The ceremony for graduate students (receiving master's and doctoral degrees) will be at 9:30 a.m. in the IUP Performing Arts Center's Fisher Auditorium. The undergraduate ceremony will be at 1:00 p.m. in the Kovalchick Convention and Athletic Complex.
Students completing degrees in December and January are invited to participate in the December commencement ceremonies. Of the eligible candidates for graduation, 453 are bachelor's degree candidates, 161 are master's degree candidates, 38 are doctoral degree candidates, and four are associate degree candidates.
A total of 173 of the undergraduate degree recipients are graduating with Latin honors (3.25 cumulative grade point average or above).
R. Scott Moore, professor of history and IUP's 2019–20 Distinguished University Professor, will serve as the keynote speaker for both the undergraduate and graduate ceremonies. The Distinguished University Professorship is an annual award presented to an IUP faculty member based on outstanding teaching, research and scholarly activity. Recipients retain the title for life.
IUP President Michael Driscoll will preside over both ceremonies, which will include greetings from the Alumni Association President John Simpson '79.
Morgan Stewart, a biology pre-veterinary track graduate from Wallingford and member of the IUP Student Philanthropy Council, will present the senior class gift. At IUP, she received the Sutton Scholarship and the Board of Governors Scholarship.
More than 136 December and January graduates, honored with crimson and gray philanthropy cords, contributed $2,861.82 through the Senior Class Gift "pick your passion" project. When making their contribution, students selected the fund or program that they wanted to support.
Tony Anthony, a fine arts music performance graduate from Vinco, will sing the national anthem and alma mater.
Braeden Appleman, a communications media production summa cum laude graduate from Roaring Spring, has been selected as the student speaker for the undergraduate commencement ceremony.
Appleman is a dean's list student and was nominated as outstanding senior in the Department of Communications Media. He was secretary of the Student Film Association and was a member of the game-day production staff with IUP-TV Sports. He completed an internship with the Altoona Curve minor league baseball organization during the summer of 2019, and will begin work there in January 2020 as director of creative services.
Debonair Oates-Primus, of Philadelphia, who is receiving her doctoral degree in literature and criticism, will be the speaker for the graduate commencement ceremony. Oates-Primus has been a faculty member at the Community College of Philadelphia for the past 11 years. She earned her undergraduate degree in English with a minor in journalism and African-American literature from West Chester University, and her master's degree in English from St. Joseph's University.
Twelve students will be recognized for achieving a perfect 4.0 grade point average at the undergraduate ceremony. They include:
Michael Anthony, a hospitality management major from East Berlin. He was a member of Phi Delta Theta fraternity.

Mary Kusluch, an early childhood education major from Ellwood City. She was vice president of the Association of Early Childhood Educators, treasurer of the Child and Family Studies Association, volunteered for the Haven Project, and was a violinist in the IUP Orchestra.

Elizabeth LaCarte, an early childhood special education major from Charleroi. She received the Dean's Service Award and was treasurer of Kappa Delta Pi education honor society, was president of the Residence Hall Council, and was a member of the Pre-Service Teachers of Mathematics, the Pennsylvania State Education Association, and the National Science Teachers Association.

Megan Little, an art studio graphic design major from Irwin. She was a PSAC Scholar-Athlete (softball), received the ERASMUS+ Grant, the Robert Alico Jr. Memorial Scholarship, the IUP-APSCUF Scholarship, the IUP Art Department Student Experience Scholarship, PHEAA Ready to Succeed Scholarship, the Pat Kelly Scholarship, the IUP Sutton Scholarship, Softball Athletic Scholarship, and the PSECU International Education Scholarship. She studied abroad in Zagreb, Croatia. She was an event coordinator for the Graphic Design Student Association, and was a member and engaged leader for the National Society of Leadership and Success. She volunteered for blood drives, the Miracle League, Make-A-Wish Dodgeball tournament, vacation Bible school, and as a softball and field hockey coach.

Paula Lucas, a general studies major from Rural Valley.

Anna Manges, a biology major and geology minor from Indiana. Manges, a Goldwater Scholarship recipient, is a member of the Cook Honors College. She works with biology faculty member Tom Simmons on the vector and disease ecology team of researchers examining blacklegged ticks (arthropods known to carry Lyme disease) and Lyme disease risks and has published on the topic in several professional journals. She and student researchers have also presented programs in the community and state on the topic.

Manges is the recipient of the Northeastern Mosquito Control Association's 2018 Jobbins Scholarship for her work examining acarological Lyme disease risk in Pittsburgh regional city parks, the 2018 Outstanding Undergraduate Student Research Award from the Pennsylvania Vector Control Association, and the Samuel Mitrovich Scholarship for the Advancement of the Biological Sciences. She won an award in the poster competition at IUP's Women in Mathematics, Science, and Technology event and was a member of the Student Philanthropy Council and Phi Eta Sigma National Honor Society.

Nicholas Mays, a political science major from Northern Cambria.

Natasha Pletcher, a natural sciences major with minors in biology and biomedical science from Johnstown. She is the recipient of the Academic Success Scholarship. She served as vice president of Beta Beta Beta Biological National Honor Society and was vice president of the IUP Biology Club. She volunteered as a tutor for the IUP Upward Bound Math and Science Program and was a member of Alpha Sigma Pi, the National Society of Leadership and Success. She was president of her residence hall council and is a founding member of the IUP Pre-Dental Society. She was a volunteer notetaker for the Department for Disability Access and Advising.

Claire Elizabeth Richards, a health and physical education major from Oswego, New York. A member of the women's lacrosse team, she was selected for the IWCLA Division II Academic Honor Roll and was a scholar-athlete for three years. She was a member of Phi Kappa Phi honor society and was treasurer for the Health and Physical Education Majors Club. She volunteered at the Communities at Indiana Haven (nursing home), for a Make-A-Wish Foundation fundraiser and for a local church book sale.

Daniel Tomascik, a criminology major from Levittown. He is the recipient of the Dean's Award for Excellence and participated in the 2019 Undergraduate Scholars Forum and in the IUP Mock Trial. He was a volunteer notetaker for the Department for Disability Access and Advising.
The total number of graduates applying for graduation by college are: 99 from the Eberly College of Business and Information Technology; 60 from the College of Education and Communications; 21 from the College of Fine Arts; 153 from the College of Health and Human Services; 57 from the College of Humanities and Social Sciences; 64 from the College of Natural Sciences and Mathematics; three from the Division of Academic Affairs; and 199 from the School of Graduate Studies and Research.