Following a national search, Debra L. Fitzsimons has been selected to serve as vice president for Administration and Finance at Indiana University of Pennsylvania. She will begin work at IUP on December 16.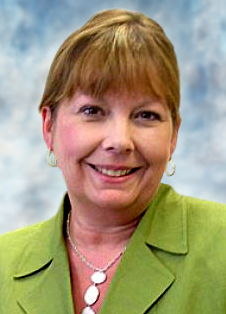 Fitzsimons brings more than 25 years of experience to the role, serving as a higher education business and finance executive officer or chief financial officer at colleges and universities in Pennsylvania, Ohio, California, and Hawaii. The institutions where she has worked had budgets ranging from $18 to $800 million, with enrollment from 900 to 65,000-plus students.
"Dr. Fitzsimons brings an incredible depth and breadth of experience, working across many different sectors and aspects of higher education, including in university systems," IUP President Michael Driscoll said. "I am also impressed with her demonstrated ability and desire to work as a partner, not just with university leadership at the cabinet level, but in a broad, shared governance framework. This attitude and willingness to work in this way will be critical as we address difficult issues and make important decisions about IUP's new reality."
Throughout her career, Fitzsimons has focused on improving business and financial areas to support the academic mission more seamlessly and fully, including developing processes to provide better, timely, and accurate financial information. She has played a leadership role in construction and renovation of many new campus buildings and been active in work related to accreditations and state funding allocations. She has been honored with awards and recognitions for her work at the universities where she has worked.
"It is my honor to join the IUP leadership team as the vice president for Administration and Finance during this exciting time," Fitzsimons said. "IUP is an outstanding university with a very positive mission and vision for the future. I look forward to this opportunity to work with such high-quality, passionate, and talented leadership, faculty, staff, and students to ensure good financial health and provide exceptional business and financial operations in support of the academic, student, public service, and research missions of the university.
"It's truly wonderful to be back 'home' in western Pennsylvania, and I will enjoy getting to know everyone and being a committed part of the town of Indiana and the community," she said.
Susanna Sink, who has served as interim vice president for Administration and Finance for the past year, will be retiring from the university later this year. She was appointed to the interim role following the departure of Vice President for Administration and Finance Cornelius Wooten, who left IUP to serve as vice chancellor of Administration and Finance at North Carolina Central University.
"Susie has been an absolute pleasure to work with during this past year," Driscoll said. "She brings an incredible level of experience, a commitment to just plain hard work, and a spirit of innovation that we need so much right now. She has a great sense of humor, and she's been a valued member of the team. We've all enjoyed serving with her on cabinet, and we wish her all the best in her future, and thank her for the work that she has done and the years that she has devoted to this university," he said.
Fitzsimons most recently served as vice chancellor of business services and chief financial officer and then as interim chancellor and chief executive officer at South Orange County Community College District, Mission Viejo, California.
This 60,000-student institution had a $850-million budget during her tenure. In addition to the work of strategic planning and budgeting and facilities planning and capital improvements, she led negotiations and land development for a new campus for the institution, represented the district on several city redevelopment authority boards, and was responsible for grant proposals and public-private partnerships that led to major awards and contracts. She was honored with the 2013 District Administrator of the Year and was recognized in consecutive years for leadership and commitment to faculty, staff, and students.
Prior to South Orange, Fitzsimons was the vice chancellor of administrative affairs and chief financial officer at the University of Hawaii at Hilo. She was responsible for all university business, financial, human resources, risk management and compliance, information technology, and administration affairs functions, including administrative policy planning and procedures. She developed and monitored campus budgets of more than $140 million in addition to capital construction and other capital project and other funds.
She formulated and chaired the first shared governance committee on campus for planning and budgetary matters, the Long-Range Budget and Planning Committee. She was a major advocate and led the facilitation and development of newly formed College of Pharmacy with the founding dean. During Fitzsimons' tenure, the university was recognized with the Governor's Award for Good Budget Management and Innovation in 2009 and she was twice awarded the UH Administrator Recognition Award.
She was vice president and chief business officer at Southwestern Community College District, Chula Vista, California, and was chief business officer and dean of administrative affairs at Grossmont College in El Cajon, California.
She began her professional career at Youngstown State University, where she had several different roles, including executive director-business and financial affairs. In this position, she had total budget responsibility of $196 million. Fitzsimons is a current or past member of many professional organizations and boards, and has authored professional papers on topics in her field.
Her academic credentials include a bachelor's degree from Penn State University, a master of science in administration degree from Slippery Rock University, and a doctorate in education in administrative policy studies at the University of Pittsburgh, specializing in policy, planning, and evaluation. Her dissertation studied taxpayer inequity in Pennsylvania. While a doctoral student, she was selected for a Lilly Foundation doctoral fellowship and worked at the Learning Research and Development Center, specializing in education finance. She is originally from the town of Hermitage, Pennsylvania.