Members of the IUP community are invited to be part of the renovation celebration of Whitmyre Hall, home to the Cook Honors College, on Friday at 4:30 p.m.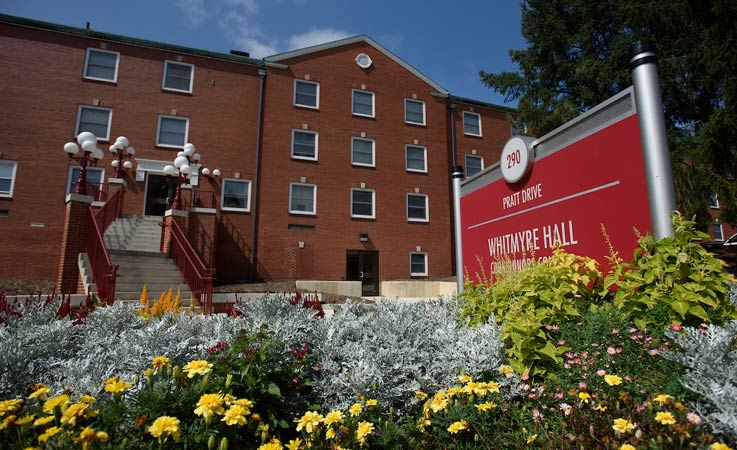 A ribbon cutting ceremony at the entrance adjacent to the Hadley Union Building entrance is planned for the event. The program will feature David Reed '00, a member of the first graduating class of the Cook Honors College and a 2016 Distinguished Alumni Award recipient, and sophomore Cook Honors College student Matthew Hiles, an accounting and finance major from Kittanning.
IUP President Michael Driscoll, Provost and Vice President for Academic Affairs Timothy Moerland and Chauna Craig, acting director of the Cook Honors College, also will offer remarks. Tours of the building and light refreshments will follow the ceremony.
The 26-month, $4.6 million renovation in Whitmyre Hall includes a rebuilt entrance; a facelift for the living spaces on the second and third floors and a comprehensive upgrade of the restrooms and shower rooms on those floors; six new seminar rooms, new individual student study rooms and additional lounging areas.
Planning for the renovation of Whitmyre Hall, now 67 years old, began in summer 2016. Renovation of the residential areas, which offers 180 beds, was completed for the fall 2018 semester, with work on the new seminar, study and lounging areas completed for this fall.
Internal and external infrastructure renovations were also part of the renovation, including updating the mechanical systems and modifying the entrances to the building and selected residential rooms for accessibility.
This year is also the 20th anniversary of the first graduating class of the Cook Honors College.
Ribbon-cutting speaker Reed graduated from IUP with degrees in mathematics and economics. A native of Homer City, he attended and graduated from Homer-Center High School, where he was a member of the baseball and football teams. He represents the sixth generation of his family to reside in Indiana County.
While at IUP, Reed was a javelin thrower on the track and field team and served as an intern for Governor Tom Ridge's Policy Office for Community and Economic Development. He continued his education at the University of Pennsylvania, where he earned a Masters of Governmental Administration Degree.
Reed ran for the State House of Representatives at the age of 24. When first elected, he was the youngest member of the State House, and through hard work, forging positive and collaborative relationships, he was twice elected by his peers to become the House Majority Leader.
At the conclusion of his eighth term serving in the House of Representatives, Reed chose to join First Commonwealth Bank as their Regional President for the Pennsylvania Community Markets, a position he currently holds.
Reed serves on the board of directors of the Indiana County Community Action Agency and the Greater Pittsburgh Chamber of Commerce. He enjoys coaching Little League baseball and youth football. Reed and his wife Heather, a 2013 master's degree graduate of IUP and a member of the IUP Alumni Association Board of Directors, live in Indiana with their son Joshua, and their daughters Gracie and Elliana.
Hiles, son of David and Amanda Hiles, is a 2018 graduate of Armstrong Junior-Senior High School. He lived in Whitmyre Hall during his freshman year. In addition to his majors, he is working to earn a certificate in Chinese. He is treasurer of the Management Association, is a member of the IUP Ambassadors, is co-president of the Chinese Language and Culture Club and is a member of the Eberly College of Business and Information Technology Business Honors Program.
Robert Cook, a 1964 graduate, made his first multi-million-dollar philanthropic investment to establish the honors college in 1993. The first class entered in 1996 and graduated in 2000. Cook also established the Cook Honors College Achievement Fund, which provides assistance for the college's students to study abroad, participate in internships and research, and undertake enrichment activities.
Of IUP's 16 student Fulbright Scholars, 10 have been Cook Honors College students, as have IUP's nine Goldwater Scholarship recipients and many of IUP's 19 Gilman Scholars.
Alumni and friends are participating in a project to support the Cook Honors College Scholarship or Achievement Fund to raise $200,000 in honor of 20 years of Cook Honors College graduates.