Indiana University of Pennsylvania's Council of Trustees honored IUP alumni Bill and Audrey DeLaquil Madia September 12, 2019, with the naming of the IUP Department of Chemistry as the Madia Department of Chemistry.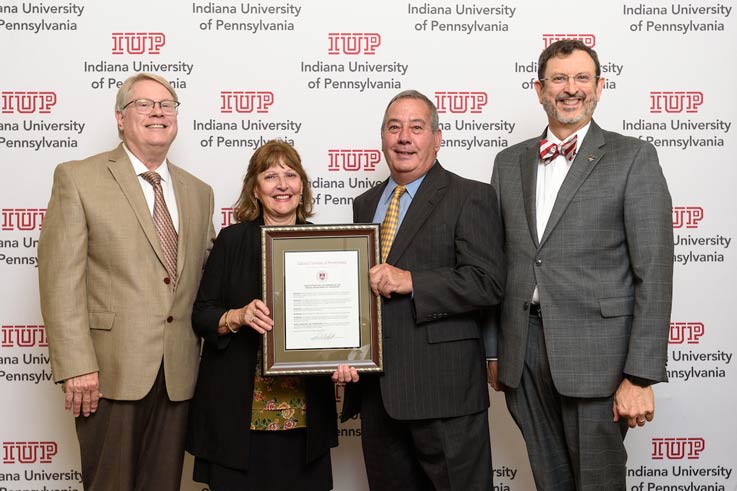 The Madias, cochairs of the National Campaign Cabinet of IUP's Imagine Unlimited comprehensive campaign, have been long-time supporters of science and mathematics initiatives at the university.
Bill Madia, originally from Swissvale, earned his undergraduate chemistry degree from IUP in 1969 and his master's degree in physics from IUP in 1971. Audrey Madia, originally from McKees Rocks, is a 1970 home economics graduate.

The couple now make their home in Montara, Calif.

The resolution approved by the Council of Trustees recognized the Madia's "firm respect for the power of education, particularly in the sciences and social sciences;" their generosity; and their service to the Imagine Unlimited campaign and to the John and Char Kopchick College of Natural Sciences and Mathematics.

"Both Bill and Audrey demonstrate an incredible commitment to IUP," IUP Vice President for University Advancement Khatmeh Osseiran-Hanna said. "They are passionate about the goals of our comprehensive campaign and they continue to motivate alumni and volunteers across the nation. Their desire to impact student success is evident through their generosity, leadership, and dedication to this university, and for that we are extremely grateful."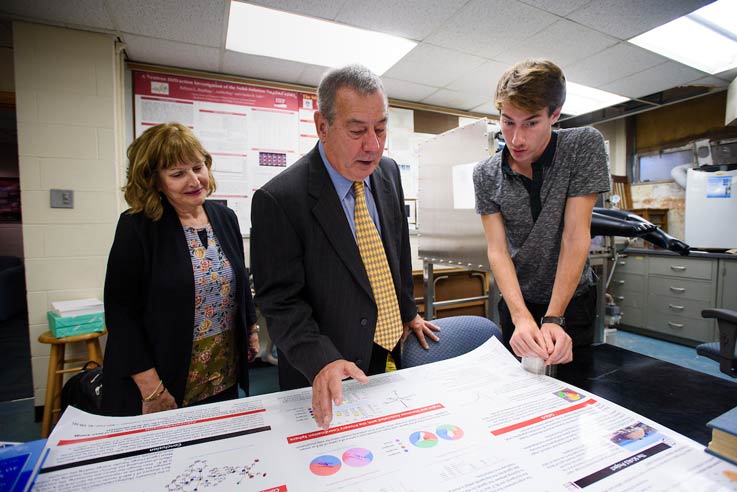 The Madias were recognized in 2012 with the IUP Alumni Association Volunteer of the Year Award. Bill Madia is a 1988 recipient of the Distinguished Alumni Award. In 2004, the couple provided funds to establish the William and Audrey Madia Scholarship, which is given to chemistry majors in even years, and physics majors in odd years.

In the fall 2017 and, more recently, the couple added significant funding to create the William and Audrey Madia Endowment, which supports, in addition to scholarships, research awards and enhancement to the IUP Department of Chemistry.

Audrey Madia is the founder of Classic Homes and is an established interior designer.

Bill Madia is president of Madia & Associates LLC. He currently serves on the presidential advisory boards for the Massachusetts Institute of Technology, Michigan State University, and Princeton, for which he consults on research matters. He also serves on the boards of three venture capital firms that invest in green technologies: EnerTech Capital Partners, Rockport Capital Partners, and Primaxis Technology Ventures.

Additionally, he serves as vice president and chairman of the Board of Overseers for the SLAC (Stanford Linear Accelerator Center) National Accelerator Laboratory at Stanford University.

After completing his master's degree at IUP, Madia began studies at Texas A&M to earn a PhD in nuclear physics, but he was drafted into the army. He served two years in Washington, DC conducting top secret scientific research for the Joint Chiefs of Staff of the United States Department of Defense.

He finished his education under the G.I. Bill, studying nuclear chemistry at Virginia Tech and graduated with his PhD in just 27 months, still a record time for completion of this degree at the university.

In 1975, he began work at Battelle in Columbus, Ohio, where he spent the first 10 years as a researcher in Battelle's nuclear programs before being promoted to lab director in 1985. From 1994 to 2000, he served as the director of the Pacific Northwest National Laboratory in Richland, Washington, and from 2000 to 2003 he was director of the Oak Ridge National Laboratory in Tennessee.

Madia returned to Battelle in 2003 as executive vice president for Laboratory Operations, where he remained until retirement in 2007.

At IUP, Bill Madia earned a partial tennis scholarship and was a member of Sigma Tau Gamma fraternity.

The couple are the parents of three grown children and two grandchildren.