In March, Indiana University of Pennsylvania master of fine arts student Tyler Stanton set off from his woodworking studio in the basement of Sprowls Hall with a milk crate full of his branded doorstops.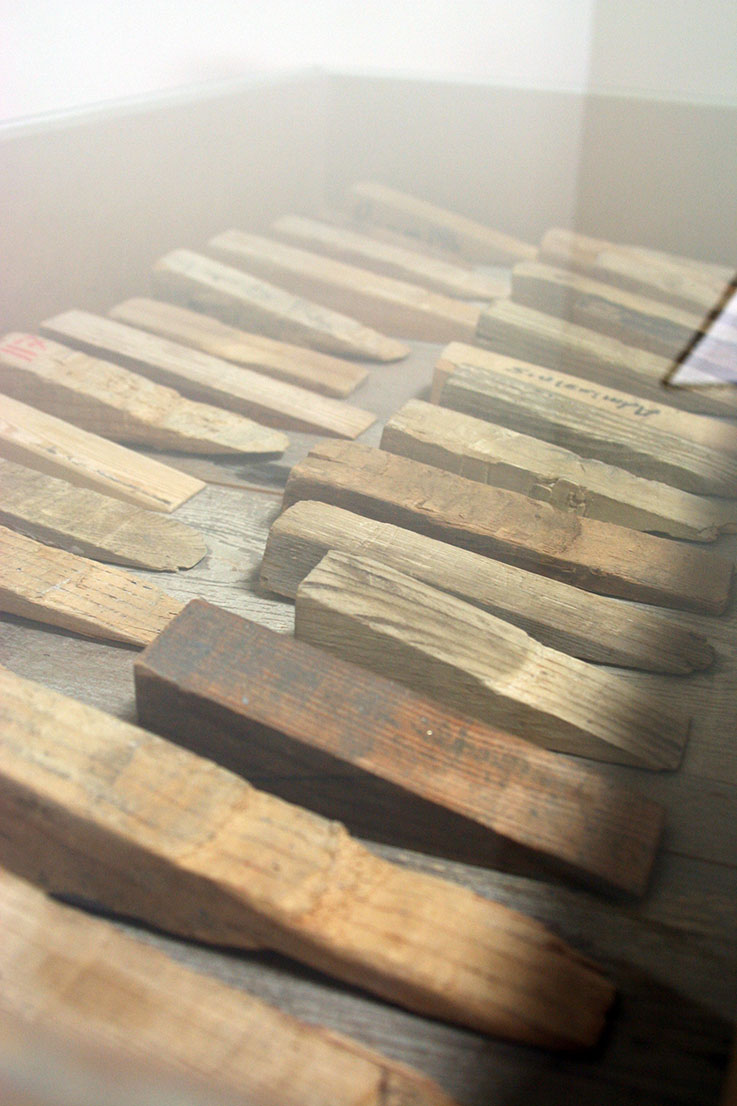 Stanton got some confused looks and was asked "whatcha doin'?" a few times as well. Employees in various departments at IUP wondered if Stanton worked for the university or if he was on a personal mission to take doorstops.
"Stealing" doorstops wasn't his intent. Instead, the purpose was to gather original doorstops in university buildings across campus and replace them with his own doorstops, made of pin oak—a wood native to Pennsylvania—and imprinted with Stanton's signature.
After two hours, the milkcrate was empty, and Stanton's doorstops were in place next to 32 doors in 11 IUP buildings.
Stanton created a case from a paneled door discarded and abandoned in the basement of Sprowls Hall for his collection of the 32 "stolen" door stops. The legs, which hold up the case, are scrap metal which Stanton welded and manipulated.
A self-proclaimed dumpster diver, Stanton, of Meadville, spent his childhood making toys, reclaiming and repurposing materials into useful objects. His concentration in his studies is in woodworking, and his focus as a graduate student is in material culture.
Material culture is, "Anything that humankind has made to deal with the world," said Stanton. "The minute a rock is picked up and turned into a foundation of a home, it's material culture."
Stanton says he's always seen the value in things that other people might overlook.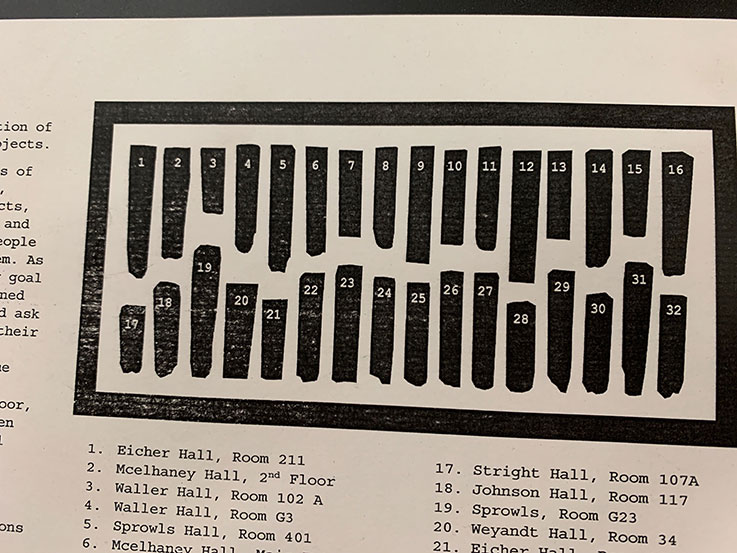 "You have this object," said Staton. "The maker or craftsperson made this doorstop at one point when they were making it, they were active in the thought of making a doorstop. The idea that somebody made this thing that another person is using—probably every day—for however long they're in that office… it could be a year, it could be 15 years… they're using this thing every day. They've probably never really looked at it. You may not even know where it came from or who made it.
"It's certainly treated a lot differently than if they have a ceramic cup that they bought and it sits on the desk," Stanton said. "Even though they are both a material that is manipulated by a craftsperson to serve a utilitarian purpose. One is overlooked and one is assigned a certain value."
The doorstops are the main attraction in this art piece, and categorizing and displaying them is a nod to the artisans who created them years ago, he said.
"I believe that when an IUP art student starts taking sculpture courses, the department should hand students a vest that says, 'I'm doing weird art stuff, please engage.'"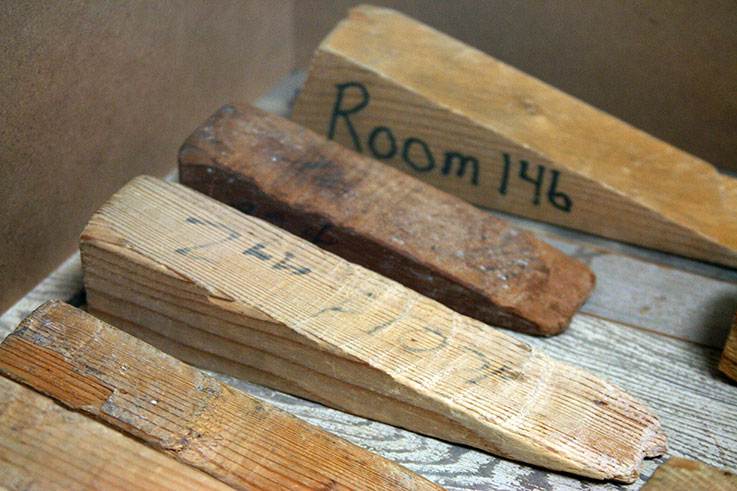 Stanton's branded doorstops can be found in Eicher Hall (five), Cogswell Hall (one), Johnson Hall (two), McElhaney Hall (four), Robertshaw Building (one), Sprowls Hall (five), Stright Hall (four), Sutton Hall (three), Uhler Hall (one), Waller Hall (four), and Weyandt Hall (two).
Stanton's work has most recently been featured at the State Museum of Pennsylvania in Harrisburg for the annual Art of the State exhibition where he was awarded honorable mention in sculpture as well as a solo exhibition at Pittsburgh's Artists Image Resource. He has received a graduate assistantship for the IUP Wood Center and Kipp Gallery while also serving as teaching assistant from 2017 to 2018. He was a production team leader for the IUP student group that was invited to produce the award for the 2017 Governor's Awards for the Arts. During his time at IUP he has been awarded the Windgate scholarship and numerous grants to travel, present work, and perform research.
While an undergraduate at Edinboro University of Pennsylvania he was awarded Edinboro Student Veteran of the year in 2017, was a Design Emphasis Finalist for the International Wood Fair in Atlanta and was chosen as one of three scholarship recipients in conjunction with the annual Michael V. Gmitter Memorial Scholarship exhibition in 2016. He also received the Amie H. Doucette Memorial Scholarship, the Philadelphia Urban Seminar Scholarship, the Helping Hand for Erie Veteran Scholarship, the Douglas N. Melby Memorial Scholarship, and the Windgate Scholarship.
In addition to his solo exhibitions at Artists Image Resources and IUP's Annex Gallery, he had exhibited his work several times at IUP, at the Westmoreland Museum of American Art in Greensburg, the Pittsburgh Center for the Arts, the Erie Art Museum, at the Furniture Society Conference in Philadelphia and Milwaukee, the International Wood Fair in Atlanta, the Warner Theater in Erie, and in exhibitions at Edinboro University. He is a member of the Associated Artists of Pittsburgh, the Furniture Society and the IUP Graduate Art Association.