Two academic programs at Indiana University of Pennsylvania have been recognized by College Factual as top in the nation for veterans.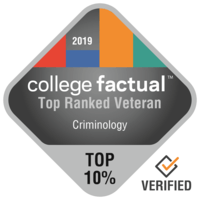 IUP's Criminology program was ranked seventh in the nation, and IUP's English literature program was ranked in the top 15 percent of all English literature programs in the nation for veterans.
The English literature program also was ranked third of 47 colleges and universities in Pennsylvania for "veteran friendliness" and was ranked highly in the "Excellent Outcomes" category for high post-graduation salaries.
Overall, editors cited IUP as "an excellent value for students in Pennsylvania" and noted that students "value the school's setting" in Indiana.
The rankings were developed to highlight schools that offer quality outcomes in a specific major while also offering support and resources to help veterans and active-duty military students thrive. Editors looked at 24 different factors in selecting the top universities, including:
Veteran Affordability
Veteran Population (including presence of an ROTC program)
Veteran Policies
Veteran Resources
Veteran Satisfaction
Overall College Quality
Within the "Veteran Population" category, the presence of an ROTC program is considered by editors to be an asset. IUP has a robust ROTC program; it will celebrate its 70th anniversary at IUP in 2020. More than 2,000 cadets have graduated from the program, including the top ROTC cadet in the nation in 2009. IUP's ROTC program is the recipient of a MacArthur Award, given to the top program in the country, and is a three-time recipient of the Governor's Trophy, presented to the most outstanding military science program at a Pennsylvania college or university. IUP's alumni include 12 generals.
The number of military and military-affiliated students at IUP continues to increase. A total of 1,009 of veterans, military, or military-affiliated students are currently enrolled at IUP. This is an increase of 77 percent from fall 2015 enrollment totals.
Under the "Veteran Resources" category, editors recognize that "Colleges committed to serving veterans don't just change their policies to accommodate veterans, they go beyond that by providing actual resources for them." IUP has both a dedicated student organization for veterans, military, and military-affiliated students. The Military and Veterans Resource Center, established in 2015, works collaboratively with IUP programs and services, serving as a one-stop information and referral site to help military-affiliated students transition to college life and achieve their academic goals.
Editors also looked at overall college quality, which included academic quality of the student body, resources provided to students and faculty, graduation rates, and post-graduate earnings.
IUP is routinely included in the Princeton Review's Best Colleges guidebook and in many other national publications for excellence and value.