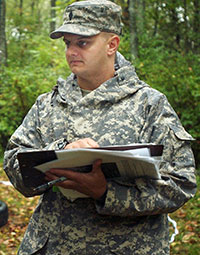 An Indiana University of Pennsylvania ROTC cadet has been selected as the top ROTC cadet in the nation.
Erik Lloyd, an IUP graduate and current graduate student, was selected for the distinction from 4,700 other cadets following the Leader Development and Assessment Course held this summer for senior ROTC cadets.
This is the first time that an IUP cadet has ranked first in the nation.
"This national honor reflects strongly on the historic excellence and distinction of the IUP ROTC program," Tony Atwater, IUP president, said. "Cadet Erik Lloyd is to be commended for bringing national recognition to his individual performance, as well as to his battalion and to the university. The IUP ROTC program continues to enhance the leadership skills of its program participants while providing exemplary training and preparation for the men and women who will lead the military defense of our nation."
"While Cadet Lloyd presented outstanding performance at the Leader Development and Assessment Course, this award reflects his career achievements as an ROTC cadet and student leader at IUP," Lt. Col. Brook Whiffen, IUP Military Science professor, said. "Cadet Lloyd's number-one ranking reflects outstanding academic performance as a 4.0 student, leadership and military performance, and athletic ability, not just his work in the month-long summer course."
Lloyd graduated with a bachelor's degree in Physical Education and Sport in 2002. He is working on a master's degree in Adult Education and Communications Technology and will graduate in May. Upon his graduation, he will be commissioned as a second lieutenant in the US Army.
After receiving his bachelor's degree, Lloyd enlisted in the Army and served six years, working part of that time as a medical laboratory technician and biological research non-commissioned officer. During that time, he reached the rank of staff sergeant.
In recognition of his national number-one cadet ranking, Lloyd is entitled to select his branch qualification as an Army officer. He has selected the medical service corps.
Lloyd, 31, and his wife, Kristi, a 2001 IUP psychology graduate, are the parents of a 17-month-old son, Blake. They live in Indiana. He is originally from Port Allegany, McKean Township.
Lloyd continues to be actively involved with the ROTC program, spending about 25 hours a week working with and training 19 other cadets who will go through the Leader Development and Assessment Course in summer 2010.
"I had a really good experience as an undergraduate at IUP, so when it was time to choose a graduate program, I decided to consider IUP," Lloyd said. "When I explored the Adult Education and Communications Technology program, I found that it was a great fit for my career path related to the Army. Since I have been back at IUP, the instructional staff at Army ROTC and the faculty in the Communications Media Department have worked synergistically to help me develop as a person and as a leader."
IUP's ROTC program is part of the Military Science Department. The first two years of the Military Science program provide background on the historical role of military forces as well as current national military objectives.
In addition, students develop basic leadership skills in problem solving and decision making and learn survival techniques, map reading, self-defense, rappelling, and marksmanship.
The last two years of Military Science include the advanced course and lead to a commission as an officer in the US Army.
IUP's ROTC, the Warrior Battalion, includes 76 students. Another 350 students participate in the IUP Military Science program through its health and wellness offerings.
The IUP ROTC program has commissioned 1,900 officers in its 59 years at IUP. Seven of those officers have gone on to the rank of general, with an eighth officer recently selected for promotion to general—Col. Bryan Owend. Only 302 Army officers can hold the rank of active duty general at any one time.
IUP generals include retired Maj. Gen. Rodney Ruddock, chairman of the Indiana County Board of Commissioners; Brig. Gen. Leslie Miller Purser, a 1980 IUP graduate and IUP's first female brigadier general; Brig. Gen. Robin Swan; retired Lt. Gen. Joseph Laposata; retired Maj. Gen. Larry Gottardi; and retired Maj. Gen. Leonard Hoch.
The senior officer in charge of the US Army John F. Kennedy Special Warfare Center, Maj. Gen. Thomas Csrnko, is also an IUP ROTC graduate. Csrnko will be speaking this November in a lecture for IUP's Six O'Clock Series.
IUP ROTC graduates are serving in more than 125 countries around the world, including Iraq and Afghanistan.