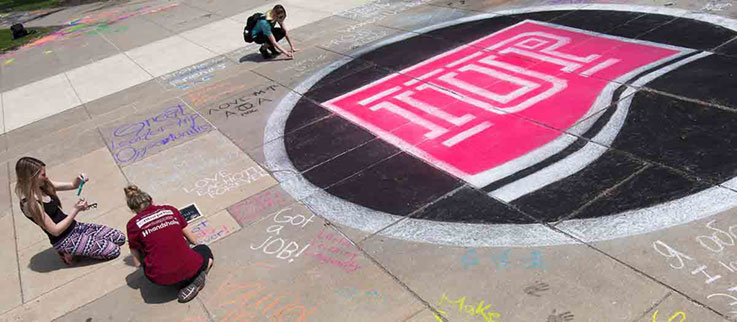 The annual Indiana University of Pennsylvania Sidewalk Commentary Contest, also known as "Chalk the Walk," will be held Wednesday, May 1, from 9:00 a.m. to 3:30 p.m. in the IUP Oak Grove. In case of inclement weather, the event will be held on Friday, May 3.
The contest, sponsored by the IUP chapter of the National Art Education Association and the College of Fine Arts, offers students or student groups the opportunity to express their political and social views through chalk drawings across the Oak Grove.
Students or student groups should register at the registration table in the Oak Grove between 9:00 a.m. and 3:30 p.m. There is no cost to register, and chalk is provided free of charge. The first 200 persons to register will receive a free t-shirt, sponsored by the Division of Marketing and Communications and the IUP Free Speech Project.
The 2019 event is the 28th annual Chalk the Walk, which has consistently drawn between 60 to 100 entries each year on topics ranging from the environment to politics.
Campus judges will review the entries between 3:30 and 4:30 p.m. Monetary prizes will be given to the winning entries.
The 2019 Chalk the Walk will continue the My IUP words video project.
All members of the community are invited to pick one or more words to describe what IUP means to them. Participants will then write those words on chalkboards and be photographed and filmed with their IUP word or words. Participants will then be invited to chalk their IUP word or words on the IUP logo that will be chalked on the flagstones in front of Fisher Auditorium.
This project will run from noon to 4:30 p.m.
A video of the project will be shot during the day, including footage being shot by drones around the flagstone area.