Students from the Interior Design program are helping Punxsutawney businesses to "Connect" to success.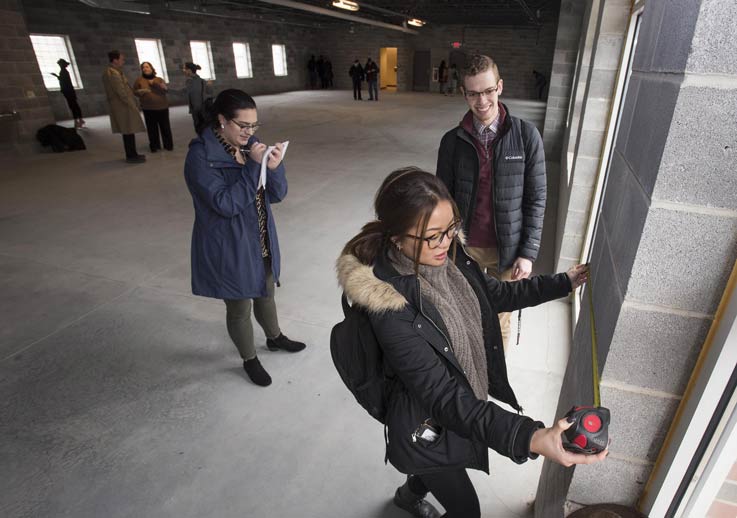 Students in Susan Venatta's Commercial Design Studio I (INDS 464) class have a new initiative in Punxsutawney: Punxsy Connect.
Punxsy Connect is a coworking space project with a mission of providing easy access to temporary or permanent office space that includes all office amenities, including high speed internet, office machines, a conference room, and kitchenette. The project is being developed by a subset of the PRIDE group (Punxsutawney Revitalization: Investing, Development and Enhancing).
The coworking space is intended to provide a business-like atmosphere that replaces a distracting or isolating home office, or it can be an option for telecommuters. A desk or office can be rented by the day, the week, or for longer periods. Punxsy Connect also will offer desk space to tech companies that need to place remote workers in a suitable environment.
The IUP students visited the space on Feb. 11 and met with members of the PRIDE group. The students will develop proposals for design of the space, which ideally will accommodate individual desk spaces, offices, a conference room, and coworking amenities.
"I am excited for my students to have a truly hands-on experience," Venatta said. "The space is a blank slate for them, and the opportunity to get in on the ground floor (as it were) and have the opportunity to field measure, meet with the members of the committee, and engage in actual back and forth dialogue as they begin the project is invaluable. From space planning, to furniture and finish specification, to final presentation, the students will hopefully be able to understand better how an actual project progresses. I know that my students will be able to provide the members of PRIDE with exciting options for the completion of their space, and I am proud that we are able to participate in the Punxsy Connect initiative."
The students will present their proposals to the PRIDE coworking committee in April.
"I am excited and proud to have our interior design students connected with this real-life opportunity," Karen Scarton, chair of the Department of Human Development, Fashion, and Interior Design, said. "Working with actual clients and a site will outweigh any type of hypothetical project. It will be a rewarding opportunity for everyone involved."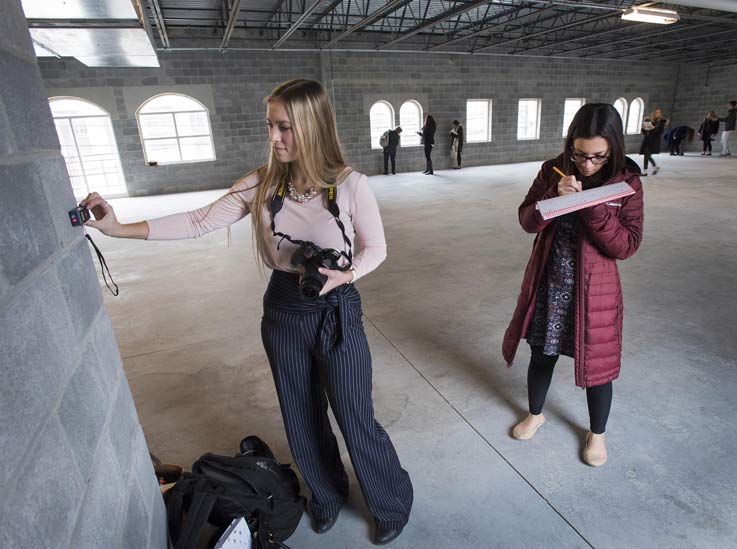 Punxsy Connect Committee members include Marlene Lellock, Punxsutawney Weather Discovery Center; Rich Muth, IUP Regional Campuses; Pat Fleckenstein, PRIDE; Bob Cardamone, Punxsutawney Chamber of Commerce; and Jessica Church, Punxsutawney Memorial Library.
"The student enthusiasm was contagious as they measured everything and jotted notes," Muth said of the Feb. 11 visit to the space. "Their questions inspired even more ideas in our minds as we move the project forward. I can't wait to see how the different groups conceptualize the design of the coworking space. Even though I work with IUP students daily, I can't help but be overwhelmed when I see them in action in a real-world project like this."
Punxsy Connect Committee member Lellock agreed.
"We're excited to have IUP's Interior Design students helping us out with the project," Lellock said. "It's a win-win: they get real world design experience and the coworking committee gets the benefit of their ideas."
Those interested in learning more about Punxsy Connect can visit Punxsyconnect.net, the project website, which is currently under development.
While there, persons are asked to take a short survey that will help PRIDE understand and plan for the needs of those who work remotely, have an Internet-based job or business, or work from home.
Photo at top: Jessica Lin, from Wexford measures the wall while Erin Stiffler, from Altoona, takes notes. Quinton Shoulders, from New Baltimore, MI, looks on.
Photo at bottom: Sara Knight, from Addison, NY, measures while Melissa Paul, from Blue Bell, takes notes.