Indiana University of Pennsylvania's Council of Trustees approved the naming of the College of Natural Sciences and Mathematics and the future facility for the sciences in honor of alumni Dr. John and Char Kopchick.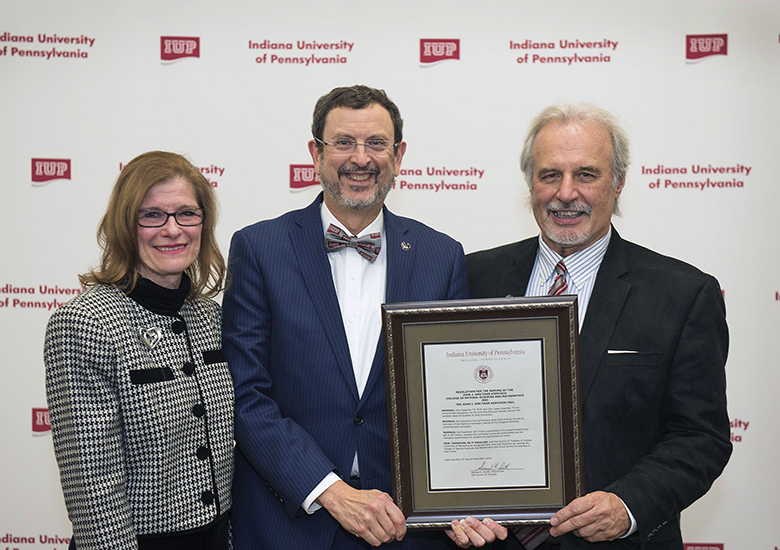 The College of Natural Sciences and Mathematics will become the John J. and Char Kopchick College of Natural Sciences and Mathematics. The new $90 million facility will be named The John J. and Char Kopchick Hall.
Construction for the new building is slated to begin in spring 2020 and to be completed in 2022.
John Kopchick earned a bachelor's degree in 1972 and a master's degree in 1975, both in biology. Char Kopchick graduated from IUP with an education degree in 1973. Currently living in Athens, Ohio, John Kopchick is a professor of molecular biology and the Goll-Ohio Eminent Scholar at Ohio University; Char Kopchick is the assistant dean of students there. He is a co-inventor of the drug Somavert, which combats acromegaly, a growth hormone disorder. John and Char Kopchick were raised in Indiana and Sagamore, Armstrong County, respectively.
"John and Char represent so much about what IUP has been for so many," IUP President Michael Driscoll said. "IUP has been a place for students from families in the local area–many of them coal mining families –whose children came to college at their local university and found an excellent and challenging educational experience. They worked hard to finish their education and they have achieved great things. IUP continues to fill that role."
"In the present, even though the Kopchicks have had incredible success in their lives, they keep true to their roots," Driscoll said. "They are committed to paying it forward and providing our current students with the opportunities that they need and deserve," Driscoll said.
"It's extremely rewarding and inspiring to have partners like the Kopchicks. They are so grounded and so willing to provide these incredible opportunities for our students. While their gift is unprecedented in the history of IUP and the Pennsylvania State System, this naming recognition is about so much more than just the financial support they are providing to us; the Kopchicks exemplify IUP's tradition of excellence along with an incredible loyalty and affection for this wonderful university."
The Kopchicks are members of the national campaign cabinet of the Imagine Unlimited comprehensive campaign. At IUP's April 13 Celebration of Philanthropy event, the Kopchick's gift of $23 million to IUP was announced. This is the largest philanthropic gift in the history of the university. These funds will be used for science and mathematics initiatives.
"Being that we are both from the Indiana area with friends and family still here, to have a building named after us is humbling and awesome," John Kopchick said. "And then to have the College of Natural Sciences and Mathematics also named after us is unbelievable. We are forever thankful to IUP for giving us our 'start.'"
Separate from the Kopchick's donation, IUP has raised $9.4 million for the building construction to satisfy the financial match required by the Commonwealth of Pennsylvania Department of General Services. The announcement of the completion of the match was made at the April 13 event upon the news of an additional $2 million to the $5 million already given by 1973 graduates Tim and Deb Cejka, of Latrobe.
The new 151,751-square foot building will include more than 51,600 square feet of laboratory space. It will be sited facing the Oak Grove and will be part of the center of campus. There will be a number of common spaces in the building—not just for science majors, but for all students—in order to showcase science and math to the community.
Development of the plans for the building has been a collaboration among faculty, staff and the College of Natural Sciences and Mathematics Advisory Board, which includes John Kopchick.
"Working with John and Char Kopchick is a pleasure and an honor," IUP Vice President for University Advancement Khatmeh Osseiran-Hanna said. "Their passion and drive to change the world and to make a transformational difference at their alma mater sends a strong vote of confidence in IUP."
The College of Natural Sciences and Mathematics includes the departments of biochemistry, biology, chemistry, mathematical and computer sciences, environmental engineering, geoscience, physics, preprofessional programs and psychology.
As of November 30, IUP's Imagine Unlimited Campaign has raised $57.7 million, 77 percent of its $75 million goal.