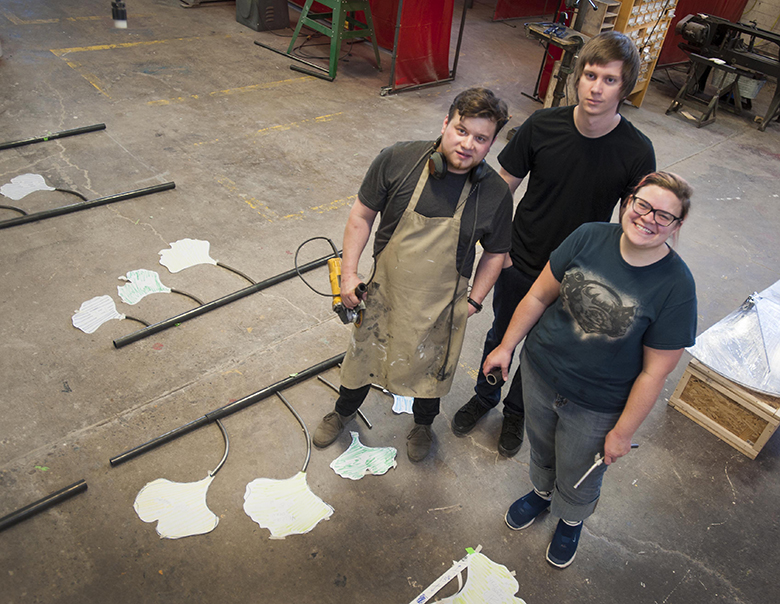 With one eye on the future and one on the past, a group of students in Sean Derry's Public Art class has created a project to enhance the beauty of the IUP campus, while also teaching a lesson.
The team of art students—Jennifer Blalock, Anthony Bookhammer, and Bill Brown—were recently chosen as the winners of a contest to place art in IUP's Allegheny Arboretum. Their project, titled "Legacy Marker," was the result of a Request for Proposal (RFP) sponsored by the arboretum. The $1,000 prize for the winning team, plus $500 for materials, was sponsored by Ray Kinter, an IUP alumnus.
"We put a lot of time into this, so I was excited to win," said Brown, an art major from Shenandoah, Pa. "I'm also a bit nervous; it's a lot of responsibility. But I'm more honored than nervous."
The project, which will be follow the team's plan and created by they and their classmates, will be installed by the end of the semester in front of Sprowls Hall, inside and existing planter.
Blalock said the ginkgo tree is the perfect place to put the project because it "is a living fossil and is often used as a symbol for peace, hope, vitality, and endurance."
"One part signpost and one part experiential sculpture," Bookhammer explained, "'Legacy Marker' alters the space in which it is located, creative a unique and enjoyable experience which brings attention to the greater scope of the greater Allegheny Arboretum project itself."
According to the group's proposal, the project "consists of five vertical sculptures of six-, five-, and two-feet high, placed in the planter of the ginkgo tree in front of Sprowls Hall. The support columns are constructed of steel, with concrete foundations. … The remaining sculptures will each have a cast base of bronze or aluminum that has one word representing an idea associated with the ginkgo tree: vitality, endurance, hope, and peace."
"Visually, its going be a very nice addition to the courtyard in front of Sprouls," said Derry. "They embraced the mission of the arboretum. They did a nice job of coming up with very different approaches, but this one is going to be pretty dynamic. My hope was for the students to engage their chosen site in a meaningful way and thoughtfully try to develop something that will add to the beatification of campus, but also tell a story about who they are as students."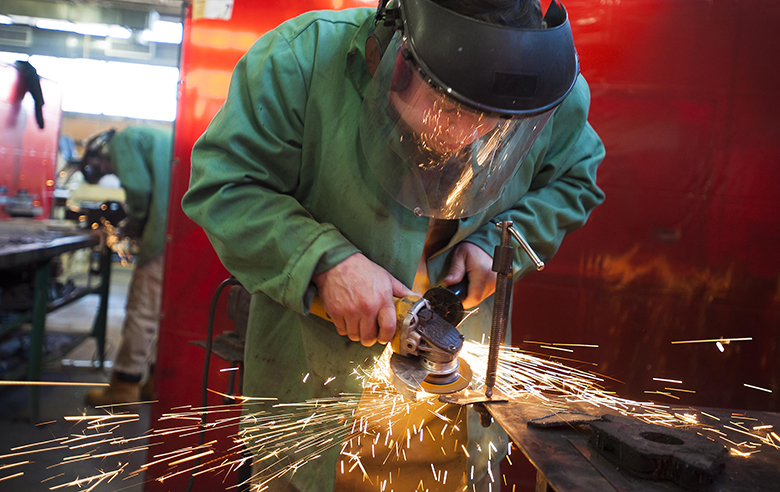 Bookhammer, a graduate student from Altoona, said the project offers a lot to those who will stop by to take a look.
"It is my personal wish that Legacy Marker be looked upon as a source of curiosity, entertainment and joy by the community," he said. "Focusing on the manipulation of basic color and light, Legacy Markers simplistic design is approachable by art consumers at all levels."
Blalock, a native of Smackover, Ark., said she hopes her group's project will open the eyes of victors and they will see the beauty across the IUP campus.
"I hope that the community will appreciate its beauty and meaning and hopefully walk away with an appreciation for natural beauty and man-made beauty," she said. "I also hope it inspires them to walk around campus and notice the other trees and plants that surround them."
Brown said the winning project is a fine example of what can be accomplished with teamwork.
"We worked on this closely and we ran any ideas we had past each other first," he said. "We would have not of came to the end product without each other."