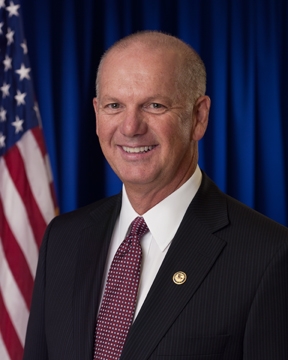 IUP's Office of Extended Studies, InfraGard Pittsburgh and S&T Bank will present "Securing Our Region: A Cyber Security Seminar" on July 28 from 8:30 a.m. to 12:30 p.m. at the Kovalchick Convention and Athletic Complex, 711 Pratt Drive.
The event is free and open to the community, but pre-registration is required. Registration can be made on the Cyber Security Seminar website.
David J. Hickton, United States Attorney for the Western District of Pennsylvania, is the keynote speaker for the program. Hickton will discuss "An Update on Cyber Threats."
In 2016, experts say that the average computer is probed more than once per second by an external entity unless it is in a protected network. This program is intended to offer increased awareness and understanding of cyber threats to make the region more resilient to cyber incidents and work to prevent individuals and businesses from becoming victim to cyber threats.
In addition to an overview of the cyber threat by U.S. Attorney Hickton, presenters will discuss social engineering and its impacts, business e-mail compromise, and ransomware.
The agenda for the day includes:
8:30–9:00 a.m. – registration and light refreshments
9:05 a.m. -- keynote speaker Hickton, providing "An Update on Cyber Threats."
9:45 a.m. – "How Social Engineering Impacts You and Your Company," presented by Jonathan Roumfort, senior security analyst, Information Technology Services, IUP.
As technology has evolved over the years, so have IT security measures. Better coding and patching practices, more secure networking, and various other security controls have given attackers an increasing amount of headaches and road blocks in the never ending security cat-and-mouse game. With traditional computer vulnerabilities becoming more short-lived and less effective to exploit, the human has become the easy low hanging fruit and weakest link in IT security. Attackers and miscreants are, now more than ever, leveraging vulnerabilities in human behavior through social engineering as an alternative to more complicated and short-lived attacks on technology itself. This presentation will examine several types of social engineering, present some examples, and go over ways to help prevent it.
10:30 a.m. – "Business E-mail Compromise," presented by Tiffany McLee, Intelligence Analyst, National Cyber-Forensics Training & Alliance.
Individuals use spoofed or compromised commercial e-mail accounts to convince employees to execute unauthorized wire transfers to accounts under the control of these criminals, who often impersonate executives or vendors. The transfers are often sent to financial institutions in China or Hong Kong. The scam accounted for approximately $215 million in losses to entities in the US and abroad as of January 2015, according to the Internet Crime Complaint Center (IC3). McLee will discuss the scope and impact, indicators to recognize the scheme, mitigation strategies, neutralization efforts, and successes in combating the scam.

11:00 a.m. – "Understanding Ransomware and What to do if You Become a Victim," presented by Michelle Pirtle, special agent, FBI Pittsburgh.
While initially popular in Russia, the use of ransomware has grown internationally; in June 2013, security software vendor McAfee released data showing that it had collected more than 250,000 unique samples of ransomware in the first quarter of 2013, more than double the number it had obtained in the first quarter of 2012. Wide-ranging attacks involving encryption-based ransomware began to increase through Trojans such as CryptoLocker, which had procured an estimated $3 million before it was taken down by authorities, and Cryptowall, which was estimated by the Federal Bureau of Investigation to have accrued over $18 million by June 2015.
11:30 a.m. - Cyber Threat panel discussion with regional industry partners, including question and answer session with participations.
The day concludes at 12:15 p.m. with final remarks.
Attendees who participate in the full event will receive from InfraGard a certificate for 3 educational contact hours from InfraGard and two Continuing Education Units (CEU) from IUP for completion of this training.
Hickton was nominated for United States Attorney for the Western District of Pennsylvania by President Barack Obama on May 20, 2010, and was confirmed by the U.S. Senate on August 5, 2010. He was sworn in as the District's 57th U.S. Attorney on Aug.12, 2010.
Prior to becoming U.S. Attorney, Hickton engaged in the private practice of law, specifically in the areas of transportation, litigation, commercial and white collar crime. Hickton began his legal career serving as a Law Clerk for the Honorable United States District Judge Gustave Diamond from 1981 to 1983. For more than a decade, Hickton was an Adjunct Professor of Law at Duquesne University School of Law where he taught antitrust.
He is a Fellow in the American College of Trial Lawyers, and a Fellow of the Academy of Trial Lawyers of Allegheny County. He has been admitted before the United States Supreme Court, the Pennsylvania Supreme Court, the United States District Court for the Western District of Pennsylvania and several of the U.S. Circuit Courts.
Previously, Hickton was involved in a wide range of community activities, and has long been an active supporter of and participant in organizations which benefit children and the arts. He is a past executive board member of the Pittsburgh Public Theater, and served as its president. He also was a longtime member of the Pittsburgh Cultural Trust, a non-profit organization that uses arts and culture to reinvigorate the Downtown.
His nomination as United States Attorney marks Hickton's second Presidential appointment. From 1999 to 2001, he served on the President's Advisory Committee on the Arts for the John F. Kennedy Center for the Performing Arts at the request of then-President Bill Clinton.
Hickton is a 1978 graduate of the Pennsylvania State University and a 1981 graduate of the University of Pittsburgh School of Law.
Roumfort has been employed at IUP for more than 17 years. During his tenure at the university, he has implemented and supported IT security, enterprise systems and networking, and web and Internet solutions.
McLee specializes in cyber threats affecting the financial services industry. Her company is a non-profit corporation, which partners with academia, industry, and government to neutralize cyber crime. She has the responsibility for providing intelligence analysis on various financial fraud scams including business e-mail compromise (BEC), account takeovers, customer e-mail compromise (CEC) and other scams. Previously, she was a senior anti-money laundering investigator for a financial institution. In this role, she was responsible for performing analysis and investigation of complex financial transactions to identify potential money laundering, terrorist financing, and other financial crimes. Prior to this work, McLee was an intelligence analyst for the U.S. Department of Justice, where she was responsible for researching and analyzing drug trafficking patterns along the southwest border and other trend analysis. She received her MPIA and B.A. from the University of Pittsburgh.
Pirtle has been with the FBI for 12 years and is currently based out of the Pittsburgh field office. With a master's degree in computer science, her experience has centered on cyber investigations and the cyber threat landscape. Her investigative experience has included criminal and national security matters, both stateside and internationally. She currently works to secure America's critical infrastructures through collaborative relationships and information sharing. The cyber and physical threats to our nation's critical infrastructure are the focal points of her outreach with industry, academia, and government. She is the FBI coordinator for both the Pittsburgh InfraGard Members Alliance and the West Virginia InfraGard Members Alliance.
The InfraGard Pittsburgh Members Alliance (IPMA) consists of a growing membership of professionals who are creating a more resilient critical infrastructure in western Pennsylvania.
Its membership includes representatives from 16 critical infrastructures, including the chemical, information technology, water supply systems, energy, emergency services, healthcare and public health, transportation, finance, and telecommunications sectors. Membership is voluntary yet exclusive and is comprised of individuals from both the public and private sector. The main goal of IPMA is to promote ongoing communication, education, and community outreach between the public and private sectors and the FBI to share information, strengthen relationships and protect vital assets. More information about the organization is available at www.infragard-pittsburgh.org.
The IUP Office of Extended Studies was created March 2015 to engage adults to enhance their knowledge, develop their skills, and enable them to be successful in the workforce. It uses innovative techniques and cutting-edge content combined with delivery methods that enable adult learners to learn wherever they are by offering online training programs, corporate training programs, and degree completion programs.
S&T Bancorp, Inc. is a $6.5 billion bank holding company that is headquartered in Indiana, Pa. and trades on the NASDAQ Global Select Market under the symbol STBA. Its principal subsidiary, S&T Bank, was established in 1902, and operates locations in Pennsylvania, Ohio, and New York. For more information visit www.stbancorp.com or www.stbank.com.