UPDATE: Since receiving his undergraduate degree at IUP in spring 2016, Robert decided to add to his education by pursuing a dual masters degree from IUP: an M.A. in Sociology and an M.Ed. in Special Education. As a graduate student, he works as a graduate assistant in the sociology department: he was a teaching assistant in fall 2016 and this semester (spring 2017) he is working with sociology professor Dr. Susan Boser on her ongoing research. He continues to be an active advocate for students with disabilities, presenting his undergraduate research at the Pennsylvania State System of Higher Education summit on diversity and inclusion in spring 2016.
His next step? His master's thesis, which will examine the perceptions of disabilities on campus in order to use those perceptions as a rationale to create a series of disability related workshops to train students, faculty, staff and administrators on disability related issues. His ultimate goal is to create a more inclusive environment for individuals with disabilities who enter the post-secondary setting.
When he was in high school, Robert Matchett found his passion.
It was on a class trip to Costa Rica. It was there that his eyes were opened to the plight of others. Since then, Matchett hasn't stopped trying to find ways to help wherever he can. It's just become a part of what he is.
"I've just always had a passion for service and advocating for others," Matchett said.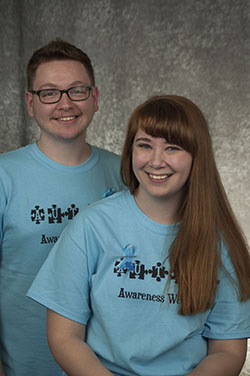 Matchett's passion will be on display April 18–22 as he helps promote Autism Awareness Week at IUP, with a series of events and activities designed to shed a light on what people with autism—and their families—have to go through. It's a matter close to Matchett's heart—he has several family members who live with autism—and he sees the effects it can have.
"I just want to spread awareness about Autism because much of what my cousins and other individuals go through is people looking at them differently," he said. "We hope this eliminates some of the stigma around the disability so that people can feel comfortable identifying as having a disability."
The week will have several events across campus that the entire community is invited to attend. Last year, the first time Matchett organized the event, more than 1,300 people took part in the workshops, lectures, and other activities, and he hopes that number grows even bigger this time around.
Getting involved is nothing new for Matchett. A Pittsburgh native, he has been a part of several on-campus organizations, and he has been lauded for his efforts: In 2015, he was presented with the Ray Coppler Disability Awareness Award, which is given annually, and his honor fraternity, Phi Sigma Pi, was awarded the C.H. McClure Single Service Award, a national recognition given for an outstanding service project.
Matchett's passion for the Autism Awareness Week project is so deep that he's also working to make sure it lives on after he graduates this spring. He's working with a close friend and brother in his honor fraternity, Oktober Appleby, and he plans to hand over the project's reins to her after the conclusion of this year's event.
"We have the same major, and we both want to advocate for those who cannot advocate for themselves," Appleby said. "It was quite an honor for him to pick me. My main goal is to get more people involved. It's a great opportunity to for groups to get involved in things like this."
Annah Hill, a professor in the IUP Department of Communication Disorders, Special Education, and Disability Services, said Matchett and Appleby do an excellent job of organizing events like this one.
"When it comes to assisting individuals in need, Robert and Oktober have hearts of gold and the determination that is needed in order to share their perspectives with others," Hill said. "They strive to promote the awareness of individuals with special needs. They selflessly provide their time and energy."
The events on campus are designed to do more than just educate the public about autism. Matchett and Appleby also hope their programs raise a lot of money, all of which will be donated to Camp Lakey Gap, in Black Mountain, N.C. The camp "strives to nurture individuals on the autism spectrum with an enriching camp experience and provide guardians with a time of respite."
"(Autism) is taxing on families depending on the severity of the individual's diagnosis," Matchett said. "This camp does many great things to help both the individuals who have autism and their families."
If all goes well, Matchett will hand off to Appleby a productive, sustainable program that will continue to grow and help those with autism, and their families. And that's what his passion is all about.
"I'm hoping that it is more well-attended than last year," he said, "but also that we can continue to spread the message about how important it is to be aware of autism and disability in general. There are still stigmas out there that we hope to combat and eliminate."