Kara McClain, an Indiana University of Pennsylvania nursing major in the Cook Honors College from Grove City, has been named a recipient of the Barry M. Goldwater Scholarship. This national award recognizes outstanding students in the science, mathematics, and engineering fields across the nation.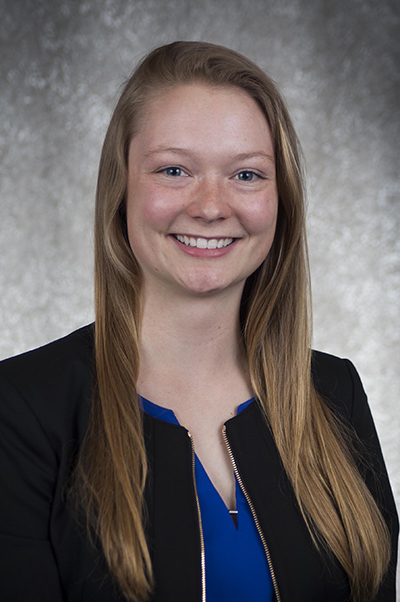 McClain is one of only 16 students to win from Pennsylvania and the only nursing student among all winners. She is the seventh IUP student to win a Goldwater Scholarship. The award will cover McClain's expenses for the 2016–17 school year.
"We know our students and their scholarship can compete with the best of the best, " IUP President Michael Driscoll said. "It's extremely gratifying when prestigious national agencies like the Goldwater Fellowship recognize what we see every day—outstanding students preparing to change the world.
"We are very proud of Kara's accomplishments and this honor. And I extend my thanks to all of our faculty and staff who have mentored Kara along the way."
McClain, who carries a 3.94 grade-point average, is a McNair Scholar and is a member of the Upward Bound Math and Science Program.
"I was just happy for the opportunity to apply for the Goldwater," she said, "but I was super-excited to win."
McClain said that as a first-generation college student, the McNair Scholars program, and especially faculty member Calvin Masilela, have been crucial to her success at IUP.
"The McNair gave me the tools to know what's out there," she said. "It made everything real for me."
She was encouraged to apply for the Goldwater Scholarship by several of her faculty instructors, including Vida Irani, Department of Biology, Hilary Staples, McNair Scholars, and Elizabeth Palmer, Department of Nursing.
McClain has won several other awards for her work. She took first place in the undergraduate medical microbiology poster presentation contest at the 2015 American Society for Microbiology Conference, is a provost scholar, won the Highmark Healthcare Scholarship for Rising Juniors, twice was awarded the Women's Club of IUP Book Award, was a Phillips Foundation Distinguished Scholars winner, and has been a on the dean's list every semester she's been at IUP.
She's also taken advantage of the opportunity to travel to Kenya to volunteer with an organization that helps with impoverished families to improve their quality of life.
Now a junior, McClain is studying at IUP in a unique way, combining the work for degrees in both nursing and pre-medicine. Her research at IUP focuses on tick-borne diseases. She has presented her research at several conferences, and she plans to continue working in the lab to learn more about how these diseases cause epidemics in humans.
Through the McNair program, McClain has received funding for an undergraduate research opportunity for 10 weeks at the University of Pittsburgh in its Summer Undergraduate Research Program. There, she will conduct a research project in the Cell Biology and Molecular Physiology program.
She also has worked as a residential assistant in the Cook Honors College and is a former scholar-athlete, competing on the Crimson Hawks' cross-country team.
McClain plans to enroll in medical school after she graduates from IUP in May 2017, with hopes of earning a combined MD/PhD in Molecular and Integrative Physiology. After that, she wants to split her time between doing research in the lab and treating patients in a clinical practice.
"I have a passion for working with people, but then I also fell in love with research. I want to integrate my passion for people with my love for research by applying research to clinical practice," McClain said.
McClain joins IUP Goldwater winners Dan O'Hara, a 2014 geoscience and computer science graduate, in 2013; Kelsi Lindblad, a 2011 biology graduate, in 2010; Elizabeth Paladin Jeffries, a 2009 chemistry graduate, in 2007; Kristin Juhasz, a 2007 biology and anthropology graduate, in 2006; Thomas Baker, a 2005 chemistry graduate, in 2004; and Brigid Mooney Rotigel, a 2005 mathematics graduate, in 2003.
The Goldwater Scholarship program, founded in 1986, is designed to help alleviate the shortage of highly qualified scientists, mathematicians, and engineers in the United States. According to the Goldwater Foundation, the scholarship is "the premier undergraduate award of its type in these fields."
Goldwater officials also note that recent Goldwater scholars have been awarded 80 Rhodes scholarships, 118 Marshall awards, 118 Churchill scholarships, and numerous other distinguished awards.