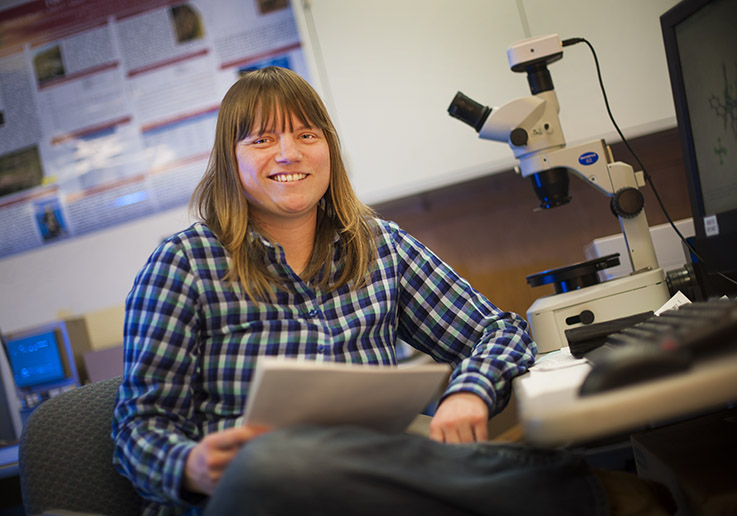 Like many people, Amber Harding has lived a life touched by cancer. But she's not just putting things in the hands of doctors and hoping for the best. She's on the front lines, fighting to find a cure for the disease.
Harding, who will graduate from IUP in May with a bachelor's degree in chemistry, has spent a lot of her time on campus working on several projects, one of which recently earned her a spotlight at a conference and a cash award. Harding made a presentation recently at the Pittsburgh Diffraction Society's 74th annual conference, in Huntsville, Ala., and she came home the winner of the Chung Soo Yoo Award, which is given annually to the best graduate student presentation at the conference.
What makes it special is that Harding's presentation was selected as the best—and she's an undergraduate.
"I was really surprised because of that," she said. "I was really surprised and excited."
Under the guidance of IUP faculty members Charles Lake and Avijita Jain, Harding confidently presented her poster at the conference, and she answered any questions that came her way.
"It was kind of intimidating because they are more established people and they have more chemistry knowledge than I do," she said. "But with their help, I was prepared to go in there and take any questions the best I could. I was well prepared."
Jain said Harding's work spoke for itself, even if she is an undergraduate student.
"This shows her hard work and determination to do a good presentation," Jain said. "Winning an award typically given to a graduate student is a very big achievement for her. She was able to prepare a very good poster and did an excellent job in presenting it."
The poster, titled "A ruthenium complex with three ligands after light activation changes to a ruthenium complex with two ligands," comes with a complex title, but a simple explanation.
"It could be used to help cure cancer," she said proudly.
Cancer is something close to Harding's heart these days. Her mother, Cindy, has fought the disease recently, and helping researchers find a cure would be quite a feat. When Harding first realized what some of her lab work could potentially do, she couldn't quite believe it.
"I was like, 'Wow, we could get something great out of this.'"
It wasn't overnight that Harding reached this point in her career. It took many long nights in the Weyandt Hall chemistry lab, a place she jokingly calls her second home. But it's been well worth it. Harding used her working relationships with IUP faculty members—especially Lake—to blossom into an award-winning student.
"He's the one who pushed me and showed me that I could do it," she said. "He showed me that the sky's the limit. He's a major driving force in me becoming successful."
Harding will graduate in May, and she hopes to begin working in the chemistry field. Maybe then she'll continue the research that she started here at IUP. And who knows? Maybe a cure for cancer could be found a little bit sooner.
"I think this is really important," Harding said of her lab work. "If this has the potential to help, it would be really good."