On Friday, May 30, 2014, members of the James M. Stewart Museum Foundation will present a marker to Indiana University of Pennsylvania to commemorate the relationship between actor James Stewart and the university.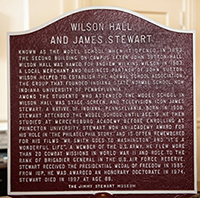 The plaque will be placed in front of Wilson Hall, the second building—after John Sutton Hall—constructed by what was Indiana Normal School. Named in honor of one of the school's first trustees, it first was the Model School and later became the library. Stewart attended the Model School until the age of 15.

Wilson Hall faces the Oak Grove on the IUP campus and is home to the Department of Criminology.

Stewart, a native of Indiana, went on to become a film and television star, flew combat missions in World War II, rose to the rank of Brigadier General in the Air Force Reserve, and received the Presidential Medal of Freedom in 1985.

IUP honored Stewart in 1974 with an honorary doctorate.

The brief ceremony will take place in front of Wilson Hall and will be followed by a reception.