MBA in Supply Chain Management (STEM)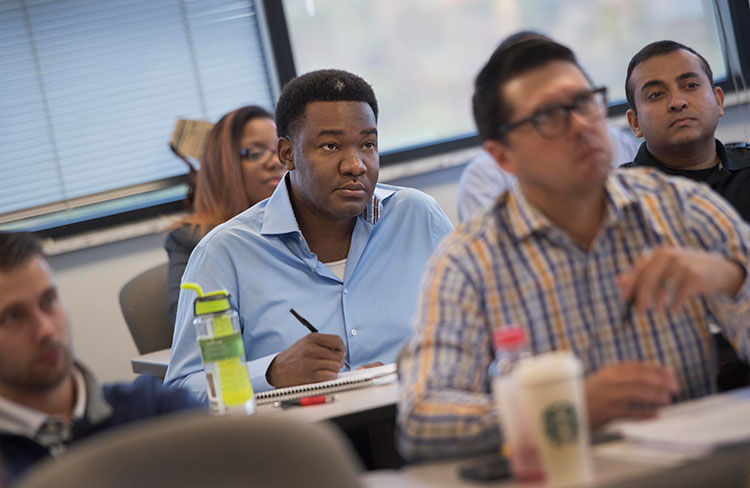 Prepare to Manage Complex Global Supply Chains
The demand for supply chain talent is growing. Increasing complexities and rapidly evolving technologies are driving a booming job market. In this STEM-focused program, junior and mid-level business executives will gain the scientific and technological tools needed to manage complex supply chains in the manufacturing, distribution, and service industries in the Commonwealth of Pennsylvania and around the world.
Combine STEM and Managerial Expertise
In the in-demand disciplines of Science, Technology, Engineering, and Mathematics (STEM), supply chain management occupies a unique role. It is the closest business discipline to engineering, which is why the US Department of Homeland Security has designated it as a STEM-specific discipline.
Location
Indiana, Pennsylvania
Application Deadline
Rolling admissions
Start Terms
Fall, Spring, or Summer
Class Load
Full-time or part-time options
Students in the program benefit by being able to combine the behavioral, marketing, and strategic knowledge and skills learned in a traditional MBA with the technical, quantitative, and analytical skills imparted by supply chain-oriented courses. Faculty with expertise in industrial engineering and supply chain management teach students to use these interdisciplinary skills in order to solve complex business issues and help to navigate the future of business.
Gain the Skills to Stand Out in a Fast-Growing Profession
The US Bureau of Labor and Statistics reports that the field of logisticians is expected to grow 30 percent by the year 2030, which is much faster than the national average across occupations. Professionals that combine managerial and STEM-related skills are particularly qualified to stand out and advance, occupying positions such as:
Supply chain director
Senior product manager
Inventory manager
Director of logistics
Performance improvement director
Corporate manager
Procurement manager
General manager
According to the US Bureau of Labor Statistics, graduates in STEM fields are more likely to experience superior job prospects and higher salaries across industries, with 2020 median wages more than double that of non-STEM occupations.
Advanced Classes with an Applied Focus
Students who earn their MBA in Supply Chain Management (STEM) from IUP benefit from hands-on coursework, taught by experienced supply chain faculty. The coursework is designed specifically to help students manage an integrated supply chain in an Industry 4.0 environment, with areas of focus including:
Supply chain modeling
Logistics planning
Purchasing
Warehousing
Inventory management
Quality control/six sigma
Mathematical modeling
Decision making
Project management
Managerial economics
In addition to their coursework, students will also interact with and learn from experienced supply chain professionals from leading companies. An optional internship rounds out the applied, real-world focus of this specialized MBA degree.
Students can choose to attend the program part-time or full-time, providing flexibility for both working professionals and international students. IUP considers students who enroll in at least nine credits per semester to be full-time students.
Enhanced Visa Options for International Applicants
Degrees pursued in STEM-focused areas of studies offer an enhanced length of work visa compared to other fields of study, allowing for a three-year stay in the United States after graduation instead of the typical one-year stay. As a result, international graduates in the STEM Supply Chain Management MBA at IUP will have more time to pursue a career in the United States after graduation, while saving an average of more than $25,000 in spending to maintain their visa status after graduation compared to non-STEM graduates.
Application Requirements
Students looking to pursue the MBA in Supply Chain Management will need to apply online through Graduate Admissions. After completing the online application form, potential students will also need:
A goal statement that describes your career and academic goals
Official transcripts from all degree-awarding colleges and universities
GMAT or GRE scores (unless waived by the department)
In addition to these requirements, international students will also need to submit proof of English language proficiency, a foreign student financial statement, and a copy of their passport. Visit our International Graduate Admissions requirements page to learn more.
Current IUP students can join the program early by taking graduate courses while working towards their bachelor's degree. Visit our Graduate Early Admissions page to learn more.
This program follows a rolling admissions structure, meaning that applications are reviewed as they are received instead of following a strict application deadline. However, international students should ensure they have enough time to apply for any necessary visa processes to take place.