On-Campus MBA, With Virtual Option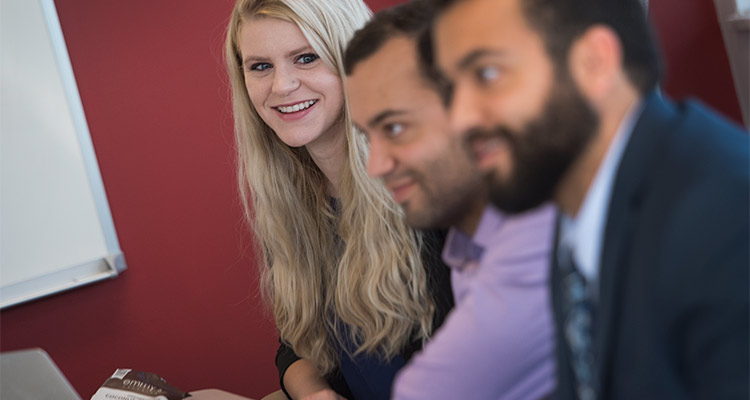 Complete Your MBA Degree in a Year or Go Part-Time
Complete your Master of Business Administration degree in as little as one calendar year by studying full-time, or take a part-time approach that fits well into your busy life, such as evening-only classes
Start your MBA degree when the time is right for you, fall or spring. Our Eberly College of Business building offers you a state-of-the-art facility with features such as a Bloomberg Terminal.
Undergraduate students can begin their grad studies as seniors through our early admission program and earn an MBA in just two additional semesters.
Scholarships and graduate assistantship awards of up to 50 percent of tuition are available to our most highly qualified, full-time students.
Ideal for International Students
The On-Campus MBA is ideal for international students, and international students are eligible to apply for graduate assistantship funds and scholarships.
Our MBA program, taught by internationally respected professors, has drawn a globally diverse group of students.
Specialize Your Degree
Choose a concentration for your MBA, and your degree gains extra value as a graduate-level degree in a specific area of business. Specialize in your current field to advance your career forward, or specialize in a different business area and take a new professional direction—with a degree that opens the door.
Select a concentration in professional accountancy, information systems, finance, human resource management, international business, marketing, or supply chain management.
Explore Our Business Outreach Opportunities
Our On-Campus MBA students consistently win national awards, working in teams on business case studies through the Small Business Institute in our Management Services Group. Case study projects involve local businesses such as the Jimmy Stewart Airport and Indiana Regional Medical Center.
Our business outreach centers give you opportunities to add experience in areas such as facilities planning, business research surveys, social media marketing, accounting systems, operations management, and competitive analysis—helping you move up in your field or change your career path.
Industry visits also bring real-world scenarios into your studies and provide opportunities for networking.
Successful MBA Grads Form a Network You Can Tap
A recently published list included the top five employers hiring IUP MBA graduates. It included BNY Mellon, IBM, Prudential, BNP Paribus, and Ernst & Young.
Our MBA graduates have also accepted positions at companies such as Accenture, Citizens Bank, Coca-Cola, Deloitte & Touche, Dow Chemical, GE, PNC Bank, Merrill Lynch, PPG, Renault, Rockwell International, Siemens, and more.
Location
Indiana University of Pennsylvania Main Campus in Indiana, PA
or Virtually via Web Conference
Program Design
In-person Classes, On-campus, or via Web Conference
(Summer Classes Online)
When Do Classes Meet
Schedule Your Class Times, Choose an Optional Specialization
Time Needed (If Full Time)
Complete in as Little as One Calendar Year
Time Needed (If Part Time)
Varies - Fit Classes Into Your Life However It Works Best for You, Evening-Only Option Available
Time Needed (Early Admission)
Take Grad Classes as a Senior with Early Admission into the MBA Program, and Complete Your MBA in Two Semesters
Opportunities
Wide Range of Professional Opportunities Through the Management Services Group, Paid Internships, Industry Visits, and Business Outreach Consulting