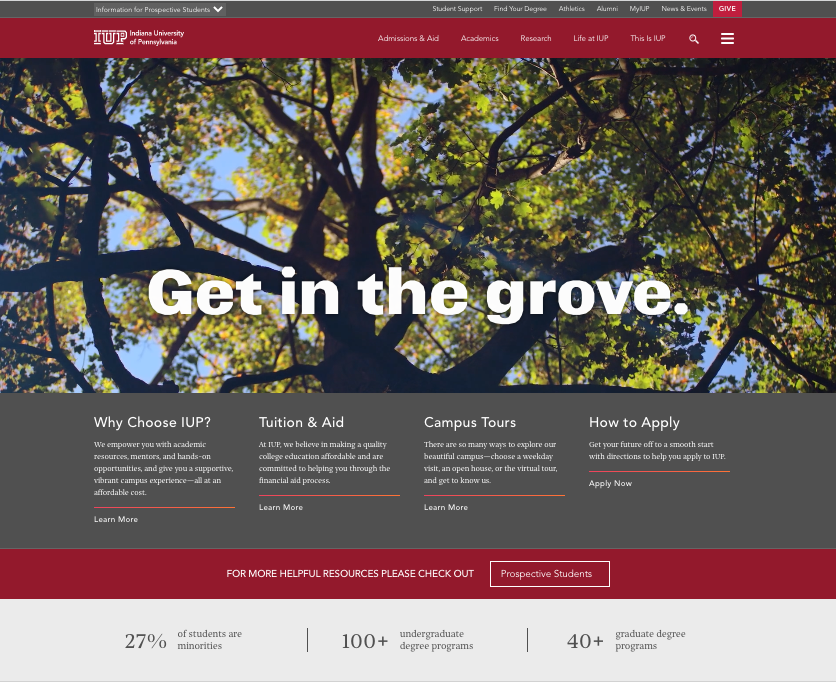 Following a project that began in 2021 and involved feedback from many areas of the university, a redesigned iup.edu website launched Monday. 
The goal for the new website is to match the experience that site visitors have elsewhere online. This includes a design that works on all screen sizes with special attention to mobile, streamlined content, and clearer paths to complete important tasks and next steps. 
New program pages, written in collaboration with faculty, bring together the critical information that research shows students are looking for during their search. Job outlook and career paths, course requirements, and more are incorporated into a comprehensive page for each degree program. A program search tool allows students to search and filter based on several categories or search terms to find the programs that interest them.
The new homepage features personalized content, where users can get access to information curated just for them. New landing pages incorporate more visuals and media, and streamline information. 
Department, office, and other area sites were updated to follow the same visual and navigational design for consistency in the user experience. 
The project will continue through the academic year, with updates to student services websites and other enhancements to the search experience. 
If you find parts of the site that need additional updates, please let us know by submitting any issues using the redesign issues form. 
If you have a critical issue, please submit an ihelp ticket. 
Thank you to everyone who participated in this project, including research, program page creation, and more.