The Wilfred E. Helwig Distinguished Artist Endowment was established in 1987 by Florence Lattimer Helwig in memory of her late husband.

Helwig Distinguished Artists have included Itzhak Perlman, Richard Stoltzman, Hal Holbrook, Andre Watts, Brian Bedford, Dave Brubeck, Cleo Laine and John Dankworth, Doc Severinsen, Chita Rivera, Billy Taylor, Peter Nero, Rosemary Clooney, Olivia Newton-John, Roger Williams, Amy Grant, Marvin Hamlisch, and Bernadette Peters (pictured below with Florence L. Helwig and a group of music and theater students in May 2012). In March 2013, the Helwig Endowment also provided support the appearance of opera star Renée Fleming.

On September 16, 2014, previous Helwig Distinguished Artist Doc Severisen returned to help the Lively Arts kick off its 25th anniversary season and celebrate the long history of the Helwig Distinguished Artist program.
The 2017-18 Wilfred E. Helwig Distinguished Artist will be legendary performer of stage, film, and television, Ben Vereen. He will perform a one-of-a-kind performance on May 3, 2018. During that time, we will also celebrate the life of Florence L. Helwig.

Wilfred E. Helwig (pictured above), Indiana businessman and philanthropist, founded the Helwig Insurance Agency in Indiana in 1928. During his long and successful career, Mr. Helwig energetically participated in area civic, safety, and charitable organizations, actively supporting the Community Chest (now the United Way), the Indiana County YMCA, the Shrine Crippled Children's Hospital and Burn Institutes, the Children's Home for the Blind in Pittsburgh, and the Penn's Woods Council of the Boy Scouts of America. He was a charter member of the IUP President's Council.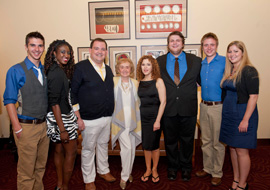 Florence Lattimer Helwig, a native of Punxsutawney, Pa., carried on her late husband's philanthropic work in the Indiana community and in her winter home in Fort Lauderdale, Fla., where she was a member of the Fort Lauderdale Opera Society, the Florida Symphony Association, and the Broward Friends of the Miami Ballet. In Indiana, Mrs. Helwig actively supported the university as a charter and continuing member of the President's Council and as a major benefactor through the endowment that supports the Helwig Artist program.

She was an engaged and energetic supporter of the Indiana Symphony Series, the YMCA, the Indiana Arts Council, Four Footed Friends, Indiana County Humane Society, and many other Indiana County charitable organizations. She was a recipient of the Distinguished Patron of the Performing Arts Award from the Indiana Symphony Society for "long-term, consistent active support to the furtherance of the performing arts in Indiana." In 2000, she was awarded the President's Medal of Distinction, IUP's highest non-degree honor. She passed away in October 2015.
Wilfred E. Helwig Distinguished Artist Performances
Itzhak Perlman, December 12, 1988

Richard Stoltzman, October 19, 1989

Hal Holbrook, April 16, 1991

Andre Watts, April 2, 1992

Brian Bedford, February 23, 1993

Dave Brubeck. March 22, 1994

Cleo Laine and John Dankworth, October 26, 1994

Doc Severinsen, October 31, 1995

Chita Rivera, November 13, 1996

Billy Taylor, February 25, 1998

Peter Nero, October 13, 1998

Rosemary Clooney, October 17, 2000

Olivia Newton-John, October 26, 2003

Roger Williams, October 10, 2004

Amy Grant, April 8, 2006

Marvin Hamlisch, October 5, 2009

Bernadette Peters, May 4, 2012

Doc Severinsen (reprise), September 16, 2014
And support for Renée Fleming, March 2, 2013