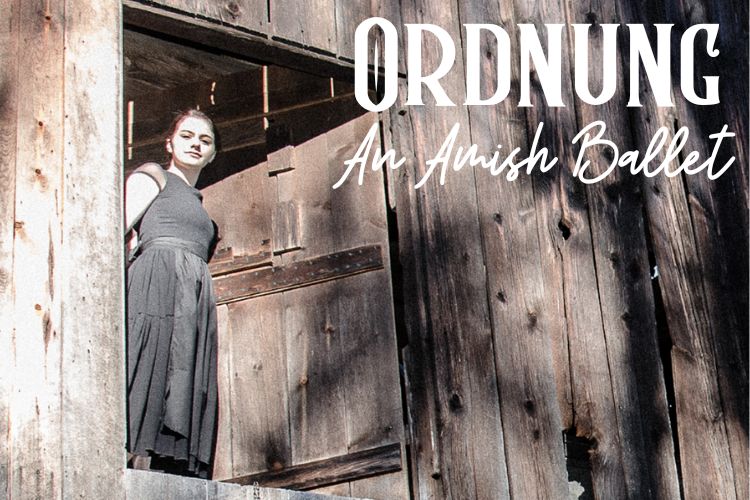 Ordnung, an Amish Ballet, is an original ballet by Joan Van Dyke, with devised performance co-directed by Dr. Richard Kemp. IUP Dance Theater, devised theater students from the Department of Theatre, Dance and Performance, community members, and the Mahoning Valley Ballet will premiere this work on Thursday, November 10, on the Waller Hall main stage. A free pre-show discussion with Amish Heritage Association founder will begin at 5:30 p.m.
The show runs for three performances on November 10–11 at 7:30 p.m., and November 12 at 2:00 p.m.  Tickets for this event are available online through the Lively Arts. Patrons who have questions or wish to purchase tickets by phone may call the Lively Arts office at 724-357-2787, Monday through Friday, 10:00 a.m. to 4:00 p.m. for assistance. Any remaining seats will be sold at the door starting one hour before the performance. Due to limited seating, patrons are encouraged to purchase tickets early.
The ballet begins in the Supreme Court courtroom in 1972 during the highly controversial ruling of Wisconsin v. Yoder. Lena is a young girl who is seven years old when the story begins. Fast-forward to 10 years later in 1982. Lena, now 17, was born into an Amish family and has been forced to secretly pursue a career in the arts.
In 1972, the Supreme Court decision in Wisconsin v. Jonas Yoder determined that children within Amish communities were only required to obtain up to an eighth-grade education. It has been 50 years since the Wisconsin v. Yoder decision, and we have seen many changes in the Anabaptist and English communities, including the impact of the environmental movement and human disruption of animal and plant habitats on the lifestyle of the Amish. Many Anabaptist people are being compelled into the English workforce without the formal education and training they need to be competitive in the job market. This verdict was highly argued and questionable, with many saying that this should have never happened. This law has affected individuals raised in plain communities for the last four generations, with tens of thousands of individuals being denied a high school education. Today this law has continued to be questioned and debated among many states.
Ordnung, an Amish Ballet, is part of a larger project that includes an award-winning film, Ordnung a dance, by Professor Jeremy Waltman and a survey designed by sociologists Christian Vaccaro and Melanie Duncan.  This project attempts to increase awareness and help facilitate a bridge to education and career goals for the Anabaptist communities. Come and decide for yourself!
This production is produced by the Department of Theatre, Dance, and Performance, Van Dyke and Company, and the College of Arts and Humanities. It is funded, in part, by the IUP Student Cooperative Association.  The Lively Arts, a program of the College of Arts and Humanities, presents nearly 200 performances, programs, and exhibits annually.