Athletic Training, MS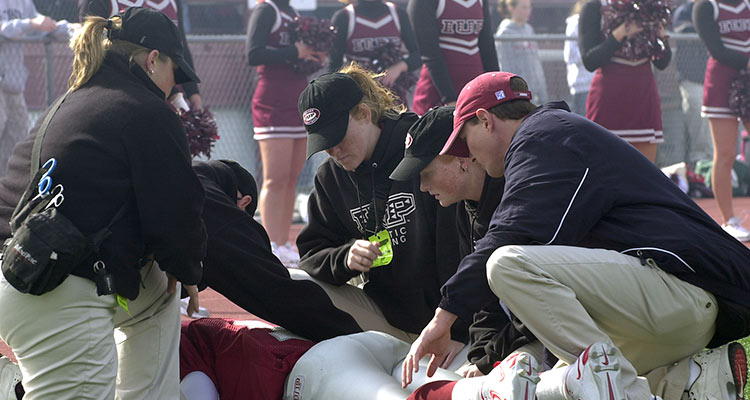 In keeping with recent board-certification guidelines making the master's degree the standard professional degree for athletic training, IUP launched the MS in Athletic Training in summer 2021. The program requires four full-time semesters and two summers and includes a sequential classroom and clinical curriculum. Students will progress through the program in a cohort.  All cohorts begin in the summer.
Indiana University of Pennsylvania is currently seeking accreditation for its new Athletic Training program and is not accredited by the Commission on Accreditation of Athletic Training Education (CAATE). The institution will be submitting a self-study to begin the accreditation process on July 1, 2022. Submission of the self-study and completion of a site visit does not guarantee that the program will become accredited. Students that graduate from the program prior to accreditation WILL NOT be eligible to sit for the credentialing examination for athletic trainers and will not be eligible for licensure in most states.
Master's Degree in Athletic Training Offers Clinical and Classroom Training
Our Athletic Training MS program gives you a strong foundation for your career through a balance of both classroom and clinical training. Our program prepares you to take the Board of Certification exam and enter the field of athletic training. Individuals who currently hold a BOC credential or are BOC eligible are not candidates for this program.
Athletic Training Strategic Alliance Sets Master's Degree as New Standard
The Athletic Training Strategic Alliance critically examined what the appropriate professional degree level should be to best prepare athletic trainers for an integral role in the evolving healthcare system. The Alliance members agreed to establish the professional degree in athletic training at the master's level.
The Athletic Training Strategic Alliance is comprised of the:
Master's Degree Programs Prepare Students for Athletic Training Certification
In order for an existing athletic training academic program to continue preparing candidates to sit for the Board of Certification exam and enter the field of athletic training, the transition to a master's degree is required.
Through our medical-based format, you'll learn to provide comprehensive client/patient care in five domains of clinical practice:
Prevention
Clinical evaluation and diagnosis in collaboration with a physician
Immediate and emergency care
Treatment and rehabilitation
Organization and professional health and well-being
You'll also study the athletic trainer's role in the healthcare system, risk management, healthcare delivery mechanisms, insurance, reimbursement, documentation, patient privacy, and facility management.
Option 1: Start Your Master's Degree Early with Our 3+2 Program
There are many ways you can enter the Athletic Training MS program. One option is to enter graduate school early, while still working on your bachelor's degree at IUP in the Physical Education and Sport/Pre-Athletic Training program. This option, typically described as a 3+2 option, allows you to begin your education for an athletic training career as a freshman and finish a year early with a master's degree, saving you time and reducing the cost of your total education.
Option 2: Post-Baccalaureate MS in Athletic Training
Students may also be accepted into the Athletic Training MS program after the traditional completion of a bachelor's degree either at IUP or at another college.
Entrance Criteria for Athletic Training Students
In addition to meeting the admission requirements of IUP's School of Graduate Studies and Research, students should also meet the following entrance criteria:
An undergraduate GPA of 3.0 and completion of the following pre-requisite coursework with a C or better:

Biology (with lab)
Chemistry (with lab)
Human Anatomy (with lab)
Human Physiology (with lab)
Exercise Physiology
Kinesiology/Biomechanics
Nutrition
Physics (with lab)
Psychology
Statistics

A minimum of 40 hours of direct clinical observation under the guidance of a certified athletic trainer in a minimum of two different settings. You will need a letter of verification from each supervising certified athletic trainer.
Current Emergency Cardiac Care (ECC) certification from an acceptable provider. That includes anyone adhering to the most current International Guidelines for Cardiopulmonary Resuscitation and Emergency Cardiac Care.
Completion of an interview with the program coordinator and faculty (as needed).
Additional details and required documentation (clearances, Tuberculin (TB) skin test, liability insurance) as outlined in the Athletic Training Program Handbook.
Acceptance of Program Technical Standards.
Athletic Training MS Curriculum

| | | |
| --- | --- | --- |
| Course Number | Course Name | Credits |
| BIOL 509 | Pharmacology Principles and Applications | 3cr. |
| KHSS 501 | Foundations of Athletic Training | 3cr. |
| KHSS 525 | Risk Management in Athletic Training | 3cr. |
| KHSS 545 | Pathology and Assessment of Injury I | 4cr. |
| KHSS 565 | Pathology and Assessment of Injury II | 4cr. |
| KHSS 575 | Pathology and Assessment of Injury III | 4cr. |
| KHSS 576 | Athletic Training Clinical Practicum I | 3cr. |
| KHSS 577 | Athletic Training Clinical Practicum II | 3cr. |
| KHSS 580 | Organization and Administration in Athletic Training | 3cr. |
| KHSS 585 | Assessment and Management of General Medical Conditions in Athletic Training | 4cr. |
| KHSS 634 | Current Literature in Health, Fitness, and Sport | 3cr. |
| KHSS 640 | Research Methods for Health, Sport, and Physical Activity | 3cr. |
| KHSS 646 | Rehabilitation Methods and Therapeutic Exercises for Orthopedic Injuries | 4cr. |
| KHSS 648 | Therapeutic Modalities | 4cr. |
| KHSS 676 | Athletic Training Clinical Practicum III | 6cr. |
| KHSS 677 | Athletic Training Clinical Practicum IIII | 3cr. |
| KHSS 685 | Professional Issues in Athletic Training | 3cr. |
Total: 60cr.
Program Accreditation Information and Outcomes
For additional information, contact the coordinator:
Jim Racchini
Graduate Coordinator for MS in Athletic Training
Zink Hall, Room 231
1190 Maple Street
Indiana, PA 15705
Phone: 724-357-2759
racchini@iup.edu