Cook Honors College Students Present at NCHC in Orlando
Posted on 11/11/21 10:18 AM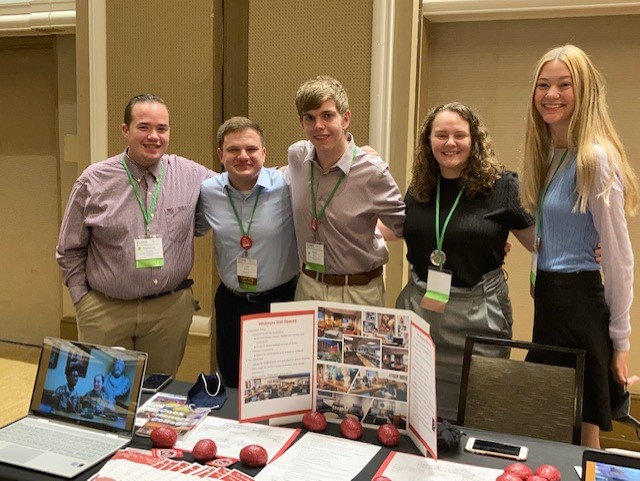 Seven Cook Honors College students, accompanied by Professor Chauna Craig, presented at the 56th National Collegiate Honors Council annual conference at the Walt Disney Swan and Dolphin Resort in Orlando, Florida, October 27–30, 2021. 
The conference theme, "Reimagining Honors: Past, Present, Future," invited students, faculty, and staff to consider best practices in honors education and cocurricular experiences in a post-pandemic environment. One central question posed was "How do we take the lessons learned from this time, personally, professionally, and for our honors programs and colleges, to imagine a future we could not have envisioned just a few years ago?"
Mac Mead (Communications Media), Matt Tomlin (Human Resource Management), and Cierra Henderson (Biology) presented a panel, "Is Zoom Here to Stay?: Rethinking Honors and Technology," detailing their online learning experiences during the 2020–21 academic year and suggesting ways the technology can best be utilized from a student view. They were joined by Noah Rhea (Political Science) and Troy Florian (Human Resource Management) at a Saturday morning Idea Exchange focus, "So You've Lost Your Honors Housing…" to discuss the effects of the university's decision to relocate honors students from residence living in Whitmyre Hall.
Education majors Mariah Mauser (Music Education) and Gabrielle Probst (Early Childhood Education) presented "Play in the College Setting," demonstrating games as methods to enhance learning and facilitating a discussion about the value of play in and outside the classroom. Additionally, senior Jeremy Galloza (Theater/Music), participated in a by-invitation master class in music with other honors students from around the US.
Craig, along with honors faculty from the University of New Mexico, facilitated a roundtable discussion, "Everyday Arts: Experiential Art and Local Community Engagement in Honors," and attended the annual meeting of the NCHC's Assessment and Evaluation Committee.
This is the first time in several years that the CHC had student representation at the annual conference. Henderson noted, "I truly appreciated the opportunity to connect and share ideas with individuals outside of the IUP community," and Mead affirmed, "During the conference, I gained public speaking experience and met other honors college students from across the nation. I am honored to have been accepted for this opportunity and am thankful the CHC helped me get there."
Based on the magical experience we all had this year, we are already planning proposals for NCHC 2022 in Dallas.