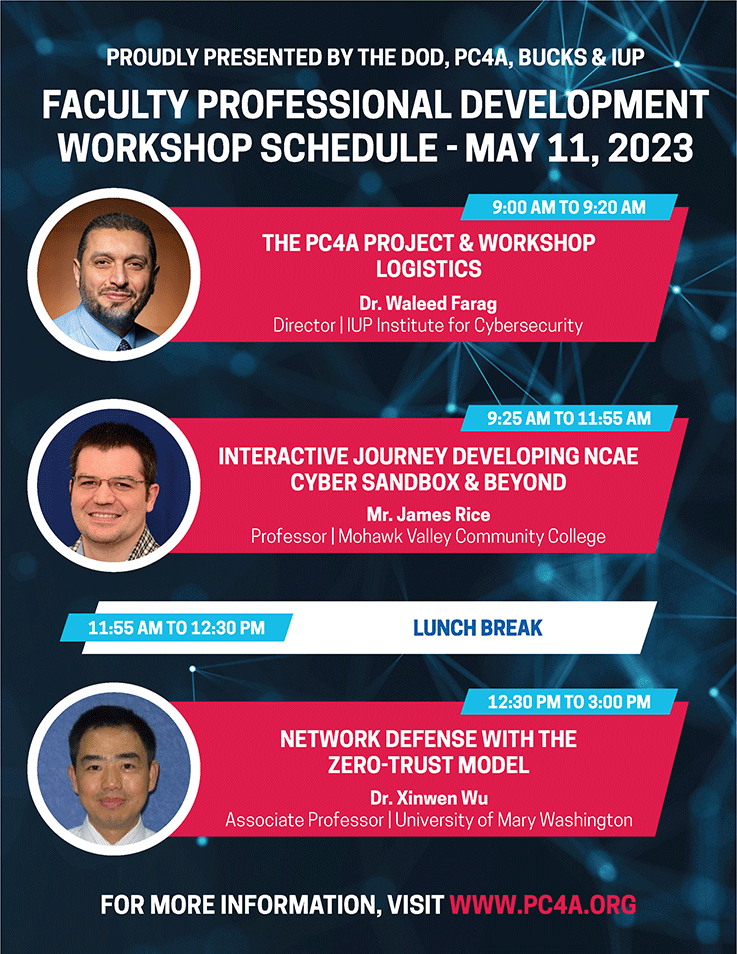 On May 10 and 11, 2023, the PC4A Project is offering faculty development workshops for Butler County Community College and Bucks County Community College with presentations on the PC4A project by Waleed Farag, Network Defense by Xin-Wen Wu, and the NCAE Cyber Sandbox by James Rice.
All BC3 and Bucks faculty members are welcome to attend this free event and should register by completing the online registration form. For more information on upcoming workshops, visit the BC3 or Bucks faculty development pages.  
PC4A is a multimillion-dollar DoD-funded project with three main objectives: increasing certification rates, increasing transfers from community colleges to four-year institutions, and increasing interest in employment with DoD/DIB agencies. IUP is the lead organization in charge of grant management, and offering faculty development workshops to all partners will continue annually throughout the project. Full details on the PC4A project can be found on the project website.
PC4A previously held two faculty development workshops for Westmoreland County Community College and Pennsylvania Highlands Community College on April 1 and April 15, 2023, respectively. Topics covered in these workshops included cloud security, cryptography, blockchain technology, and the NCAE Cyber Sandbox. For additional information on these workshops, please visit the WCCC or PHCC faculty development pages.
All questions should be directed to Dr. Waleed Farag, PC4A Principal Investigator, farag@iup.edu.
Workshop Schedules
Butler County Community College - May 10, 2023
9:00–9:20 a.m. — Dr. Waleed Farag, PC4A Updates
9:25–11:55 a.m. — Dr. Xin-Wen, Network Defense with the Zero-Trust Model
12:30–3:00 p.m. — Mr. James Rice  Interactive Journey Developing NCAE Cyber Sandbox and Beyond
Bucks County Community College - May 11, 2023
9:00–9:20 a.m. — Dr. Waleed Farag, PC4A Updates
9:25–11:55 a.m. — Mr. James Rice, Interactive Journey Developing NCAE Cyber Sandbox and Beyond
12:30–3:00 p.m. — Dr. Xin-Wen, Network Defense with the Zero-Trust Model