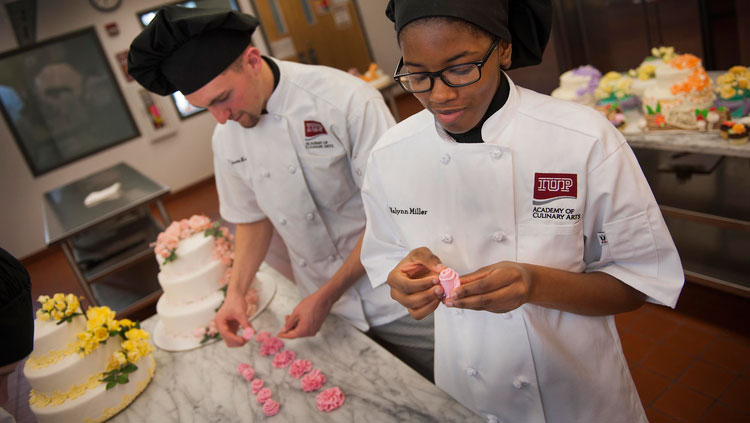 Turn Your Passion for Baking into a Career
Learn to create gourmet pastries and cakes, magical showpieces, and the finest chocolates. Our 16-month Baking and Pastry Arts program will give you the training to start you on your way to a career working with bread or pastry in the finest kitchens.
You will take classes on the culinary campus for 12 months (three semesters: fall, spring, and summer), and complete the program with a paid baking externship.
Learn intro, intermediate, and advanced baking and pastry methods. You'll also develop your knife skills and learn the fundamentals of sanitation management, purchasing, nutrition, menu and plate design, and much, much more.
Study with chef instructors who love to teach and share their knowledge with students. Our faculty are certified executive pastry chefs. They have owned businesses, worked in the finest clubs and restaurants, and medaled in baking and pastry competitions.
Earn a certificate in Baking and Pastry Arts (and the option to transfer credits toward a bachelor's degree at IUP in Hotel, Restaurant, Tourism, and Event Management; Food and Nutrition; or Family and Consumer Science Education).
Career Opportunities
Baking and pastry professionals with advanced skills are in high demand. Earning your Certificate in Baking and Pastry Arts will prepare you for a successful career as a baker or pastry cook, or, with experience, a pastry chef or chocolatier.
Associate Degree
An associate degree in Baking and Pastry Arts (AAS) is available. Start with the 16-month Baking and Pastry Arts Certificate and add 12 credits of liberal studies courses. Complete your final semester on campus or online.